Description
Tackle woodworking tasks with the EAB saw blade. Made of HRC-45 hardened steel, it offers durability. This framing saw blade has an 8 1/4 in dia with a 24-tooth blade to crosscut and rip wood. It features C2 micro-grain carbide tips that deliver precise cuts. The expansion slots on this carbide saw blade prevent warping.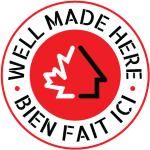 Ecological Attributes
This product is made from recycled alloy steel to reduce the use of raw materials. It is also part of the EAB Exchange Program which gives a credit toward the purchase of a new accessory when it is returned in stores for recycling.
Product specifications
Cross cutting and ripping wood