Description
Tackle construction projects with carbide saw blade from EAB. The hardened steel plate delivers smooth and precise cuts. This 10-in saw blade is suitable for crosscutting and ripping applications. Its bevelled teeth and deep gullet cuts and ejects chips. Use this all-purpose saw blade on softwood and hardwood.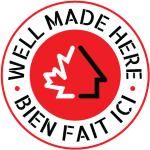 Ecological Attributes
This product is made from recycled alloy steel to reduce the use of raw materials. It is also part of the EAB Exchange Program which gives a credit toward the purchase of a new accessory when it is returned in stores for recycling.