Energy Log
Article #9761002
Model #BUEN12
Format 3.3PDxBT/12
RONA Langdon Hardware Ltd. / Fort Erie
(289) 320-8250
Description
Made of wood shaving. 3.3 lbs. Box of 12.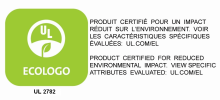 Ecological advantages
Ecological Attributes
This log is ECOLOGO certified (UL 2782: Solid biofuels). It is made up of wood wastes from timber transformation and produce less fine particles (lower than 0.5% of the weight) and other harmful substances.

By reducing the harmful substances level during combustion, you decrease the adverse impacts on human health.
Environmental Issues
This product is eco-responsible because it reduces the impacts associated with the following environmental issues: