Description
Clean, contemporary and stylish, this Kohler pedestal sink basin is a perfect choice for any bathroom setting. The rectangular design has plenty of deck space on the sides so that you can keep necessities close at hand. With three 4-inch (10.16 cm) centerset holes, you can install a variety of different faucet styles to suit your space. The porcelain sink also includes a pre-drilled overflow drain. Great for smaller spaces, the basin pairs with Kohler Elliston pedestal base model K-R6375.
Product specifications
Comfort height when paired with base
Combine with Kohler K-R6375 pedestal base
Frequently bought together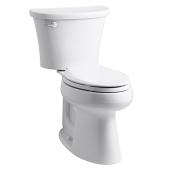 KOHLER
Kohler Cavata Elongated 2-Piece Toilet - White
Format 2PC
Details
Article #31535034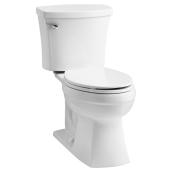 KOHLER
Elliston Elongated-Front 2-Piece Toilet - 4.85 L - White
Format 4.8L
Details
Article #31535037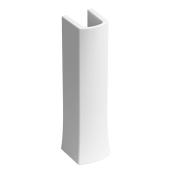 KOHLER
Elliston Pedestal Sink Base - Porcelain - White
Details
Article #31535050
When the Kohler Elliston Pedestal sink basin is mounted atop the matching Kohler Elliston Pedestal, what is the height of the top of the sink, from the floor?
35.5 inches
Date published: 2021-03-25
Elliston Pedestal Sink Basin - Porcelain - Rectangle - White
is rated out of
5
by
30
.
Rated

5

out of

5
by
Lee
from
I love this pedestal sink!
I've been eyeing this Kohler Elliston Pedestal Sink for over a year in preparation of my bathroom remodel and I finally got it installed and absolutely love it! It has ample room on both sides of the bowl to put my makeup, toothbrush holder, cup & soap, with still plenty of room. My house is 62 years old and I wanted to bring back that old time character and it's perfect for any décor, old or contemporary. I have no issues at all with water splashing out onto the wall as one reviewed noted. Everything is perfect about it. Thank you Kohler for making a unique and practical pedestal sink.
Date published: 2017-03-06
Rated

2

out of

5
by
Steph
from
Way too difficult to install
Ugh. Had not installed a pedestal sink in 18 years. They have NOT gotten better. In fact, the design is terrible for installation. No template (my box didn't even have the screws), and you have to attach the 32 pound sink to the wall directly (hold the sink up while screwing it in, at the same time). What happened to the metal bracket you used to get that supported the sink? Screw the bracket to the wall (easy as there are no obstructions) and then slide the sink down over the bracket. Easy-peasy. Now, you have to do the screwing BEHIND the sink bowl, while trying to hold the sink to the wall, in a blind space about the size of a tissue box. And this is supposed to be a GOOD idea??? And I may go to all this trouble, only to find out it splashes all over? Ugh.
Date published: 2017-05-23
Rated

4

out of

5
by
Myra
from
Found use defect.
Love the look and all the features of the sink. Only one big problem, when you turn on the water, no matter how slow, it splashes out of the sink and onto the walls. The sink isn't deep enough. We purchased the same faucet our local Lowe's had on display with the sink. We have no idea how to fix this problem.
Date published: 2016-02-21
Rated

5

out of

5
by
WhitneyB
from
Clean lines and roomy surface
This pedestal sink is perfect. Room enough for my husband to scatter his toiletries without falling off the top of the sink. I love the look with the matching pedestal. Our remodel was a success due to Koehler and Moen products.
Date published: 2015-12-02
Rated

3

out of

5
by
Amy
from
Faucet holes are not 8" widepread
[This review was collected as part of a promotion.] I love the design, but I purchased this sink over the phone from Lowe's based on the photo and description on their website. My plumber installed the unit and I returned to see that my faucet barely worked with the 4" spread of the faucet holes. As a matter of fact, the plumber had to eliminate a collar that belongs at the base of the faucet. It's functional, but doesn't look nearly as nice as a widespread.
Date published: 2019-01-16
Rated

4

out of

5
by
CindyC
from
Generously sized sink
Lowe's staff were extremely helpful in obtaining this particular product. They were able to determine which style was still available and it arrived within 2-3 days (instead of the 1-2 weeks anticipated.)
Date published: 2016-09-28
Rated

5

out of

5
by
KareBear
from
What A Beautiful Pedestal Sink!
[This review was collected as part of a promotion.] I am so happy to finally have a new sink in my personal home bathroom! I have an older house & literally had a small sink attached to the wall, with no base or anything. ( I have kids, so it is now falling off of my wall). This Kohler sink is gorgeous & now I finally have space to put my toiletries! I have always loved the Kohler brand & this lives up to the brand expectations.
Date published: 2018-08-17
Rated

5

out of

5
by
adamiller
from
Beautiful
[This review was collected as part of a promotion.] We are redoing our home & I couldn't be more happier with this sink choice. It was very simple to install, and it being a pedestal sink base it gave me plenty of room underneath when I did away with our old sink that had a bulky cabinet. I love the design and curves on it. It is also great for small spaces, but it gives so much room in return. I have gotten so many compliments on it from everyone whos seen it. So it was easy to install, looks amazing,and is built to last.
Date published: 2018-08-26