Description
This Electrolux 8.0 cu. ft. electric dryer will meet all your fabric cleaning needs. Moisture sensors check the drying state of your fabrics and stop the cycle when they are dry enough, avoiding potential damages. The drum is equipped with the Gentle Tumble(TM) tumbling system which dries clothes gently and preserves fabric quality. Furthermore, this Energy Star certified high capacity appliance offers an eco-friendly drying cycle for substantial energy savings. Finally, multiple installation options are available, including stacking or pedestal installation (accessories sold separately). Backed by a 1-year limited warranty on parts and labour.

Ecological Attributes
This dryer is ENERGY STAR® certified to save up to 20% in energy.
Product specifications
Under counter, stacked, pedestal, hidden
(5) Heavy duty, delicate, normal, towels, timed dry
(4) End-of-cycle chime, temperature selections, timed dry selections, eco mode
LED display with capacitive touch controls
Reversible Door Swing (Y/N)
Semi-Rigid Aluminum Pipe (12245448/VT0751) - Item sold separately
Frequently bought together

ELECTROLUX
Front Load Washer with LuxCare(TM) - 5.0 cu. ft. - White
Format 5CFT
Details
Article #38635004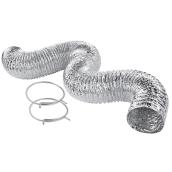 IMPERIAL
Flexible Foil Ducting with Clamps - 4" x 8'
Format 4x8'
Details
Article #12245451
I like this dryer and its matching washing machine, white, basic, not too expensive. How tall is the pair if stacked? I need a stacked pair that is < 74 inches total.
Electric Dryer with Gentle Tumble(TM) - 8.0 cu.ft - White
is rated out of
5
by
582
.
Rated

5

out of

5
by
Art Hound
from
Great Value - Great Performance
I purchased this dryer based on all the other very positive buyer reviews I read, plus I wanted a product built in North America. This dryer is very easy to operate, and I really appreciate the simplicity of the controls and cycle selections. Also, I REALLY appreciated that I could reverse the direction of the door hinges; I have a stacked arrangement that required the dryer door open in the reverse direction. I was able to do this myself as the Electrolux manual directions were clear and concise. I highly praise the design of the lint filter with its fine micro-mesh screen; there will be very little lint trapped in the ducting as a result.
Date published: 2018-07-14
Rated

2

out of

5
by
CatherineKaty
from
Drier quality longevity
I bought this drier in March of 2018 it's now 2020 and it is making very load noise when using on heated cycle. I called to get assistance and if they had received my registration form it would have had the parts needing replacement covered but they apparently didn't receive my registration card and so it is not covered. Not happy about having to have fixed in the short life it had and the parts not being covered just because they didn't receive the card for the registration when I have proof of the purchase. I don't know why the post card for the registration didn't make it to be recorded.
Date published: 2020-04-06
Rated

5

out of

5
by
mrizk
from
Great value for the price!
Great value for the price. I've been using it for several weeks now and so far, it's been great. I like the large, fine micro-mesh screen and the fact that I was able to reverse the door easily. The presets and other load options are easy enough for my younger kids to understand. At 27-inch widths, the washer and dryer both fit in a closet of our upstairs bathroom and are quiet enough that they're hardly noticed. The winning feature has to be that it's huge; at 8 cu ft it's perfect for our large family and equally large loads. Plus, it's built in North America! Would definitely recommend.
Date published: 2018-09-27
Rated

5

out of

5
by
Happy Again
from
Just like it should be.
Remember when a dryer gave you soft fluffy towels? Well THIS one will do just that! It has been so long since I had a good dryer, I almost forgot how nice it is to have fluffy towels. The temperature controls on this dryer are superb! So basic, simple and nice. It handles the largest loads with such precision--everything comes out dry on the first run (without over drying). When running it is soooo quiet, I can leave the door to the laundry room open. Love the lint filter too! No longer have lint spraying out of the
Date published: 2020-02-14
Rated

4

out of

5
by
MorganK
from
Efficient, quiet and doesn't bake my clothes
My 10+ year old GE dryer was still working, but I would occasionally pull out a load that was way too hot. When my matching washer died I replaced the dryer as well with this Electrolux model. I didn't want something with an app - I just need dried, not dehydrated, clothes. I took off one star because on my first load something hooked onto the lint trap and pulled it into the drum. A couple of socks tried to make an escape out the vent. I was able to get everything back where it should be, but the design of the lint trap - specifically how it sits in the slot - could be re-thought.
Date published: 2019-12-31
Rated

5

out of

5
by
Pizanche
from
Love it!! Great Dryer
I purchased this dryer few weeks ago because my old pne just stopped working. I looked at a 3-4 brands in this size. I look at reviews of all of them. I chose this one because of the options and price. It was a great choice. I have done a lot of laundry since I purchased it (there are only 3 of use, but we go though a lot of towels and clothing) It's quiet and quick! the different settings are nice, Love the towel one, fluffy, dry and soft!!! Lint filter is easy to clean to and it traps everything.
Date published: 2018-09-24
Rated

3

out of

5
by
Penker
from
Good Machine, but not a lot of cycle options
This machine works OK. I wanted an Electrolux dryer without a steam option (because they have so many problems), so this was about my only option. Only 3 stars because there are not a lot of cycle options. There's No way to set a timed cycle outside of the preset 30 or 60 minutes. There's no "touch up" cycle. The standard cycles tend to not dry the clothes completely and there's no sensing option to sense if the clothes are dry. This is a basic front loader without any extras, but seems to be priced as if it has more. Dryness sensing seems like a no-brained and I assumed this machine had it, and it does not. My Whirlpool used to dry a large load in under an hour, and this machine sometimes takes 90 minutes.
Date published: 2020-05-11
Rated

4

out of

5
by
Shely
from
Good dryer
I like the dryer... However, I took one star away because I find myself having to run it longer to get the clothes completely dry. The normal setting dries for 51 minutes, but still gives me damp clothes. Usually the 60 minute timed dry is enough, although the waistband on jeans and heavier items still tend to be damp. It is good, but could be better.
Date published: 2017-10-15