Description
You will love this LG range not only for its stylish design but for all its convenient features! The SmoothTouch(TM) glass touch controls are easy to use and clean, while the beautiful blue interior brings an upscale look to your appliance. Featuring the True Convection system, the oven is preheated faster and heat is distributed evenly for more precise cooking. Enjoy easy cleaning with the EasyClean® option. Simply spray the oven interior with water, press EasyClean, and after only 20 minutes, wipe away any residue. No chemicals or high heat needed to keep your oven sparkling clean! The cooktop has 5 heating elements which include 1 warm zone and 2 dual elements that let you match the element size to your cookware. The front left element offers 3200 W of power which means you can boil water faster than ever!
Product specifications
Free-standing electric range
Hidden Bake Element (Y/N)
Cooktop: Left Rear: 1200 W Right Rear: 1200 W Left Front: 3200/1400 W Right Front: 2700/1700 W Center (Warming Zone): 100 W
Hot Surface Indicator Light (Y/N)
Number of Burners/Elements
Frequently bought together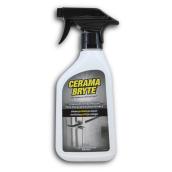 CERAMA BRYTE
Stainless Steel Cleaner
Format 474ML
Details
Article #8307003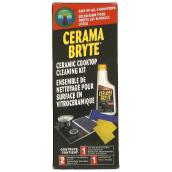 CERAMA BRYTE
Ceramic Cooktop Cleaning Kit
Details
Article #83075006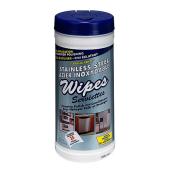 CERAMA BRYTE
Stainless Steel Cleaning Wipes
Format 35/PK
Details
Article #8307005
Is the broiler in the bottom drawer of the range?
Hi there, thanks for your interest in our product! The broiler element is located in the top of the oven. Kind regards.
Date published: 2019-04-30
how far off the floor does the plug for the stove have to be so the stove can be placed flat against the wall
Hi manveep, thanks for your interest in our product! For installation in Canada, a free-standing range is not to be installed closer than 12mm from any adjacent surface. We hope that answers your question! Kind regards.
Date published: 2019-04-09
Does this stove have an outlet ?
Hey there, thanks for your interest in our product! No, unfortunately this unit does not feature a power outlet on the console. Kind regards.
Date published: 2019-03-23
Does this model have dual clean function. Steam clean for light & high heat cleaning for heavy? 
Hi there, thanks for your interest in our product! Unfortunately there is no feature that utilizes steam to clean the appliance. All our ranges with Self-Clean or Easy-Clean utilize the unit's high temperatures to assist with the cleaning process. Kind regards.
Date published: 2019-01-22
Can we switch or readjust the oven temperature during baking or cooking time?
Hi there, thanks for reaching out! Temperature settings can certainly be adjusted, provided the timer is not set. Setting a timer would lock the oven at the pre-set temperature until the time has ended. We hope that helps! Best regards.
Date published: 2019-01-03
I purchased this stove and after the first couple of uses I had a pot of boiling pasta boil over and stain the top. I read the manual and it said to use a razor blade to remove the build-up, which I did. Some came off but there is still a stain? Help???
try the the mr. clean magic eraser!
Date published: 2019-03-12
When purchasing this stove last month it was advertised as self cleaning.    It was not until after reading the owner's manual that we found out it is only easy clean and not self clean.  please advise why it is marketed as self clean.   
does this stove have the option to use regular bake vs convection?
Electric Range with True Convection- 6.3 cu. ft.- Stainless
is rated out of
5
by
501
.
Rated

5

out of

5
by
Mark
from
Best stove out there
Although this is the least pricey LG convection range (and there are $200 off sales dictated by LG: all prices are kept the same), this has every feature you'll want or need in a gorgeous package that we men love so much, we'll do all the cooking. The bright blue interior is the biggest wow factor, but the outside design shows off the entire kitchen, especially if you do what we did: mount a matching microwave above it. The black ceramic-glass cooktop is equally dramatic as an eye catcher. Get it through Lowes so they'll do the delivery, install, and haul away for free. You'll never be sorry.
Date published: 2017-08-23
Rated

3

out of

5
by
ejw7878
from
Two Major Flaws
We like LG products and this is a quality stove. We especially like the smooth clean panel with no knobs to clean and the blue interior which makes everything so much easier to see. But there are two serious flaws. First, the timer, which is an essential element on a stove is so quiet, I literally cannot hear it if I am not near the stove. Second, it is not self-cleaning! We were told that it had self-clean as well as a quick steam clean. We assumed that this was true as any quality stove would be expected to be self cleaning. There is a model with self-clean, so sorry we didn't know this before we purchased. [This review was collected as part of a promotion.]
Date published: 2018-04-28
Rated

1

out of

5
by
Mary51
from
Watch out for enamel shards from oven!
Bought this stove 15 months ago. Oven does not clean with the self cleaning setting. What's even worse is that a shard of oven enamel fell from top of my oven onto a baking pan. I could not believe what I was seeing. I contacted LG customer service and filed a report along with pictures of the enamel shard. The customer service dept. emailed a response that they considered this not a problem, just cosmetic and would send some touch up paint to repair it. I then told them to go back and rethink this issue because if enamel falls into baking food and someone swallows it or bites into it the result could be serious. I have not heard back from LG. We will never buy another LG product.
Date published: 2019-11-09
Rated

4

out of

5
by
WB12349
from
Good features
Lots of features and very modern looking. Takes a little getting used to no knobs everything is touch controled. The convection oven is great cooks your food evenly browns up very nicely and the cook top is very easy to control so you wont burn what your cooking. I would of given the stove 5 stars but the Stainless is a royal pain to keep clean. It says easy clean surface it's not the manual also says just use a damp cloth to clean it that doesnt work. Need to use Stainless steel cleaner everytime you have to get rid of finger prints. Why they don't make the stove out of the same Stainless steel that's on there fridge is beyond me you pay enough for it.
Date published: 2019-09-11
Rated

2

out of

5
by
Stove 3193
from
Imagine my surprise when I attempted to clean my oven. This model ONLY offers an Easy Clean option. I too thought "Easy Clean" means it will clean. Unfortunately what it means is it offers a short "steam" clean that does absolutely nothing toward cleaning. The water you are required to put into the bottom of the oven (and then have to wipe out after because it doesn't steam away) doesn't even get hot enough that you can't touch it after the cycle is done. I would NEVER suggest this model to anyone. I am very disappointed. [This review was collected as part of a promotion.]
Date published: 2018-09-01
Rated

1

out of

5
by
disappointedlgcustomer
from
Don't buy!!
This stove is truly a financial disappointment.The burners worked for a while, then the double burner went out. A repairman from sears charged four hundred dollars and we ordered and paid for the circuit he claimed needed to be replaced. A few months later, all the burners are not working. Its not worth putting another four hundred into the stove. would not be purchasing another LG. We had another range/smooth surface from Kenmore for over twelve years before we changed our appliance and gave it away. The stove is still working. Truly a disappointment and LG does not have their own repair technicians. They sent us to Sears.
Date published: 2017-08-04
Rated

5

out of

5
by
DJB55
from
Excellent!
I've had this electric range for over a year. I love the convection oven and will never go without! We are selling our current home and can't take this range with us. So, I'm ordering a new one to be delivered to our new home. Yes, it's just that awesome!
Date published: 2017-06-13
Rated

1

out of

5
by
cmcm
from
worst quality
stove top is easily stained. just by placing a pan on there, it will leave white marks. You have to clean it after EVERY use even if it doesn't get dirty. I simply boiled a pot of water and heated up oil (didn't even start cooking yet) and the marks were there. the oven sucks at baking. heats up fast but doesn't bake from the bottom at all. cooking a simple frozen pizza, the dough doesn't cook. it's all gooey and doughy still after 15 minutes and the top is all burnt. It's like it's on broil all the time. If you want to broil something, use bake and it will work just the same. [This review was collected as part of a promotion.]
Date published: 2018-01-18