Description
Get meals to the table faster with this Whirlpool electric range. It features five burners with two FlexHeat(TM) dual radiant elements that offer flexible cooking options to accommodate different sizes of pots and pans. Fan convection cooking eliminates cold spots and lets you bake on any rack with even heating, while Frozen Bake(TM) technology eliminates the need for preheating to get pizza, lasagna and other frozen favourites done faster. With the self-cleaning function, cleaning the oven is a hassle-free task.
Product specifications
FlexHeat(TM) dual radiant elements
Frozen Bake(TM) technology, keep warm setting, fan convection cooking
Free-standing electric range
Hidden Bake Element (Y/N)
Hot Surface Indicator Light (Y/N)
Electronic Touch/Rotary Knobs
Number of Burners/Elements
Frequently bought together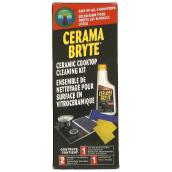 CERAMA BRYTE
Ceramic Cooktop Cleaning Kit
Details
Article #83075006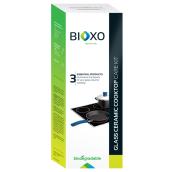 BIOXO
Bioxo Ceramic Cooktop Care Kit - Biodegradable - 500 ml
Format 500ML
Details
Article #30135135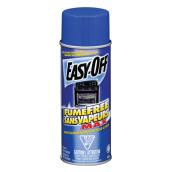 EASY-OFF
Easy0Off Oven Cleaner - Fume Free - 400 g
Format 400GR
Details
Article #17085054
Does this range have an electrical outlet along the back/top?
Hi faerieblu, unfortunately YWFE775H0HB does not have electrical outlet at the top/along the control panel. The range does offer Fingerprint resistant Stainless Steel and offers Fan Convection cooking to help eliminate cold spots allowing you to use all racks. Thank you for your question!
Date published: 2019-03-06
I cannot find the packaged dimensions anywhere for transportation- what are the boxed dimensions please?
Electric Range with Fan Convection - 6.4 cu. ft. - White
is rated out of
5
by
189
.
Rated

4

out of

5
by
CTshopper
from
Roomy stove
[This review was collected as part of a promotion.] I have only had my new Whirlpool stove for two weeks & being that it is summer I am not yet in my baking mode. So far however all seems to be good. The top has plenty of options for different pan sizes and the oven is much larger than my last Whirlpool stove that I had for 20 years. I also like the black stainless steel color. The two drawbacks for me are the stove top is difficult to keep clean. My last one had a 'bumpy ' texture on top which cleaned easier than this model. Then, due to the large oven, the trade off is a small drawer below, nowhere near as roomy as I was used to.
Date published: 2019-08-06
Rated

1

out of

5
by
Wangyo
from
Very difficult to keep clean
(This review was collected as part of a promotion.) I do not like my new stove! It is the most difficult stove I have had over the past 50 years to keep clean. I find it takes a long time to heat up the oven, and some of the top elements. My Xmas baking was for the most part a disaster. Over baked, under baked and unevenly baked. Can not put a protective sheet on bottom so when my pie baked over it was a mess and very difficult to clean with the steam clean. Because the top burners are so large even with my large pots the handles become very hot! Overall, worst stove I have ever had!
Date published: 2020-01-08
Rated

3

out of

5
by
Jjdavey85
from
Large oven space and fast heating stove top
(This review was collected as part of a promotion.) Bought a month ago, has great oven heating but the larger space has some getting used to with rack placement, etc. Loses a significant amount of heat of door is open because of the bigger space which makes sense, be mindful. Stove top is difficult to keep clean but not unlike any other glass top range. Biggest negative of this range is the lack of a number key pad to be able to set temp and timers; I equate it to setting the time on a cheap alarm clock when setting the timer, they could and should have done better than this! Overall I'd recommend for the price point.
Date published: 2019-02-19
Rated

1

out of

5
by
Jakemiester
from
Not What Expected
[This review was collected as part of a promotion.] Not what I expected. When delivered, the exposed left side panel was dented on the bottom and the enamel was damaged across the center? Also, there was not a bulb in the oven. The dealship ordered a new left panel and after installation realized the replacement was damaged too? Where's the quality control? My old Whirlpool oven was a solid durable appliance. This modern version is flimsy & seems to more built for low shipping costs, NOT the customers. Also, I can't use 99% of my Lifetime cookware (one small frying pan has a flat bottom) and none of my Reverware, so they're useless to me now & I'm forced to invest in all new cookware!
Date published: 2020-01-22
Rated

5

out of

5
by
Janemomof3
from
Stove of my DREAMS!
[This review was collected as part of a promotion.] We purchased our new stove in December. I am an avid cook - farm wife, mother, neighbor and volunteer. I had used my old stove for 22 years and had been down to 1 working burner and an oven that worked part time before choosing my new Whirlpool. The oven size is ultimately what sold me - I love the space for baking - and the amazing smooth top burners- my gosh I am in love with!! You appreciate quality when you have used an appliance for so many years - that you nearly cry when you see it go out the door being replaced by new and shiny. I hope to add matching Whirlpool appliances to my kitchen in the next year and enjoy years of good use ahead!!
Date published: 2019-01-18
Rated

5

out of

5
by
warrenk
from
Very nice
(This review was collected as part of a promotion.) Have been using this range for only about a month. It looks great in my small condo kitchen. I like that it has five different cooking element sizes that fit a variety of cookware. The oven is huge and the convection fan is silent - I actually thought it wasn't working because I could not hear anything but I peeked inside and saw it spinning. The controls feel high quality. I like the display screen very much - looks good, not cheap. If I have to have a complaint, it's that the oven takes a long time to reach the set temperature - much longer than my previous Whirlpool range. Overall, very happy with it so far.
Date published: 2019-12-09
Rated

5

out of

5
by
Rich & Joann
from
Great Looking Range
[This review was collected as part of a promotion.] Nice range with all of the features we were looking for. Over the years we have always purchased the Whirlpool brand for their quality and they are very reliable too . In fact our old W/P Designer Series smooth top ceramic range is still in service in my niece's kitchen, we purchased that back in the early 90's !
Date published: 2018-10-02
Rated

3

out of

5
by
sheri55038
from
Delay Start directions are for a dishwasher.
[This review was collected as part of a promotion.] We chose Whirlpool appliances in our new kitchen because Whirlpool has a reputation of reliability and ease of use. We chose this range specifically because we used its Delay Start feature regularly with our previous Whirlpool range. Whirlpool corporate told our technician that the user manual does not coincide with the actual range and it is not going to be remedied. Too bad for us. We must now activate Delay Start the way a dishwasher delay start is activated. Cumbersome.
Date published: 2019-11-11