Description
This Whirlpool electric range with convection fan cooking makes it easier to prepare meals for your entire family. The ceramic glass cooktop features five burners, with two FlexHeat(TM) dual radiant elements that can accommodate different-sized pots and pans for flexible performance. Fan convection cooking provides consistent heat for even cooking results, and the keep warm function ensures meals stay at temperature until you're ready to serve them. Frozen bake(TM) technology lets you cook frozen foods without preheating, and the self-cleaning option does the work for you.
Product specifications
FlexHeat(TM) dual radiant elements
Frozen Bake(TM) technology, keep warm setting, fan convection cooking
Hidden Bake Element (Y/N)
Hot Surface Indicator Light (Y/N)
Electronic Touch/Rotary Knobs
Number of Burners/Elements
Frequently bought together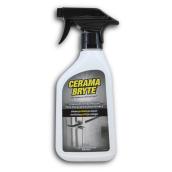 CERAMA BRYTE
Stainless Steel Cleaner
Format 474ML
Details
Article #8307003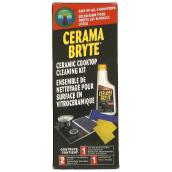 CERAMA BRYTE
Ceramic Cooktop Cleaning Kit
Details
Article #83075006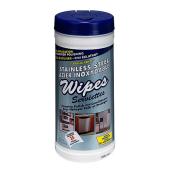 CERAMA BRYTE
Stainless Steel Cleaning Wipes
Format 35/PK
Details
Article #8307005
Does this range have an electrical outlet along the top for my toaster to plug in to?
There is no outlet on the stove
Date published: 2019-02-27
Can you use cast iron on the flat top?
Hi Lorir! This is a great question, each type of cookware has its own characteristics and will have its own effects on cooking. Cast iron cookware is great for browning and frying and maintaining heat for slow cooking. Keep in mind though that rough edges or burrs may scratch the cooktop. Thank you for your question!
Date published: 2018-12-27
Are there any 110 outlet plugs on the stove for plugging in a kettle or I use my current cook top area for electric skillet or griddle and need to plug them into stove outlet .
Hi dyana, This model does not have a power outlet on the stove. Thanks
Date published: 2019-02-27
Electric Range with Fan Convection - 5.3 cu. ft. - Stainless
is rated out of
5
by
1064
.
Rated

1

out of

5
by
Billy
from
Safety Issue
Bought this stove in June and was unable to use the oven. After baking the film from the inside I noticed that the left side of the oven was extremely hot. According to whirlpool, the external temperature was safe up to 150 degrees. This stove was much warming using a calibrated infared thermometer i found the external temperature over 200 degrees. They sent out a repair man to replace the gasket but the spot was too far back from the gasket to be the issue. After talking to multiple departments within whirlpool they declared the stove a safety issue and would not send me new stove. Instead they have mailed me a refund check.
Date published: 2019-08-25
Rated

5

out of

5
by
Unknown-Rider
from
Quite a change from the electric eyes!
We decided to upgrade our kitchen (selling house) and the smooth surface stove is our 3rd appliance to change out. We've had this stove now for over 3 months. It looks much better. Very useful/variety of "eyes" and modes. We like it very much. Side note: We have seen other stoves with scratched surfaces and had concerns, but we took precautions. We purchased new copper cookware (new bases without nicks/rough bottom) to prevent potential scratching of the surface. When we stir, we lift the pot to prevent sliding around. Again it's all preventative and probably overly protective. [This review was collected as part of a promotion.]
Date published: 2019-01-05
Rated

1

out of

5
by
HNZ79
from
Junk
I've had my range for ten months. Had issues with not baking evenly. The thermostat and sensor went out and I had to have it repaired. Two weeks later, it went out again. This was our second stove after we purchased a Samsung and it had computer issues in the first two weeks. Do not purchase this stove. Even with extended warranty, if it has issues, you will be without a stove for days and you can't get a new appliance until it has been repaired three times. I run a home bakery so you can imagine what these issues cost me. [This review was collected as part of a promotion.]
Date published: 2019-03-03
Rated

5

out of

5
by
Bill
from
Beautiful Whirlpool Range
Just remodeled my kitchen. Decided to go with the Whirlpool fingerprint-resistant stainless suite of appliances. They are beautiful in my white kitchen. The range has a ton of features including convection. Love the burners that expand. Have used the broiler and it is wonderful, no heat escapes and you can adjust the temperature. The bottom drawer is sturdier than on some ranges. Best of all it truly is fingerprint-resistant, love that. [This review was collected as part of a promotion.]
Date published: 2018-09-16
Rated

5

out of

5
by
Lisa
from
Oven and Range
After much debate and research, I found this Whirlpool Range. So glad I waited and found just the right oven for me. It cleans up extremely easy and looks great. When I used the oven for the first time, there was some smoke that concerned me, but reading the instructions, it did warn of this possibility. It stopped shortly after. Totally worth the wait. [This review was collected as part of a promotion.]
Date published: 2018-09-16
Rated

1

out of

5
by
Kate
from
DO NOT BUY
I am highly disappointed in this range. First, the surface leaves marks anytime you cook. I had to buy a glass top cleaning tool set to try to remove residue. I spent 30 minutes and had to use the razor blade from the kit to remove the residue. I just cooked another meal and same thing. I am not happy to have to use a razor blade on the surface to clean it each time I cook Second, the oven takes forever to heat. It takes me 10 minutes to heat to 350deg, takes 25 minutes to heat to 425deg. That is a long time. Third, the convection feature is so loud that I can not stand to turn it on. I wish I could return it, but it is past 30 days.
Date published: 2019-03-07
Rated

4

out of

5
by
Kathbath
from
It's a Great Oven
I like everything about the oven except just one thing. The one thing I would change would be the dials for two front burners on the top of the range. I would love to have more heat selection indicators on those two dials. It's hard to know exactly what setting to, for example: cook my eggs or pancakes at. I have to guess somewhere between lo and medium every time. There are no clear indicators for setting the exact temp. of heat on the two dials for the two front burners. That's a real shame. Wish I had spotted that feature shortcoming before I purchased the oven. Since I do a lot of range top cooking. Other than that, it's a great oven! [This review was collected as part of a promotion.]
Date published: 2020-02-19
Rated

5

out of

5
by
eag19
from
Looks and works great!
We upgraded to this range about 3 weeks ago and have really been enjoying all the features. Our prior range was over 20 years old, so we feel spoiled with all the expandable burners, the warming zone, and the great features of the oven. I love that the oven offers a keep warm temp option. It preheats very quickly for us and looks so great with our other stainless appliances. The timer/alerts are much quieter than our former range, so that'd be the one thing I wish I could adjust. After a few practice uses, we aquatinted ourselves with the new features and functions and have been so happy. [This review was collected as part of a promotion.]
Date published: 2020-06-15