Description
Cooking has never been easier and more efficient than with this free-standing electric range by Frigidaire(R). Thanks to its large capacity oven of 5.3 cu. ft., you have room to cook more dishes at once. This 30" wide range features a self-cleaning system with options available in 2, 3 and 4-hour cycles. In addition, its glass-ceramic cooktop offers a keep warm zone and four elements, including a SpaceWise(R) expandable element that provides quick boil thanks to a power of up to 3000 W. Finally, its spacious Store-More(TM) storage drawer, large window as well as its electronic kitchen timer that times up to 12 hours and timed cook option will provide you with an unmatched cooking experience. Backed by a 1-year warranty.
Product specifications
Cooking top: 100 W (keep warm zone), 1200 W (2 small elements), 2700 W (large element), 1400/3000 W (expandable element); oven: 2600 W (bake), 3000 W (broil)
Store-More(TM) storage drawer
Self-cleaning: 2, 3 and 4-hour cycles
Hot Surface Indicator Light (Y/N)
Number of Burners/Elements
Electronic Touch/Rotary Knobs
Even Baking Technology and Vari-Broil(TM) broiling system
Frequently bought together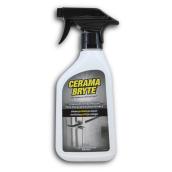 CERAMA BRYTE
Stainless Steel Cleaner
Format 474ML
Details
Article #8307003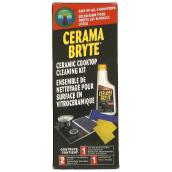 CERAMA BRYTE
Ceramic Cooktop Cleaning Kit
Details
Article #83075006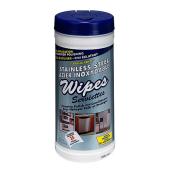 CERAMA BRYTE
Stainless Steel Cleaning Wipes
Format 35/PK
Details
Article #8307005
Is the standard warranty for this range 2 years ?
Hi, Gary342! Thank you for your inquiry. The standard warranty is one year from the date of purchase. We certainly hope this information was helpful! –Ciara
Date published: 2019-07-16
What colour is the smooth top?
Hey, Hondahelix! The model you selected has an Upswept Black color smoothtop. I hope this helps! ~Courtney
Date published: 2019-01-18
Electric Range - 5.3 cu. ft. - 30" - Stainless Steel
is rated out of
5
by
1684
.
Rated

4

out of

5
by
Meesh2
from
Love the burners
Love this stove. Really like the 5 burners and that one offers a quick boil/two size pan feature. I almost wish the other front burner had a two size option because not many pans are as big as that second burner but I guess it's better to be bigger than too small. The oven works great, heats pretty quickly too. The bottom drawer is also not super easy to pull in and out, it gets stuck sometimes but I don't have to pull it out too often so it isn't really bothersome. Overall, love our new oven and stove and love that our new fridge matches. [This review was collected as part of a promotion.]
Date published: 2017-10-16
Rated

2

out of

5
by
Vet101
from
it belongs to the dumpsite
I have several brand new appliances when my w8fe and I purchase our new home and I knew right away that the frigidaire product was going to be a problem. There is no ventilation system that leads to the outside, the stove causes an extreme heat that gives off high temperature steam that made our ceiling brown and the stive has an opening in the inside oven door that grease and water runs in and you cant clean it. Poor design. Someone needs to hire a new design engineer to come up with a better product [This review was collected as part of a promotion.]
Date published: 2018-02-12
Rated

5

out of

5
by
Flewis556
from
Brand New Home Appliance
Stainless steel Electric range came with my new home. I cook everyday....but recently for Thanksgiving and Christmas....it was great to prepare so many dishes on top of the stove and in the oven. The quick boil feature is awesome..heats up boils in minutes. It's only been 2 months since I have had this range the only problem I have is keeping the glass top clean. It stains while cooking and sometimes the stains or just the pot itself causes a ring on the glass top and is hard to clean. I don't want to scratch my surface with harsh chemicals or use a razor to get it off. Any recommendations would be very helpful. Other than that, love my electric range. [This review was collected as part of a promotion.]
Date published: 2019-12-26
Rated

3

out of

5
by
Tower717
from
It's ok
I bought my house and it was included with it as well as a microwave and dishwasher. The range would not have been my first choice unless I was on a budget for a ceramic top electric range. The ceramic feels cheap and scratches will be easy to see. The oven has two heating coils, one on the top and one on the bottom, I like the speed in which it heats up but if something spills then you can guess what will happen, plus it makes it a bit hard to clean. To be an electric range the fact that it has dials to turn on the burners instead of being digital makes it feel cheap. [This review was collected as part of a promotion.]
Date published: 2019-10-07
Rated

5

out of

5
by
JennC11
from
Great Features and ease of use !!
I bought this range a month ago and was excited to get started using it however, my kids beat me to it. They using the ease of selecting which burner to use and set to the intended temperature. Our favorite features is the 4th -5th elements ~ quick boil and 12" element its a tie. Quick boil element makes steaming veggies and breeze; 12" element helps with the large skillet recipes like spaghetti .... wish we had bought this unit alot sooner. It definitely makes cooking enjoyable again. [This review was collected as part of a promotion.]
Date published: 2018-08-14
Rated

3

out of

5
by
Bay12
from
Okay
The stove itself works great, however, the cook top is so easily messed up with scratches, water and burn marks that you can't get off and it looks awful! I would not get this stove again just for that reason! I don't think I'll ever be able to getit back like new again and I've only had it for about 3months! It has 5 burners which is cool except the fifth is only a warmer and I never end up using it. I like the burner that you can make big or small the best because it's also a fast boiling burner. There is an extra large burner which is also great if your using a huge pan. I like the design, I just hate having a dirty cooktop always. [This review was collected as part of a promotion.]
Date published: 2018-04-29
Rated

1

out of

5
by
Debbz
from
Not very happy
Stove works well however.. Researched, read the manual from top to bottom, bought all the suggested cleaning products, even bought new pan and discarded an old.... Only to have it all scratched up within the first week. Checked all my pot bottoms before using to make sure they were all smooth and flat. Still can't figure out how my pot scratched the surface as it still feels smooth to me. Really dissatisfied that this new stovetop looks so shoddy after only a week. Photo attached... The white is the cream cleanser I used to try to clean/remove the scratches with. - A not very happy camper.
Date published: 2020-04-01
Rated

4

out of

5
by
JessyDee
from
Awesome stove!
I really love the stove and the oven! Only 4 stars because it doesn't show when it's reaching the entered temperature for the oven. My old oven had a "count up" function so you knew there is time or no time to prep the food. Now I'm standing in front of the oven and wonder when it's time until it's all heated up. But this is a picky point from my side, not everyone needs it. But all in all perfect oven and als the stove heats up really quick so cooking is very easy! [This review was collected as part of a promotion.]
Date published: 2018-04-10