Electric Convection Range - 6.3 cu.ft. - Stainless Steel
Article #30895024
Model #LRE3061ST
Format 6.3CFT
This item is not currently available for immediate purchase, but can be ordered by visiting the selected store. Orders typically take 3-7 days from date of order to be received at your selected store.
Description
With this LG range's large capacity oven, you can handle all of your family's cooking needs. Whether you're baking large batches of cookies or a roast for the holidays, this oven can fit it all. With its 6.3 cu. ft. large oven capacity, the oven is equipped with a 3200 W element and a 4200 W broiler element. The ceramic-glass cooktop has five cooktop elements. This kitchen range offers premium stylish design, brilliant blue interior, a WideView window, EasyClean function and an automatic safety shut-off after 12 hours..
Product specifications
Free-standing electric range
Hidden Bake Element (Y/N)
Hot Surface Indicator Light (Y/N)
Number of Burners/Elements
Frequently bought together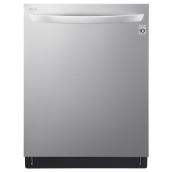 LG
Built-In Dishwasher with SmartThinQ(TM) - 24" - Stainless
Format 33.6x24.6x23.75"
Details
Article #30895108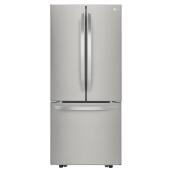 LG
French Doors Refrigerator 21.8 cu. ft. - Stainless
Format 22CFT 30"
Details
Article #30895019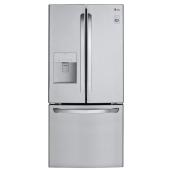 LG
Refrigerator with Water Dispenser - 21.8 cu. ft. - Stainless
Format 22CFT 30"
Details
Article #30895018
Electric Convection Range - 6.3 cu.ft. - Stainless Steel
is rated out of
5
by
527
.
Rated

2

out of

5
by
JWest
from
Find something else
Bought this range as a 4-piece set. Did not care for the blue ceramic interior, but the handle and black stainless finish matched the other appliances. We have owned this stove for exactly 1 year and the oven has quit working 3 times so far. This unit is also a nightmare to clean. The "smooth surface" is not smooth and does not come clean. The Easy Clean "feature" is a joke! You're supposed to spray water and warm up the oven for a few minutes, but that does not get anything clean. So after 20 years of having a self-cleaning oven, I am back to scrubbing on my hands and knees. I hate this stove and now I'm stuck with it after sending so much money. I gave it 2 stars only because the black stainless finish is beatiful and wipes off easily.
Date published: 2017-07-07
Rated

1

out of

5
by
Susan972
from
Model LRE3061ST- The oven is awful.
The stove top is fine. The oven is a disaster, When baking it has uneven heating causing the back to cook faster than the front of the oven. Their fix is to rotate food during the cook cycle, a nuisance to say the least. My big compliant is about the Easy Clean feature. There is NOTHING easy about it. Following the cleaning directions you end up with a puddle of water in the bottom of the oven that you have to sop up. Then you get to crawl into the oven and scour out the grease splatters, not an easy thing to do. Even after multiple Easy Clean cycles, I have yet to get a clean oven. Do yourself a favor and don't buy this stove.
Date published: 2018-12-03
Rated

1

out of

5
by
CG
from
Absolutely the worst product ever
Bought this range in March 2017. It does not have a bottom bake element so nothing browns on the bottom. I have to turn it at least 50 degrees higher than any recipes calls for and turn it multiple times during the baking process. I have called LG numerous times-each time it took weeks for them to send a company out to look at it. They have replaced things multiple times and it still doesn't work properly. I will never buy an LG product again and as soon as I can, I'm getting rid of this one. Don't buy.
Date published: 2018-05-28
Rated

1

out of

5
by
Regualo
from
Bad product, worse factory service.
After 5 months oven fan stopped working, 3 months later tech showed up to fix it, installed used worn out fan that when activated the fan blades rubbed the oven. 2 months later the tech showed up again said he had the parts to fix it. He asked where the fan bracket was, I guess I discarded it with the worn out motor he installed the first time, I had to remove the fan assembly after he left it that way so I could use the oven at all, I was afraid to use it with the fan rubbing the oven not only the unbearable noise but it was a fire hazard also. The tech may show back up one day I don't know but I have been without a oven for 6 months now so today I purchased a new Samsung , maybe it will be a better product and have better service. LG never again.
Date published: 2017-09-09
Rated

1

out of

5
by
Richard
from
Touch control panel
I purchased this range 4 months ago, the touch control panel which controls the burners and oven has stopped working. I am unable to use the oven until the whole top part of the range is replaced. Scheduled a service call and the service man failed to show on the appointment day, I had to call him to reschedule the appointment. According to what I have read online about this touch pad malfunction, it seems to be occurring quite often on this type of range. Buyer beware!
Date published: 2016-11-11
Rated

5

out of

5
by
Victorious
from
LOVE My LG!
We bought our new oven about a month ago. One reason we choose the LG Brand was because it did not have knobs. This was important to us because we care for my mother who has dementia. The electronic control panel is unfamiliar to her so it greatly lessens the chance of her accidentally turning on burners. Besides that, I appreciate the flat surfaces being much easier to clean! I show my friends my new range, and surprise them when I open the door to reveal the signature LG purple inside. They laugh and say how cool that is! I remind them, purple is for royalty! I'm cooking like a king! [This review was collected as part of a promotion.]
Date published: 2016-09-05
Rated

5

out of

5
by
AprilM11
from
We are extremely pleased with this LG range. Love the power boil option...no more waiting 5 minutes for water to boil,yay!! Unlike some reviews I read before purchasing,the surface is very easy to keep clean. The oven,I just can't say enough!! So much room. Love the 7 rack positions to choose from and bakes everything perfect! Preheating seems to be at least half the time compared to my former one. Oven is very easy to clean and absolutely love the brilliant blue color!! I very much like that the black stainless isn't too dark(my personal preference) and this truly is fingerprint resistant. Bravo LG!! [This review was collected as part of a promotion.]
Date published: 2019-04-12
Rated

5

out of

5
by
Kallie
from
Love this stove!
Only have had this for a few weeks but I love it! Previously had an Amana - this is so much better! Huge blue easy clean oven Textured glass top which is easier to clean. Timer tones are easy to hear. (Amana I could not hear so burnt everything) Large easy to read panel. Not crazy about the burner settings. To put on medium you have to start on high and press panel so many times to work your way down, but it's s minor inconvenience. The 5th burner isn't a burner but a warming panel. Wish the sides were stainless steel instead of black but whatever. This stove makes me smile every day. Very glad we bought this one.
Date published: 2018-11-12