Description
With its 1 1/4 HP motor that goes between the fixed and plunge base, this Dewalt electric router kit offers versatile performance. The adjustment ring on the fixed base and the fine-tune adjustment rod on the plunge base deliver adjustable depth for great precision. Variable speed provides optimized control to suit your project. Two LED lights and the clear sub-base ensure you get maximized visibility while you work. The rubber handle provides you with a secure grip, and the sub-base accepts universal template guides for easy use.
Product specifications
4" (10.16) standard, 4 3/8" x 5 3/4" (11.11 x 14.60 cm) plunge in
Over-moulded rubber handle
8-slot 1/4" (0.635 cm) collet
Keyless Blade Clamp (Y/N)
Electric router combo kit
4.6 lbs (2.08 kg) fixed, 6.2 lb (2.81 kg) plunge
Frequently bought together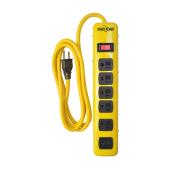 YELLOW JACKET
6-Outlet Power Bar with Surge Protection - 6' - Yellow
Format 1.8M
Details
Article #32045053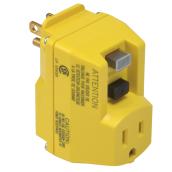 YELLOW JACKET
Single Outlet Portable GFCI Adapter - 1800 W - 15 A
Details
Article #32045050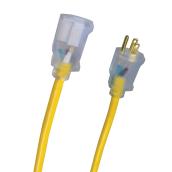 WOODS
12/3 Extension Cord - 25' - Red
Format 12/3 25'
Details
Article #74045239
Can this router be used with a router table?
"This plunging tool can even be utilized in an inverted fashion on a router table". Read full review here: http://equipmentarea.com/dewalt-dwp611pk/
Date published: 2019-06-19
Is there any depth adjustment on the router or do you have to use the plunge base for that?
I was just simply asking how long the router was on sale for.?   How that doesn't meet website qualifications I'm not sure but if you can not answer I'll simply phone the store and send you a really nice reply about your website not meeting qualifications
Electric Compact Router Kit - 1/4" - 7A - 1 1/4 HP
is rated out of
5
by
27
.
Rated

5

out of

5
by
Arlas81
from
Great Little Router Especially for Beginners
I had first gotten into woodworking in recent years, and after seeing how versatile a router is I really wanted to learn how to use one. I did extensive research before buying my first router. Numerous reviewers and articles touted the Dewalt compact router as a great learning router due to its size. well, after owning it for over a year, I couldn't agree more. It's compact size allows you total control (well almost, the bit is still spinning at over 20,000 RPMs) and it has more than enough power for most simple jobs. In no time at all I felt comfortable to tackle ever more complex routing with this tool, and the dual interchangable bases cover most of your needs. [This review was collected as part of a promotion.]
Date published: 2019-11-07
Rated

5

out of

5
by
Happy Hound Design
from
Why I switched
I switched to the Dewalt DWP611 compact router about three years ago after the shop I worked for flooded. This caused the majority of tools to be damage or considered a total loss including my personal tools that I require to produce professional work. We soon found out that the shop's insurance would not cover the cost of replacement of personal equipment. Lesson learned, I could not afford to replace my plunge router and trim router along with all of the damaged tools, so I switched to the compact router and I am glad I did. It has become a regular member of my kit because it is so reliable and transportable. I have recommended this tool to many of my colleagues. The 1-1/4 HP gives me the power I need, it is easy to change bases the 1/4" shank bits are easy to find and the LED light is a fun added bonus. [This review was collected as part of a promotion.]
Date published: 2018-11-17
Rated

5

out of

5
by
Shaf
from
Best compact router on the market
I have used other compact routers available, but the DWP611PK is far and away the best one I have ever used. Both fixed base or plunge operate smoothly. The LED's are extremely useful during operation of router. Top notch DEWALT top notch.
Date published: 2018-01-04
Rated

5

out of

5
by
RupertsWoodworks
from
Easy to Use
I got tired of using a large router to go over small pieces and it was a pain. This router is light weight, easy to hold with one hand and very precise. I have yet to use the plunge base, but bought it because it was only a couple bucks more, and I might need it some day. The LED light is also very helpful for precise cuts. [This review was collected as part of a promotion.]
Date published: 2018-11-13
Rated

5

out of

5
by
BigRig
from
Better than expected.
I needed a router to finish an 80% I had purchased and didnt want to make the same mistake I made in purchasing a Ryobi drill. Dont get me wrong it worked great for small jobs but bogged down when i needed the power. I didnt want the same to happen with my next power tool and went for this router. I was thinking of getting the 2+ hp one but wanted to save some money and im glad i did. This was more the. Enough to power through a block of aluminum with ease and has been used for multiple wood working projects since. The adjustments are easy and it seems to glide through everything small home project I have used it for. the only complaint i may ha e is that i wish the shop vac attachments came with the router. [This review was collected as part of a promotion.]
Date published: 2019-11-06
Rated

5

out of

5
by
Deeder83
from
Great combo kit, plenty of power
I bought this combo kit because I didn't need a large router. With that being said don't let this compact router fool you. It has plenty of power and fits comfortably in your hand. [This review was collected as part of a promotion.]
Date published: 2018-11-19
Rated

5

out of

5
by
Mpad
from
Meets all expectations
I bought this router combo a year ago and it has quickly become my favorite router. It's performs as advertised and I especially appreciate the LED lighting. I recently used it to help build a large bookcase and found the powerful soft-start motor and plunge base combined with a shop made jig and standard guide bushings the perfect setup for cutting accurate mortises. If you're looking for a smaller "palm" type router I highly recommend this product. [This review was collected as part of a promotion.]
Date published: 2019-11-06
Rated

5

out of

5
by
MNC723
from
Great Router
I've had this router for about a year and absolutely love it. The plunge base adjusts easily and the clear base is amazing to see what I need to see. There is plenty of power that I haven't had an issue with any project. Only complaint is I wish the cord were longer, but not a big deal. [This review was collected as part of a promotion.]
Date published: 2018-11-19