Description
EGO Power+ 7.5 Ah ARC Lithium(TM) battery features a redesigned fuel gauge. The innovative built-in indicator lights lets you see how much run time you have left in your battery. With 5 segments wrapping the power button, you can now see how much battery power you have left in 20% increments. The unique arc design and patented Keep Cool Cell Technology; which keeps the cells cool, prolonging battery life and making it a perfect power source in the most extreme conditions. ARC Lithium(TM) battery is compatible with all EGO Power+ power equipment and chargers. It fully charges in under 60 minutes with EGO Power+ rapid charger, or in 145 minutes with a standard charger. Enjoy a long-lasting power, rapid charging and superior durability no matter the weather and your power needs.
Product specifications
60 minutes with quick charger, 145 minutes with standard charger
Frequently bought together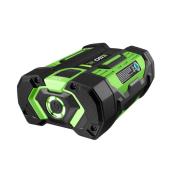 EGO
Ego Power+ Battery - Lithium 56V
Format 56V
Details
Article #32165014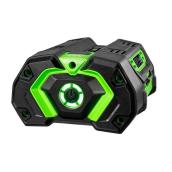 EGO
EGO 56V 5.0Ah ARC Lithium(TM) Lithium-Ion Battery with Keep-Cool Cell Technology and Integrated Fuel Gauge
Format 5.0AM 56V
Details
Article #32165011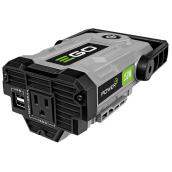 EGO
EGO Nexus Escape Power Inverter - 150 W
Format 150W
Details
Article #32165025
EGO Power+ 56 V Lithium-Ion Rechargeable Battery - 7.5 Ah
is rated out of
5
by
126
.
Rated

1

out of

5
by
Freddms
from
We shall see if these batteries last
I would be careful buying ANY Ego products. The batteries do not last and are very expensive. I have two mowers, 2 blowers, snow blower, trimmer/edger, chainsaw, and have had 8 different batteries with 100% failure rate on batteries right after the warrantee period. The batteries cost MORE than other brand entire systems but you get locked in. I have this new 7.5 Amp Hour battery (so I have two - my only two batteries that work now) and if it goes bad I will transition to another brand. 3 star because the tools themselves are pretty darn good.
Date published: 2020-12-17
Rated

1

out of

5
by
Runbigfoot
from
Disappointed in the 7.5 Amp Hour Battery
I need to call and have it replaced. Have only used it about a year and tt has less capacity than my 5A battery that came with my mower two years ago. Appears to have a bad cell or two somewhere in the pack. It just doesn't want to work. Sometimes it freaks out when on the charger and the lights start flashing until I remove it and reinstall it. After 15 minutes on the mower it shows little to no life let, but when placed on the charger it'll show a higher charge value. Very disappointed in its longevity and performance.
Date published: 2020-10-05
Rated

1

out of

5
by
PatJS
from
Disappointing Battery Life
This battery has lost it ability to sustain a charge similar to the first season of its use. The second year, last year, the battery power lasted for 5-10 minutes after having been fully charged. It would have to be recharged at which time the power lasted a bit longer. Just dropped the battery in the charger today for the first time this season, which is the battery's 3rd season. It won't take a charge and needs to be replaced. Poor performance EGO. You need to do better than this. Thinking of selling all of the EGO equipment I purchased last year for a more durable product.
Date published: 2021-03-22
Rated

5

out of

5
by
Grandpa Trouble
from
7.5 AH Battery with Fuel Guage
An amazing amount of power that allows me to do a complete mowing, edging and blowing the sidewalks and driveway in one charge. This battery definitely has power beyond belief!
Date published: 2019-07-05
Rated

5

out of

5
by
Brian K
from
Best in the industry by far!
The power and long lasting performance of these batteries are remarkable. I'm very particular about giving 5 star ratings but these batteries do not fall short. Very satisfied with all of the EGO batteries I have.
Date published: 2019-11-04
Rated

4

out of

5
by
German
from
Powerful Battery
I am very happy with the EGO products that I have, this battery has enough power to mow about 1/3 of an acre on a single charge. the only reason I don't give it 5 stars is because it failed at 2 years and 3 months. But I called EGO and they replaced it with a new one (excellent Customer Service) I hope this new battery lasts at least 3 years.
Date published: 2019-11-14
Rated

3

out of

5
by
Eric55
from
Love battery if it lasts
I currently have 5 7.5AH batteries and love the power gauge. This was a big improvement over the gen 1 & 2 battery. My concern is that this battery is a replacement battery. The original 7.5AH battery for my Nexus 3000 failed after about 1 year after little use. The replacement process was very easy once I got through to customer service. While I love the battery my concern is the long term durability.
Date published: 2021-04-20
Rated

5

out of

5
by
Kansan
from
7.5 Amp Hour Battery - High Expectations
This battery was purchased as a replacement for a similar battery, which lost its charge capacity after four years of light usage and could not support more than 30 minute work for EGO mower. I find such performance unacceptable, but the warranty is over. Would not give old battery more than 3 stars. The new battery works fine so far, providing more than 1 hour power supply. Hard to tell what will happen after four years, but hope for the better.
Date published: 2020-07-06