Description
The EGO Power+ 56 V charger ensures you get the job done quick with outstanding recharge times. In just 50 minutes, a depleted 2.5 Ah battery can be fully recharged with the 56 V charger. It can also fully charge a 5.0 Ah battery in only 100 minutes, a 7.5 Ah battery in 145 minutes. The active cooling fan system supports rapid charging without overheating. The quick recharge capability ensures limited downtime with any EGO battery.
Product specifications
2.5 Ah battery: 50 minutes, 5.0 Ah battery: 100 minutes, 7.5 Ah battery: 145 minutes
Frequently bought together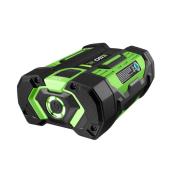 EGO
Ego Power+ Battery - Lithium 56V
Format 56V
Details
Article #32165014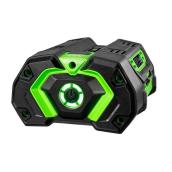 EGO
EGO 56V 5.0Ah ARC Lithium(TM) Lithium-Ion Battery with Keep-Cool Cell Technology and Integrated Fuel Gauge
Format 5.0AM 56V
Details
Article #32165011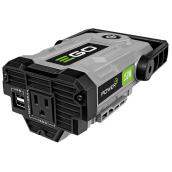 EGO
EGO Nexus Escape Power Inverter - 150 W
Format 150W
Details
Article #32165025
EGO Power+ 210 W Fast Charger - 56 V
is rated out of
5
by
343
.
Rated

5

out of

5
by
15PSI
from
Safe and Very Fast Charger for EGO Batteries
I received the charger when I purchased the leaf blower and 2.5A battery. It is absolutely dummy proof as the charging is completely automatic and a completely depleted EGO Lithium battery is 100% charged in less than one hour. The charger employs a quiet fan that automatically activates during the charging process to minimize heat build-up. I was so impressed by the EGO Blower kit, that I also retired my gas string trimmer and purchased the EGO String Trimmer. Although this is a review of the charger, I felt it would be helpful to some readers to offer kudos on the String Trimmer which is unbelievably powerful and beats my gas trimmer hands down.
Date published: 2016-10-13
Rated

5

out of

5
by
Oldstargazer
from
Exactly what I was hoping for.
Have used this for a couple weeks now and I can't complain. It simply works as advertised. If you have a small property that needs some clean up after mowing, or moving leaves into a pile to bag later then this will do the trick. I would compare to any of the entry level residential gas models for sale but without the hassle of gas.I also used it to clean out my dryer vent and dry my motorcycle after washing. Battery life for me has been a non issue but again, only cleaning a small city sized lot. Perfect tool for the job. As my budget aIlows I can see the trimmer and hedge clippers in my future. I really like the idea lessening the use of gas in power equipment around the home.
Date published: 2015-10-24
Rated

4

out of

5
by
Ralph S
from
Very convenient
The blower is performing as expected. I used it to clean off my roof (multiple roof lines on a 2400 square foot home) as well as the gutters . It took 4 chargings to do so, which I expected. I had to use the turbo feature over half the time as some of the gutter jams needed it. It's also managed to do my normal blowing (driveway, sidewalks and deck) in one sequence. I have a long driveway and large deck, so that is good performance. The larger battery would last longer of course, but they are pricey and not worth it to me. It's great to simply be able to pick the blower off the shelf, plug in the battery and go to work. Good product.
Date published: 2018-09-10
Rated

5

out of

5
by
Rich BL
from
Have to find a way to store
Took about 20 minutes to assemble, the same time as charging battery. Battery had a partial charge and was made in 5/2018, pretty good for over a year without charging. Huge battery - a little heavy but about the same as a 2 cycle motor. Works great, I walk around the yard and trim once in a while but more walking than trimming - great to just pull the switch when needed, battery should go a long way between charges. Still need to find a way to store, my previous trimmer hung from a hook on the ceiling but this one has the large motor on the head and too big for the hook. I may need to find a place to store horizontal. Would be great if a hanger was included.
Date published: 2019-06-16
Rated

5

out of

5
by
LarryLoree
from
Great saw,charger&battery.
After using gas chainsaws for 50+ years I bought the ego saw because it was rated #1 in the consumers report. My gas saws wouldn't start after sitting idle over the winter and I needed a saw that didn't need gas. I was surprised at how well the ego saw worked and I didn't have to fill it with gas and I didn't have to pull a start rope. It did all the cutting I needed to do. When it stopped after many cuts I put it on charge and it was ready to go again in about an hour. The only negative I have for the saw is I can't tell the oil level in the viewing window which is only a minor problem.
Date published: 2015-04-09
Rated

5

out of

5
by
Mr Ron
from
Good trimmer
I checked the reviews on line and have come up with a trimmer that meets all or most of my requirements. I compared it to the Stihl cordless trimmers and was ready to buy Stihl, but fortunately, Stihl didn't have the model I wanted in stock; so I looked at the EGO trimmer. I've had this trimmer for a little over a week and have used it 3 times so far. It is powerful, charges up quickly , is light weight and looks well made (even though it is made in China). It was powerful enough to cut down 3 foot tall weeds an inch in diameter. The .095" string is strong and goes through weeds with ease without frequent breaking.
Date published: 2017-05-30
Rated

5

out of

5
by
Saminksiii
from
Great Products
I now have the mower, trimmer and blower which I bought as kits with their own battery and charger. I have not had any trouble with any of them that would deminish my excellent rating. It was a little hard finding the pre-wound spools for the trimmer initially and the home depot I use does not stock many of your products and none of the except in the kit form. Given a choice, I would prefer the standard charger in the same configuration as the charger that came with the mower (stand up rather than lay down) but it's not a big deal. Keep up the great product line.
Date published: 2015-10-19
Rated

5

out of

5
by
Ian O
from
Fast charger.
Shocked that the charger was so big at first but then I realized it had a fan inside it and then I realized it needed a fan inside cause it charges the batteries super fast. I'm used to charging my 18650's at 1c so about an hour is a good charge time. But this thing charges the 2.5ah pack that holds fourteen 18650's in 45 minutes. That is just crazy to me. But this and the battery pack are designed very nicely and I am confident in that after watching some teardown videos on youtube. The batteries in the pack are set in array with a lot of room and vents for cooling around them and the cabling an boards are sealed and look to be of nice quality. In my opinion, well designed nice piece.
Date published: 2019-09-10