Description
The EGO Power+ cordless snow blower offers superior snow removal power without the drawbacks of gas-powered snow blowers. Featuring a high-performance brushless motor and powered by two EGO 56V ARC 5.0 A lithium batteries, the snowblower can plow through massive and wet snowbanks, and throw snow up to a distance of 35 feet. The handle-mounted lever lets you control the chute in a 180° radius to re-direct snow wherever you want, and the sturdy steel construction effectively withstands particularly harsh conditions. The handle can be quickly folded to add storage flexibility, and LED headlights let you clear snow at nightfall. This model comes with (2) 5.0 Ah batteries and the Rapid Charger.

Ecological Attributes
Using an electric tool generates significantly fewer greenhouse gases (GHGs) and air pollutants than a conventional model using gasoline.
Product specifications
(2) 5.0 Ah batteries, 550 W rapid charger
(2) 56 V, 5.0 A EGO Power+ ARC lithium battery
High-efficiency brushless motor
Frequently bought together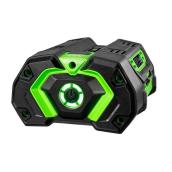 EGO
EGO 56V 5.0Ah ARC Lithium(TM) Lithium-Ion Battery with Keep-Cool Cell Technology and Integrated Fuel Gauge
Format 5.0AM 56V
Details
Article #32165011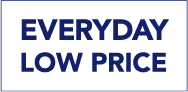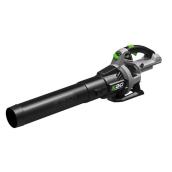 EGO
EGO Cordless Leaf Blower - 530 CFM - 110 MPH - Grey Black
Details
Article #32165012
bonjour j ai acheté cette souffleuse, servi deux fois et pendant ce deuxième neige, la souffleuse a arrêté d un coup. les batterie ok rien de pris ds vis sans fin. j attend deux heures et réessaie la souffleuse rien mem les phares n allume pas. pourtant
Bonjour, nous sommes désolés d'entendre cela. Veuillez contacter l'équipe EGO pour obtenir de l'aide: 1-855-346-5656. Merci pour votre question.
Date published: 2021-01-09
Since there is a rubber auger, can this snow blower be used on stone interlock driveway?
I have used it on my interlock driveway and it held up no problem.
Date published: 2020-12-03
Re storing of snowblower  Can this snowblower be stood on end for storage? Can it be hung on the wall? What is the weight of the snowblower? 
I love this blower, but would not recommend you hang it or store it on end. Just my thoughts
Date published: 2020-12-22
Est-ce les batteries de generation 3 qui sont dans ce kit ? celles avec les 5 bars qui indiquent ce qui reste de puissance dans la batterie ?
Salut MarcL, bonne question. Ce modèle devrait être livré avec des batteries de deuxième génération. Merci pour votre question.
Date published: 2020-11-18
Is generation 3 batteries in this kit ? the ones with the 5 bars indicators for power left
Hi MarcL, good question. This model should come with generation two batteries. Thank you for your question.
Date published: 2020-11-18
Can a charger for the Chainsaw battery or the charger for the Lawnmower battery be used to charge the snow blower battery. All are different Ah.
Hi mur_phy, good question. Yes. The EGO batteries are interchangeable in the EGO tools and chargers. Thank you for your question.
Date published: 2020-11-15
What are the dimensions of the machine when prepared for storage?
Hi vladm, excellent question. The length is 38.78". The width is 24.02". The height is 20.08". Thank you for your question.
Date published: 2020-11-10
What is the horsepower? A corded 13A electrical current machine i think i read has only 2hp.
Hi TomSt, good question. Please contact the EGO team for assistance: 1-855-346-5656. Thank you for your question.
Date published: 2020-11-15
POWER+ 21-in PEAK POWER Dual Port Cordless Snow Blower
is rated out of
5
by
1136
.
Rated

3

out of

5
by
snowwiser
from
great machine, but...
Tried the EGO snow thrower in about 10" of snow and it worked great. But when it came to the heavy compacted snowbank left by the street plow on my driveway, it failed me. Since it is not self-propelled you have to push the blower into the snow bank yourself and that was really hard on the shoulders. Once into the snow bank it blew the snow up and away readily. But I want a snowblower to do all the work for me and the EGO does only one part. Conclusion: if you are dealing with uncompacted snow only, its a great machine. But if you have to deal with a heavy compacted snowbank, such as left by a street plow, this is not your machine.
Date published: 2017-12-18
Rated

5

out of

5
by
Matt
from
Great Snowblower, Great Battery Life
I had both a single stage and two stage blower that ran on gas. The maintenance was a pain. I was unsure of the battery life, but I purchased this with two 5.0Ah batteries and it completed my driveway and sidewalks with battery to spare. It handled both wet and powder snow 4-6 inches deep without issue. My driveway is 75'x25' and I have 200 feet of sidewalks to clear. It took about 30 minutes to complete and I had 1-2 bars of battery to spare. The headlamps on the front put off a lot of light, it was great for use in the early morning. The noise is very moderate, once you get 10-15 feet away it is barely noticeable. I would buy this again in a heartbeat.
Date published: 2021-02-02
Rated

5

out of

5
by
Michel3000
from
Fait le travail
J'ai acheté ce produit au début octobre après avoir fait de nombreuses recherches incluant des modèles à essence, tous à une phase, budget oblige, et ce produit quoique un peu cher fait le travail. En effet à Sainte-Agathe-des-Monts nous avons reçu un bon 15 cm avec verglas au début de la semaine et l'entrée a été nettoyé en 20 minutes incluant la neige tassé laissé par le déblayage de la rue par la ville. c'était une neige mouillée. On parle d'une entrée de 16' par 30'. Pas mal du tout pour une souffleuse à une phase. Il restait assez de puissance pour enlever la neige en bordure chez mon voisin d'en face. Et après il restait les deux cinquième de la puissance des piles.
Date published: 2020-11-26
Rated

5

out of

5
by
Dprecon1970
from
Held up in a Blizzard
We got the 4th largest snowstorm in recorded history this past week and I bought this the day of the storm thinking I would go out every couple of inches and use it. Well, the first 4 or 5. Fell and I went through it like it was using a lawnmower. Light and powerful. Then I fell asleep to over two feet of snow. And a 4 car driveway. When I walked out I thought I had made a mistake, but what the hey I'll try it. Although it took 3 charges, it tackled the job and did a cleaner job then all of my neighbors gas powered blowers. Although the down side was it took a few hours because of charging, that let me come inside and warm up. This is a 10 out of 5.
Date published: 2020-12-21
Rated

5

out of

5
by
MoonScript
from
Quiet, smooth, with lots of power
Quiet, easy to use, and powerful. I was skeptical at first, but this thing chews through the snow, no problem! If you're used to a two-stage self-propelled gas snowblower, then it will require a bit more effort. But if you are able-bodied and don't mind needing to push a little harder in some spots (end of the driveway), this works great. The batters last the whole 3-car wide driveway, with plenty left over to blow out the end of the driveway and across the street by the mailboxes. So nice that I don't have to worry about gas, oil, pulling the cable to start, fuel stabilizer, etc. Just push the button and go!
Date published: 2021-01-15
Rated

5

out of

5
by
BikeBandit
from
Simply Amazing!
After 2 summers of being totally impressed by our EGO lawnmower, how it chews through out large yard of wet, tall grass and never once ran out of charge, we decided to try this snowblower. Wow! First snow of the year was about 10cm of wet, sticky stuff. I didn't think this machine would make it through much more than half the driveway, but it did our entire driveway, walks, neighbours walks, 50 metres of sidewalk across the street to the mailboxes, and parts of neighbours driveways too - and still showed about 25% charge remaining. WOW!
Date published: 2020-11-19
Rated

3

out of

5
by
LeeWing
from
Verdit still out
Happy with the 7.5ah battery life but, the first two snows I tried to use it on were about 1-1.5 inches deep and it only would blow the snow about 6 feet at best on high power. When I went over the areas that built up more from the previous path it seemed better but not more then about 10-12' Far less then advertised. I hope it does better on deeper snow to come. I will have to contact support to find out why this isn't throwing snow farther if it continues on larger amounts of snow. Bottom scraper wants to put a drag on concrete walks, I recommend another long lasting edge keeping material for scraper. I also recommend larger rubber wheels for better performance.
Date published: 2017-12-19
Rated

5

out of

5
by
Chuck13
from
This snow blower is amazing!
I bought this snow blower before Christmas of 2017 an didn't have to use it much until our big Chicago snow in Feb' of 2018. 13" of snow fell in (2) days and I gave this snow blower a workout! I first used it on 9" of snow and then the second snow fall was 4". My neighbors were so impressed they had to come over and look at it. One of my neighbors went out and bought one the next day! They batteries never gave out even when I helped my neighbor snow blow his driveway. I am so impressed with this product that I am going to buy the EGO lawnmower in spring and sell my Honda mower.
Date published: 2018-02-15