Description
The EGO Power+ leaf blower comes to your rescue for yard maintenance jobs when fall arrives! Adjustable 230 to 530 CFM airflow works with a turbine fan engineering, making it a higher efficiency unit compared to many gas leaf blowers currently available on the market. The EGO blower has been designed with optimum user comfort in mind, featuring an ergonomic handle as well as a lightweight and compact brushless motor that provides extended life and only generates low vibrations. Its external construction provides superior weather resistance. The device is compatible with EGO 56-Volt ARC Lithium batteries (sold separately) and comes with a 5-year limited warranty.
Product specifications
High-efficiency brushless motor
56 V, 2.5 A EGO Power+ ARC lithium battery (sold separately)
Frequently bought together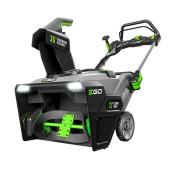 EGO
EGO Power+ Peak Power(TM) Snowblower with Rubber Auger - 56 V - 21-in
Format 21" 56V
Details
Article #45595001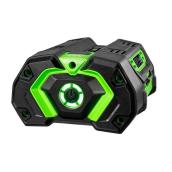 EGO
EGO Rechargeable Lithium Battery - 5.0 A - 56 V
Format 5.0AM 56V
Details
Article #32165011
Where can I get the battery and charger to buy? The description says tool only.
I have the Ego self propelled lawnmower with the 7 ah battery.  Will that batter fit the blower
EGO Cordless Leaf Blower - 530 CFM - 110 MPH - Grey Black
is rated out of
5
by
1929
.
Rated

5

out of

5
by
Beau
from
Perfect Leaf and Snow Blower
This is my second 5 star review for the 530 leaf blower. My first was on how great the Ego threw leaves out of the way with no problem at all. I had plenty of reserve power with the included 2.5AH battery. This review and pics shows how well the 530 tackles snow removal with little effort. Whether it is the sidewalk, driveway, or your vehicles, the 530 does a great job as long as the snow isn't heavy and wet. The colder the temps the better and easier the snow can be blown away. I did my moms driveway, then came home and charged the battery for an hour then did my driveway and felt much better than if I was shoveling all that snow.
Date published: 2017-01-06
Rated

5

out of

5
by
Troutboy
from
As advertised
Bought this within the past week and have been using it like crazy. Its very easy to use, powerful when needed and I like the adjustability. Its lighter than my old gas blower (which is about a year old), but so much easier to use. My wife uses it the most, and this is easier for her. Just pick it up, pull trigger, no more filling with gas, pulling start, messing with choke etc. The other plus, when I use to blow out garage, I am not left with a gas smell that always gets into the house. Great product so far, let's see how it holds up and lasts, but thats what the 3 and 5 year warranty is for....
Date published: 2016-05-17
Rated

5

out of

5
by
mcoption
from
Lots of power
I bought this blower because I was installing textured tiles on my patio, requiring frequent clearing of leaves and debris. My old corded blower was too inconvenient and not very powerful. I've owned this new blower for only a couple of weeks, but so far, it's been a very good performer. During the tile installation, I used it several times per day. My wife also uses it, and she really appreciates the convenience. The extra power makes it possible to also blow off the large deck and gazebo quickly and with less moving around. It appears to be stronger than the gasoline powered blowers used by the yard crews. It remains to be seen whether it's durable.
Date published: 2017-08-01
Rated

5

out of

5
by
Papaw Jeff
from
No more mixing two cycle !!
Plenty of power. Not quite as powerful as a 2 cycle even on high yet plenty of power for day to day cleanup of usual use. And in Turbo mode it is every bit as powerful as any 2 cycle I have ever had. Of course Turbo uses more battery, just like high uses more gas on 2 cycle tools, but I used turbo as needed and just to play with it a bit and high the rest of the time and cleared a 22 X 40 driveway a 4X25 walk and about 125' of road after I cut the grass. And still had plenty of power left in the battery that came with the blower. I already had the 56v trimmer, a battery and a charger so now I am all set!!!
Date published: 2016-04-22
Rated

5

out of

5
by
HShrock
from
Amazing Blower
I bought this blower for clearing my long driveway and my roof. I never considered a gas powered blower. Gas appliances are too much trouble, so I buy electric whenever possible. Altho I haven't tried it on the roof yet, it does the job very well on the driveway. Mostly I use the default setting and only occasionally need the Turbo setting. My only complaint is that a shoulder strap did not come with it, even tho there is an attachment point for that very thing. My wife found some spare straps that I will try to jury-rig. I get a sore spot on my right arm after a lot of use. A strap would help support the blower and prevent this problem.
Date published: 2016-07-14
Rated

5

out of

5
by
sbal
from
Love it....
Bought it a few weeks ago even though my gas blower works well, just tired of pulling g it to start it. The 2.5 battery works great but I have the 16" chainsaw so I attached the 4.0 battery to the blower and on turbo you feel like you're about to take off, fantastic power. The 2.5 battery on turbo gives you about 15-20 minutes of power and its plenty powerful. Have 2 EGO products purchased in the past 3 months and love them both. The 16" chainsaw is fantastic. Came home one day and a big branch of our cherry tree fell off the tree because of the weight of the cherries. had it cleaned up between the chainsaw and the blower in 90 minutes...
Date published: 2016-07-04
Rated

5

out of

5
by
BillyD
from
Impressive!!
This is an unbelievable product! I have a gas powered blower and the Ego puts it to shame. What I love about it is, just slide the battery in place and you're ready to go... No gas, no trying to start it....just push the button and you have amazing power.... The only downside is about 10 minutes of battery power at maximum speed, so don't expect to blow leaves for an hour. Now I have four Ego products (and will be buying the snowblower next winter) so I have two batteries. Once I'm done with the trimmer, I have more than enough time to use the blower to clear the sidewalk, driveway and patio... If I need more time, I just switch out batteries, but that is rare.... I love the quality, convenience and not having to use gas, which makes Ego products perfect for me! No complaints!
Date published: 2017-04-22
Rated

5

out of

5
by
Timmm
from
Great Power, No Hassle
I recently purchased this blower because my gas one was getting temperamental, and I love my Ego cordless chainsaw. I'm just as impressed with the blower, which is hard to do! The biggest perk is instant starting. Pull the trigger, and you get to work. No mixing and filling with gas, no choke or primer. When the trigger is pulled you get a mild amount if airflow. This is actually really nice for places like corners (and not creating your own tornado). Hold down the "turbo" button, however, and the thing will blow your arm back! It's been great for cleaning out the garage after a winter of salt, sand, and slush that leaves the floor looking like a gravel pit. I haven't had it long enough for leaves yet, but I can already tell it will outperform my old gas blowet for sure.
Date published: 2016-03-23