Description
The DrillerToggle® is a drywall anchor which provides the holding power of a toggle bolt with the ease of installation of a WallDriller®. The toggle action mechanism supplies extra holding power in drywall while its self-drilling tip eliminates all the extra hassles and messes of installing a regular toggle anchor. The fine centered point helps guide the anchor into the wall with precision while the tip's sharp cutting edge reduces the amount of force required to cut into the wall. This model is 3/16" x 2" and sold in packs of 6 units, but DrillerToggle® anchors are available in a wide variety of sizes and packages to suit your needs.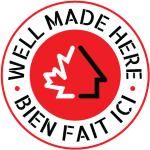 Product specifications
Screwdriver (screws included)
"DrillerToggle" Drywall Anchor - 3/16" x 2" - 6/PK
is rated out of
5
by
9
.
Rated

5

out of

5
by
ARM3
from
What a great drywall anchor!!
I was looking for something to attach a clothes drying rack in my laundry room and the studs in the wall weren't cooperating. I needed something pretty strong, so I checked out these toggle screws. They went in without a hitch using nothing but a phillips-head screwdriver and really locked down tight. Now, the only thing is you have to be sure you don't run into a stud and have plenty of space behind the drywall, but I did, luckily, and now the drying rack is firmly in place and can handle heavy, wet things like towels and bathing suits (it hangs over the laundry sink so drips are handled nicely). The product is Canadian and American made, too.
Date published: 2013-09-16
Rated

1

out of

5
by
TechyOne
from
Terrible Terrible Product
These were the biggest waste of $$. Stick with the all metal drywall anchors and you'll be happy. Had I been able to get these back out of the wall without damaging my walls further I would have returned them for a refund.. this is without a doubt the worst anchor I've ever used.. only tried them because they looked to have more depth to them. Problem with these anchors is that none of them.. and I tried 8 of them. None would tighten up.. and it just spun in the drywall. Fortunately I was able to cover the holes made by these with my shelving rails and used the all metal anchors with no issue. Again.. unless you want to destroy your drywall and not have a functional anchor.. you need to avoid these.
Date published: 2014-03-07
Rated

5

out of

5
by
Alleyesonone
from
Great Holding Power but has Install Quirks
The product has great holdIng power once it's installed and requires a smaller hole in the wall compared to a traditional butterfly anchor. Here's what to consider when deciding on it for an install. -The wall must not be filled with any insulation since that will prevent the holding mechanism from extending, which effectively limits the use to only internal walls. -The depth of the wall must be about 1 inch deeper than the screw length to allow the holding mechanism to extend. -The self-drilling mechanism didn't work that well for me; the shaft of the ancher got caught after the drill-head went in the wall. So, I drilled a pilot hole the same diameter of the shaft exactly where I wanted the hole. -If you need to install adjacent to a stud, you'll need to first drill the pilot hole and then hand screw the anchor into place with a screwdriver to ensure that the screw mechansism flips upward. By hand, it is easier to control the pressure to get the anchor arrow vertical; about a 1/4 turn. If it's not vertical, the mechanism will hit the stud when extending. You may want to practice this step in a wall that you can spackle if you get it wrong. The anchor can be taken out of the wall by unscrewing, however, not always very easily due to the screw mechism, which may open partially. -Once it's in the wall, screw into it until the mechanism tightens. After that, you can unscrew and re-screw as needed. I've never had a problem with the anchor once it was in. This is valuable information; may it be a blessing to you. <><
Date published: 2012-06-13
Rated

5

out of

5
by
GEE-C
from
Great wall anchor
I used these to "re-secure" a shelf which had loosened from 'screw-in" style wall anchors, so a hole already existed. (unfortunately-no studs avail) Screwed these into place (do not over tighten-no need), inserted screw through my shelf's required wall bracket, and tightened until very snug. These are a bit more expensive than some anchors, but if you want to do the job once-then use these!
Date published: 2014-01-19
Rated

5

out of

5
by
Smiz
from
Works exactly like I hoped they would do.
I bought these (110 pound rating) to use to hold the seat base plates to the floor of my fishing boat. The original screws were pulling out of the plywood and I wanted something heavy duty to replace them. Because they are intended to self tap into drywall, I had to drill out the plywood to accommodate the toggles but that was a minor inconvenience.
Date published: 2013-07-10
Rated

5

out of

5
by
Harry
from
Surprised
I was surprised at the ease of installation., Care must be taken to align the arrow counterclockwise to where it be when tight. I found the 8 o'clock position to be good. also take care not to tighten too much or the sheetrock may break. Just snug up with the arrow at the 12 o'clock postion when snug. Great product!
Date published: 2014-01-29
Rated

5

out of

5
by
JimB
from
Best wall anchor ever...
First time I ever used this product, and it will not be the last, these anchors are the strongest, and the easiest I have ever used. Their design is fantastic, a simple idea that really worked!
Date published: 2014-07-21
Rated

1

out of

5
by
Kris88
from
Pure garbage, avoid
All six anchors in the package failed. The screws that thread into the white metal/lead anchor stripped with two fingers on the screwdriver. Please stop selling this garbage.
Date published: 2019-08-10