Description
The DrillerToggle® is a drywall anchor which provides the holding power of a toggle bolt with the ease of installation of a WallDriller®. The toggle action mechanism supplies extra holding power in drywall while its self-drilling tip eliminates all the extra hassles and messes of installing a regular toggle anchor. The fine centered point helps guide the anchor into the wall with precision while the tip's sharp cutting edge reduces the amount of force required to cut into the wall. This model is 1/4" x 3" and sold in packs of 4 units, but DrillerToggle® anchors are available in a wide variety of sizes and packages to suit your needs.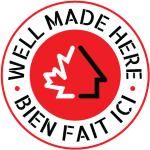 Product specifications
Screwdriver (screws included)
"DrillerToggle" Drywall Anchor - 1/4" x 3" - 4/PK
is rated out of
5
by
15
.
Rated

1

out of

5
by
Fisher
from
Should be discontinued
Don't waste your time. This product is not to be trusted. At least 3 out of every 4 broke when attempting to install with light torque. The problem is the extremely thin wall snappped on the threaded 1/4-20 zinc-aluminum. Once installed, they cannot be removed, so the ones that did hold have to stay until they break. They were chosen for their corrosion resistance on a marine seat that had to be working the next day. Two men started at 9 PM and finished at 3 AM. Installation involved multiple removal of seat as the anchors broke, attempts to remove questionable anchors, etc. I'll never use this again.
Date published: 2012-03-03
Rated

5

out of

5
by
dpullen17
from
Easy to install and strong.
First a warning. These toggles rotate once they are in the wall and could get stuck on any insulation in the wall but so will all toggle bolts that rotate. That said, these are great and easy to use and are holding up office cabinets. They are rated for 100 pounds and certainly when I used them to mount a TV mount in an office here, I was able to hang from the mount with not problem. I found that if you use a hand screwdriver to slowly break through the drywall and then start with a hand screwdriver to connect the bolt to the toggle I had no problems. After you get the first connection, then use your power drill to finish the mount.
Date published: 2019-04-24
Rated

5

out of

5
by
Billy
from
Best heavy duty drywall anchor by far
These things are beastly. I use them on any heavy wall mount application, including those that recommend you use a stud on one side. I live in South Florida where there aren't many stick built structures. These go in easy with a screwdriver. There is a nylon component so I would be careful if using a powered screw driver or drill. Be sure the casing arrows point up & down when the flange is flush to the wall then snug them in with the bolt. You'll know when they are firmly in place. They are rated 110 lb. but look and feel like the can hold twice the weight of comparable products which are rated for 100 lb.
Date published: 2015-08-04
Rated

5

out of

5
by
Coachnblues
from
Excellent anchor!
I have used these for virtually all of my big / heavy objects to be wall mounted. Most recently a custom vent hood in my kitchen. I always drill pilot holes to verify there are no obstructions or structural surprises. These anchors have worked beautifully!
Date published: 2011-10-30
Rated

1

out of

5
by
SSContractors
from
Will not buy again
Looked like the perfect product for my intended installation, but I installed 4 of these into drywall and only 1 of the 4 actually took hold. The other 3 did not engage properly, and one broke off trying to correct the problem. When they don't engage properly, you also cannot easily get them back out either. Will have to drill them out and push them inside the wall and try something else that is more reliable.
Date published: 2012-02-18
Rated

1

out of

5
by
momof5
from
Terrible! 3 of them broke even after my husband tried to drill a pilot hole for them. Just garbage! Now we have 3 huge holes in the wall!
Date published: 2011-10-21
Rated

2

out of

5
by
dave
from
broken toggle
two out of four broke, I guess it helps to read reviews on everything before buying
Date published: 2011-04-27
Rated

1

out of

5
by
Togo
from
Toggle screw
Will tear wall because it is too long and hits the insulation before it opens.
Date published: 2013-08-02