Fire-Resistant and Sound Barrier Doors (3)
Consider
fire-resistant doors to 
improve the safety of your home by providing a barrier to slow the spread of flames. They're ideal to set up outside the kitchen, or other areas where fires are most likely to start. These
fire resistant interior doors
will delay heat for approximately 20 minutes. The doors are made of hardwood with a primed finish, and come in a traditional design, similar to the look of traditional
paneled doors
. They offer protection without altering the aesthetics of your living space.
---
Elevate the safety level in the household or at work by installing heavy-duty
fire-resistant doors
. With a wide range of door options, individuals can browse
French doors
and other
fire resistant interior doors
to accommodate different areas. The durable hardboard material is rated for 20 minutes, allowing time for residents to respond to the situation. Consider
sound barrier interior doors
that offer additional benefits by minimizing the noise from adjoining rooms, or hallways with multiple doorways.
Fire-resistant interior doors come with a primed finish, which elevates them aesthetically, makes them ready to install, and allows for different paint colours to be applied without affecting the integrity of the door. The smooth door surface enables easy cleaning for a professional look in kitchen areas, garage entries, and other spaces. A left opening design offers a standard setup to fit in most existing home arrangements, and it's easy to install the door in a few steps. The door handle is sold separately and requires basic installation.
These interior doors go through many quality tests to ensure complete protection in hazardous areas with a risk of fire. By installing them in specific rooms, you can ensure there'll be more time available in case of a fire to evacuate.
Fire-resistant doors
are an excellent solution for rooms with many electronics that could become the cause of a fire. Supportive safety measures can include
 sliding doors
for quick access to a yard or a patio area. 
A seal on the sides of the door expands once the temperature passes 200°C to fill all gaps between the frame and the door. Another important advantage of
fire-resistant doors
is that they minimize smoke seepage. The seal keeps the air breathable for an extended period to allow for exiting the area, or eliminating the fire.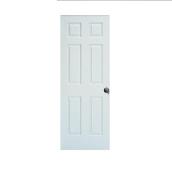 METRIE
6-Panel Masonite Bifold Door - Primed Hardboard - 30 in x 80 in x 1 3/8 in
Format 30x80x1 3/8"
Details
Article #61406409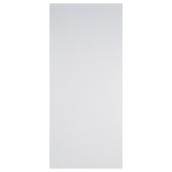 METRIE
Masonite Flush Fire-Retardant Door - Primed - 33 13/16 in x 79 1/8 in x 1 3/4 in
Format 33 13/16x79 1/8"
Details
Article #61405663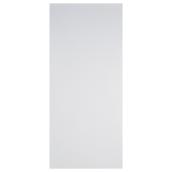 METRIE
Fire-Resistant Door
Format 29 13/16x79 1/8"
Details
Article #61405659