Description
These Dewalt XR Lithium-Ion 20V Max batteries provide up to 33% more capacity than standard 20V Max battery packs. The 3-LED fuel gauge system allows immediate feedback on state of charge. No memory and virtually no self-discharge ensure maximum productivity and less downtime. These lightweight batteries allow maximum run-time. Three-year limited warranty.
Product specifications
3-year limited warranty, 90-day money-back guarantee
Frequently bought together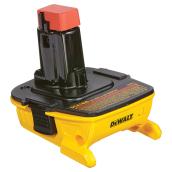 DEWALT
Dewalt 20 V Max Lithium-Ion Battery Adapter
Format 18-20V
Details
Article #00275961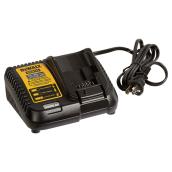 DEWALT
Lithium-ion Battery Charger - 12-20 V - Plastic - Black
Format 12-20V
Details
Article #00275956
what size of Dewalt charger do I need for the DCB204-2 battery? I have a 106 and a 107 charger but after 1 1/2hrs on the charger the indicator still says battery isn't finished charging. By that time, the charger and battery are fairly hot.
Hi You can use your both battery chargers. It takes around two hours or more to complete change. This is normal.
Date published: 2019-05-26
Are these eligible for the save the tax event?
XR Lithium-Ion 20V Max Batteries - 2-Pack
is rated out of
5
by
98
.
Rated

5

out of

5
by
Greg
from
Easy decision
These were on sale along with a 10% off coupon code used to make it an even better deal, not much more than the price of a single battery. Was purchased while in the store due to the code, they wouldn't just use it at the register but it was still easy to buy. The 4.0 amp hour is the best choice for the 20v max system and was a great addition to the two 3.0 amp ones I already had. There is nothing really that can be said that isn't in the description of the product other than they came with a slight charge of two lights on them already that was enough to complete the job at the time. DCB204-2 is the model number, can be hard to find using the search.
Date published: 2014-05-09
Rated

5

out of

5
by
Grumpy
from
Great batteries at a great price
These are great batteries and currently have the longest run time of all the DeWalt 20V Max batteries available in the USA. I bought this set to use on my cordless circular saw and they work great. They are the same size and weight as the 3.0Ah battery that came with the saw, but these 4.0Ah batteries give you 33% more run time than the 3.0Ah and still charge in about 70 minutes versus 60 minutes for the 3.0Ah. If you look at the other DeWalt 20V Max batteries sold at Lowe's, this is the best value by far. If you have a 20V Max saw, these are the batteries you want. Rumor has it that DeWalt will release a 5.0Ah battery soon (DCB205), but for now, this is the best choice for saws.
Date published: 2014-06-04
Rated

4

out of

5
by
Frank
from
Batteries that power battery powered tools
The 20 volt lithium ion battery packs are twice the size and provide twice the juice as the smaller "kit" batteries. Are they expensive? Yep. Are they worth it? If you're frustrated because you lose power on your smaller batteries too quickly, then yes, they are worth it. Especially the two pack which almost cuts the per battery price by 30%. If you never run out of battery power doing the jobs you normally use your battery powered tools for, then you probably don't need them... but honestly, who buys DeWalt tools and not use them so much that you drain the battery?!?! More power = Good, in my book.
Date published: 2014-12-15
Rated

4

out of

5
by
Tommy
from
Great for certain jobs
I use these 4 amp hour batteries with the SDS hammer drill and the grinder and they are the only way to go, but on a impact drill or standard drill this is completely unnecessary and heavy, the 2 amp hour batteries with fuel gauge are preferable. Big tools = this is a must small tools = if you have batteries you don't need it but considering these are roughly the same price as the smaller batteries if your in the market you might as well. Yes they do take twice as long to charge as a standard 1.5-2AH batteries.
Date published: 2014-11-10
Rated

5

out of

5
by
davy
from
Love it!
Was everything I expected from a DeWalt product. Used it for almost 6 hrs building a playhouse using it in reciprocating saw, drills, and skill saw. When it did run out of juice, put on charger and was charged in no time ready to go again.
Date published: 2016-11-28
Rated

5

out of

5
by
David
from
"Dumb luck" Lowes visit
I walked into Lowes that day with nothing really on my mind to buy. Rarely do I not check "Tool World". By dumb luck, these 2 pack 4amp hours batteries were marked down to $129.95, $40 off list price. Had to get them. I think that even beat Amazon.
Date published: 2015-05-03
Rated

5

out of

5
by
Kenny
from
Double 4ah batts by Dewalt!
The prise is right! Can't beat it anywhere in this area. Dewalt is the know quality for me! Works hard and can take a beating if necessary! Not the cheapest but with me you get what you pay for! Thank you Dewalt!
Date published: 2015-12-23
Rated

5

out of

5
by
Jack
from
I
Those battery pack are awesome. Made sure get this battery pack made in Japan.
Date published: 2015-05-18