Description
You can use this DCV581H Dewalt wet/dry vacuum cordless or corded, powered by either an 18V or 20V Max battery, or an AC outlet. The washable HEPA rated wet/dry filter traps dust with 99.97% efficiency at 0.3 micron. The heavy-duty, crush-resistant, fully-integrated 5' hose provides durability and flexibility, and is easy to use. On-board hose, cord and accessory storage makes the vacuum easy to carry and transport. The 2-gallon tank capacity provides enough storage to empty a toilet or clogged pipe. Three-year limited warranty.
Product specifications
3-year limited warranty, 1-year free service contract, 90-day money-back guarantee
Frequently bought together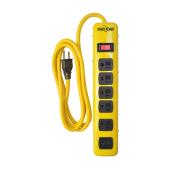 YELLOW JACKET
6-Outlet Power Bar with Surge Protection - 6' - Yellow
Format 1.8M
Details
Article #32045053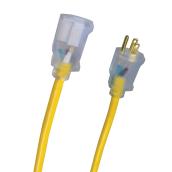 WOODS
12/3 Extension Cord - 25' - Red
Format 12/3 25'
Details
Article #74045239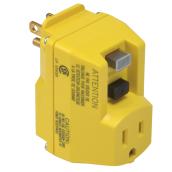 YELLOW JACKET
Single Outlet Portable GFCI Adapter - 1800 W - 15 A
Details
Article #32045050
Wet/Dry Vacuum - Corded or Cordless - 18 V/20 V
is rated out of
5
by
69
.
Rated

3

out of

5
by
Philip
from
My Honest Review
My honest review of the Dewalt 20 Volt Max, A/C and 18V 2 Gallon 1.85 Peak HP Shop Vacuum DCV581H I give this a 7 out of 10 and here is why. I expected more suction. However, this is a great mini shop vacuum for your stairs, couch and mini van. The motor lacks power at only 2 horsepower, but it does the job. I have worked with lots of min shop vacs and this one works for little things around the house. Don't expect it to to anything big or have high expectations. It is honestly good for small things around your home. The pictures are of all the dirt and dust I collected in one sofa cushion, one flight of stairs and my center console of my mini van...not bad!
Date published: 2018-04-17
Rated

5

out of

5
by
Hovercraft
from
Powerfull no, Convienient Yes!
I get about 20 minutes of great power and performance out of a 20V Max battery! As far as performance this vacuum does OK at best. Easily picks up light stuff like drywall dust or wood shavings. But not enough power to run a floor sweep or pick up metal items like screws and nails easily. I pitted it against my other shop vacuums with a gauge. As you can see from the pictures it has about half of the vacuum pull as my go to job-site shop vac. And 1/4 or less than the, king of the shop Festool extractor. Still it is a lot easier to deal with for a one day job where I'm in and out. [This review was collected as part of a promotion.]
Date published: 2018-12-20
Rated

5

out of

5
by
AVRGdrummer
from
Such a useful tool
I recieved this as a gift on Father's Day along with a 4-ah battery. It's the best little vacuum I've ever used. I grab it for any messy project and never have to worry about finding an outlet. I also use this to vacuum my car and the portability beats using a regular household vacuum any day. The only con I could say is that it's not the most powerful vacuum out there. But I can't say I've seen a cordless vacuum like this that is. In short, if you are looking for a vacuum that will suck your face off better look to one of their larger corded vacs. Overall I don't know how I'd get a long without this little vac! [This review was collected as part of a promotion.]
Date published: 2019-11-08
Rated

5

out of

5
by
borky545
from
Solid compact show vacuum
Portable unit with sufficient power for its size within reasonable use/application for a compact shop vacuum. Great feature of being able to work off of battery power or optional corded wall outlet. This way the unit can be used if your batteries die or don't have with you. Hose actually stays in position; was skeptical initially. Accessories are integrated into the function and housing nicely. With a battery the weight balance is off, but not a deal breaker; something to note. Would have liked to seen a battery area cover to protect the end / battery when it's in the truck bed exposed to the elements. Overall very happy with the purchase, using it only with the 20V. [This review was collected as part of a promotion.]
Date published: 2018-12-26
Rated

5

out of

5
by
JohnnyG
from
Love It!
I bought this to clean our pontoon boat at the storage place where there's no electricity. I find myself using it all the time at home and to clean the cars. It has good suction and works really well. I wish I would've bought one years ago
Date published: 2017-08-03
Rated

5

out of

5
by
VetFan
from
Handy Portable Vacumn
While this small vacumn doesn't have the suction of a huge shop vac it makes up for it in portability. The vacumn has adequate suction for clean up tasks that would be a pain for large vacumns. This models choice of corded or battery operation makes it exceptionally handy. I would highly recommend this tool for anyone looking for a very portable vacumn.
Date published: 2017-07-14
Rated

3

out of

5
by
Jeff B
from
Great concept, seriously lacks suction!
I have owned this for about 6 months and am pretty disappointed with it. I have never owned a DeWalt item that I was unhappy with...until now. Just not what I would expect from DeWalt. You have to be right on top of what ever you are trying to pick up in order for it to work. Don't bother trying to pick up anything larger than a penny. I am back to using my old shop vac which will pick up anything and more! Wish I could return for something useful.
Date published: 2018-04-19
Rated

5

out of

5
by
DK
from
Performance & feature rich
Excellent hand held shop/home vac for the following reasons: Pros: 1. The 20V LI battery and corded options combined make this a winner. 2. Noise level is tolerable (much less howl than an Oreck XL portable vac that I have.) I have an iPhone db meter app and standing next to my fridge in the kitchen, it read ~50db. Which is equivalent to a quiet conversation among people. The vac was there next to the fridge and when I turned the vac on (using battery) the reading was 95db ~36" from the unit. 95db is similar to walking behind a gas lawnmower or using a blender in the kitchen. (I cannot vouch for the accuracy of the app db meter on my phone - I did not see any validation studies to prove that it is accurate to within +/- X%.) 3. Most importantly, the suction is good. Works on my car, boat, around the house for small pick up situations. 4. Short, small stretchable job hose self stores on the unit. The carpet/cushion wide vac attachment is included and works well on flat surfaces. I sometimes use my own brush head to clean sensitive surfaces. 5. 20V LI battery power (5 amp Hr battery) means I can easily use it for 2+ hrs without recharge. Switch to cord if you need to keep going. 6. Short cord self stores on the unit. 7. Has a blower port so you can get soft blowing done if you need to. 8. Capability to suck up water, as well, is useful. 9. Easy to empty. Cons: None come to mind after using this DeWalt Vac weekly for a month or so. FWIW, this review comes from a fine woodworking veteran with 50+ years of woodworking and DIYing with a compulsion for exquisite results.
Date published: 2017-08-14