Description
The Dewalt 9-gallon dry/wet vacuum cleaner is the ideal product for small and large cleanups in workplaces such as construction sites. It includes a specially-designed handle for easy transport and a powerful, rugged motor for optimum suction performance. Its cartridge filter retains fine dust, small dry debris and wet materials, not to mention that it is washable so you can reuse it many times. The large on/off switch features a water-resistant design for quick access, while the built-in 10' power cord and swivelling casters provide excellent flexibility when moving with the vacuum cleaner. The device comes with several accessories and tools for specific cleaning tasks. Keep these organized with the included accessory bag. Finally, the built-in tank drain makes emptying liquids a breeze. Backed by a 3-year limited warranty.
Product specifications
Automobile interior, bare floor, carpet, laminate flooring, stairs, tile, vinyl
Hose, 2 extension wands, washable cartridge filter, floor nozzle, disposable filter bag
Frequently bought together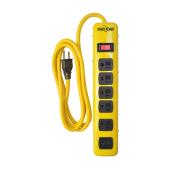 YELLOW JACKET
6-Outlet Power Bar with Surge Protection - 6' - Yellow
Format 1.8M
Details
Article #32045053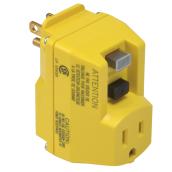 YELLOW JACKET
Single Outlet Portable GFCI Adapter - 1800 W - 15 A
Details
Article #32045050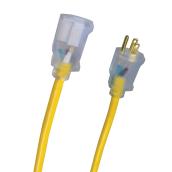 WOODS
12/3 Extension Cord - 25' - Red
Format 12/3 25'
Details
Article #74045239
Where can one buy spare filters and bags for this unit ( 9 gallon)?
can this be used for carpets
Can I use this on fireplace ash?
Dewalt Vacuum - Wet/Dry Waste - 9 Gallons - 5.0 HP
is rated out of
5
by
95
.
Rated

4

out of

5
by
Gmoney
from
Best wet/dry vac I've owned.
The only reason I didn't rate five stars is because of the brush attachment. I bought it a week ago and immediately began putting it to work. I'm going to start out by telling my only issues and it's the lack of the brush attachment and the size of the hose is not compatible with other brand attachments. Outside of that, it's absolutely hands down an investment worth every penny. Easy to use, tough, powerful and surprisingly quiet for its size. I have used it for all types of tasks and now it's hooked to my saws with absolute no problems sucking up the dust will cutting. Now use my saws in the garage with the door closed and with no dust. It's a beast for car vac.
Date published: 2018-11-02
Rated

5

out of

5
by
skMA
from
Perfect for the new homeowner
I just bought a house and am already tearing down walls. I needed a shop vac that could suck up almost anything and everything as I went along, but wasn't too big to be lugged around. This is the perfect size/weight for the job and then some. I looked at other brands (ShopVav, Craftsman,etc) and the quality of this one, with the suction, and storage hit more boxes than the other. The storage bag on this is really pushed me over as it is so convenient and you don't have the pieces popping off the inserts on the wheels whenever they bump into something else. Very happy with this purchase and would recommend to anyone else. [This review was collected as part of a promotion.]
Date published: 2019-09-25
Rated

5

out of

5
by
Westernbabe
from
Great product
Our last shop vac was a 16 gallon and awkward to handle. This one is the perfect size, great suction power and easy to roll around. The attachment bag is much better for storing than like the other one on the base around the bottom. We've already used it to remove water from a very heavy rain that went into our pole barn and very pleased with it. My husband has also used it for cleaning the floor and cob webs and loves it. Our next chore for this vac is to blow out the water in the pool lines when closing. I would definitely recommend this DeWalt shop vacuum - a quality product and well designed. [This review was collected as part of a promotion.]
Date published: 2018-09-24
Rated

5

out of

5
by
John
from
Saw shop cleaner
My 9 gallon shop vac is used with a dust collector as the picture shows. The vacuum works well and has a good suction with the dust collector. It has a better suction with just the vacuum hose. I like the 10 ft cord it winds up good and wads up better to just put into the onboard tote. The wheels role good and I'm sure it handles well if full of water. The only problem I have is the supplied attachments will not fit any PVC adapters and you end up using duct tape or a rubber adaptor to expand for different uses. [This review was collected as part of a promotion.]
Date published: 2018-09-24
Rated

5

out of

5
by
Barry
from
It's in the details
I've had a number of shop vacs and I am thinking this is one of the better, if not the best I have had. It is a downsize compared to many before it and I rather enjoy the smaller size. It has far better wheels on it than most. These wheels do not get clogged up or brake themselves. They are on full casters and the vac follows me willingly. I really like that. It has suck! It has a huge filter. Don't know if I will always use the bag, but it is handy and less mess than just dumping the canister out somewhere. The tool bag keeps my stuff together and the handle along with the rubber strap helps move the vac and store the vac line. All details that do not exist on many higher priced units. Very happy with this and a fair price for a quality unit. [This review was collected as part of a promotion.]
Date published: 2019-03-26
Rated

5

out of

5
by
rebelliii
from
Large capacity Portable wet/dry Vacuum
The DeWalt 9 gallon wet/dry vacuum is a great addition to my other DeWALT tools. Large capacity, easy to put together with 8 screws, large hose for vacuuming larger items than my previous Shop Vac. Drain port for emptying liquids, no more pulling the top off to dump the heavy liquids out, just remove plug. Also has filter bags for the convenience of easy disposal. This Shop Vac will also attach to my DeWALT miter saw for vacuuming saw dust as I'm cutting wood for projects. I really like the accessory bag holder for all the attachments, no more looking for them when I need them. This Vacuum is a great addition to my other DeWALT tools, and will be used a lot in the coming months. I have already used this vacuum in my garage, to vacuum vehicles, along with vacuuming saw dust with my miter saw. I would recommend this Vacuum to anyone wanting a good shop vacuum. [This review was collected as part of a promotion.]
Date published: 2018-09-25
Rated

5

out of

5
by
Chuck
from
Everything needed in a shop vac.
Over the years I have owned two other shop vacs with no complaints on either. When turned on they both worked the same picking up wet or dry messes. After getting this Dewalt I found it offered more than just picking up a mess better than the others. The first thing I noticed as I took it out of the box there was a rubber strap on it. My first thought was that it was for holding the top down but it was not. It was for holding the hose up out of the way when moving it. The other vacuums did not have this strap. It was very annoying to move the old ones any kind of distance with the hose dragging. The next thing I noticed was that I had to put it together. No big deal, it was only 6 Phillips screws for the wheels and bag holder brackets. It took me at the most 10 minutes to have it up and running. When I turned it on it was nice to hear it didn't scream like a jet as the others did. The tank holds about the same as the others but the suction was much better. I have not tried it to pick up water but I'm sure it will do fine. A feature I didn't notice it had until I was thumbing through the manual is a drain they put on the bottom of the tank. You would think I would have seen it as big as it is when I was putting on the wheels but I didn't. It was a pain in the backside lifting the others full of water to empty them. At my age, lifting 9 gallons of water to empty is felt the next day when I wake up and that's if it has to be emptied only once! Another feature it has that they others did not was a disposable bag. When emptying the others I would have to dump the waste into a plastic garbage bag and either I would end up sweeping most of it off the floor or the dust coming up out of the bag would have me using a whole box of tissue to blow my nose. Time will tell if the bag is strong enough not to get punctured when picking up small sharp objects which is often the case when I use it in my shop. The accessory holder is mounted where it keeps all the attachments out of the way. As with anything I purchase, support is just as important as the quality of a product. I own a few other Dewalt products which none of them has ever given me a problem so I have never had to call their support line. It's under warranty for 3 years and as much as I use a shop vac it's a good deal if it lasts that long. I personally think it will last much longer than the warranty because my Dewalt Miter box, saw blades and battery powered screwdriver have. Now if they can somehow manage to get my wife to use it to vacuum the car out, I couldn't ask for more in a shop vac! [This review was collected as part of a promotion.]
Date published: 2018-09-20
Rated

5

out of

5
by
Doc-Bandaid
from
Fantastic suction and value, great features!
I will never again waste my money on a shop-vac. This vacuum is amazing and has way more suction than others with a higher HP rating. There should be some videos of me vacuuming my garage. I'm impressed with how it handles the plastic bags. This DeWalt vacuum is made of heavy duty thick plastic.The casters are made of a smooth rolling urethane, not cheap hard plastic or nylon like my old vacuum. The wheels roll smoothly and quietly on my garage floor, it glides! The included filter can be used for wet or dry vacuuming. It has a nice large carrying handle and is very easy to grab up and move around. Also it's convenient to wrap up the cord. The accessory pouch is much nicer than clipping or wedging the accessories on the vacuum, and it holds more securely. It can also be used to carry other tools or store additional parts or accessories. It has drain holes at the bottom for wet parts do dry out. Vacuum hose is durable and resists crushing well enough when being stepped on. Also, it quickly and easily attaches and detaches from the tank. Vacuum hose retaining strap is a soft rubber, feels like a stretchy butyl rubber. It is very easy to unhook wrap the vacuum hose around and strap it down securely. It's long and stretchy enough to disconnect the hose from the tank and hold both ends of the hose securely around the top. Power switch is very large. It is quite easy to turn on and off even with thick or heavy gloves. Drain plug is easy to grip and twist off. It had a slight electrical burning smell the very first time I turned it on, but dissipated within a few seconds, and hasn't returned. It's also not as loud as I would expect it to be. A definite upgrade from the "cheap" Shop-Vac I had been using. The DeWalt is made out of a much thicher more durable plastic and does not tend to bend under light pressure. The accessory holder on my old vacuum broke when the vacuum was accidentally tipped over on its side. Not this vacuum. It won't tip easily or have its plastic cracked from being tipped over. The one thing I disliked about the old vacuum was how much I had to stop and clear objects from the hose, especially nails and screws. It had a difficult time with plastic shopping bags, nails/screws, chunks of drywall, etc. This vacuum doesn't seem to have any trouble with those. It is rated at 1 horsepower less, but appears to have a lot more suction power. Either this one is under rated, or the others are over rated. I'm pretty sure they are overrated... I attached the hose to the blower just to test it out. I started by blowing out the garage, then rolled it right down the driveway. Was just as good as the neighbors electric leaf blower! Would probably air up a large air mattress in little time. I wont ever be going back to the other brand. I think I just got spoiled with this. It may have a slightly larger price, but it more than makes up for it, I think. I expect it to last a lot longer and be far more useful for more jobs. [This review was collected as part of a promotion.]
Date published: 2018-09-22