Description
This DWE7491RS Dewalt table saw is equipped with a 15-amp motor which quickly rips through hardwoods with ease. The 32" rip capacity easily cuts a variety of larger shelving and trim materials. The rack and pinion telescoping fence rails make fence adjustments fast, smooth and accurate. The rolling stand is designed for easy set up and breakdown with excellent stability. This table saw is equipped with a dust port which allows for 2 1/2" vacuum hook up and minimizes clean-up time after work.
Product specifications
3 1/8" (90°) - 2 1/4" (45°)
10" 24-tooth carbide blade, rolling stand, push stick, miter gauge, rip fence, 2 blade wrenches
32 1/2" (right) - 22" (left)
3-year limited warranty, 1-year free service contract, 30-day money-back guarantee
Frequently bought together
You may also like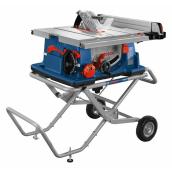 BOSCH
Bosch Worksite Corded Table Saw - 10-In - Gravity-Rise Wheeled Stand
Format 10"x15AM
Details
Article #19836366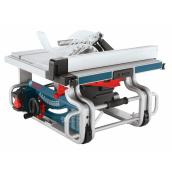 BOSCH
Portable Table Saw - 10" -15 A
Format 10"x15AM
Details
Article #19835506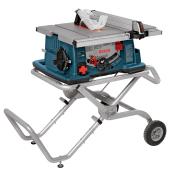 BOSCH
Worksite Table Saw with Wheeled Stand - 10"
Format 10"x15AM
Details
Article #19836270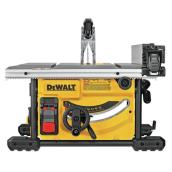 DEWALT
Dewalt 8 1/4-in Compact Jobsite Table Saw
Format 8 1/4"
Details
Article #00277225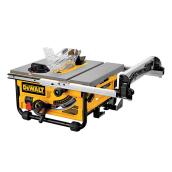 DEWALT
Compact Table Saw - 10" - 15 A
Format 10"x15A
Details
Article #0027593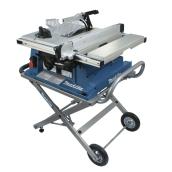 MAKITA
10-in Table Saw with Support
Format 10"x15AM
Details
Article #11975246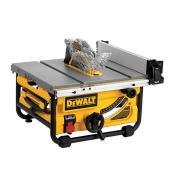 DEWALT
Dewalt Compact Table Saw - 10" - 15 A
Format 10"x15A
Details
Article #00275707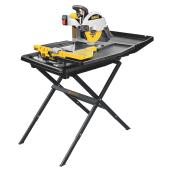 DEWALT
Tile Saw - 10" - 15 A
Format 10" 15AM
Details
Article #00275767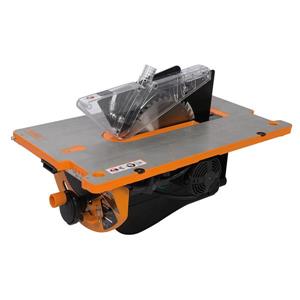 TRITON TOOLS
Triton Tools Table Saw Module - 26-in x 16.5-in - Orange/Black
Details
Article #330668640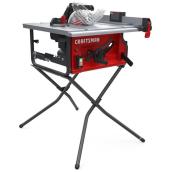 CRAFTSMAN
Craftsman 10" carbide-tipped blade table saw
Format 10"x15AM
Details
Article #97925013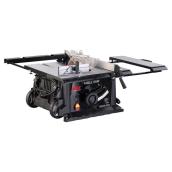 SKT
Table Saw - 10" - 150 A
Format 10"x1600Wx150AM
Details
Article #18665001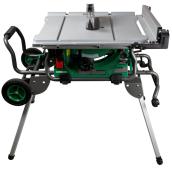 METABO HPT
Table Saw with Rolling Stand - 10'' - 15 AM
Format 10"x15A
Details
Article #37815184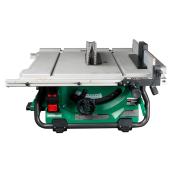 METABO HPT
Metabo HPT 36 V/DC Cordless Table Saw - 10''
Format 10"x36V
Details
Article #37815211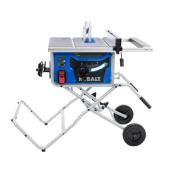 KOBALT
Kobalt Carbide -Tipped Table Saw - 15A - 10''
Format 10"x15AM
Details
Article #41095003
how do I change the bevel angle on a DWE 7491 table saw
If you look at the front of the saw, theres a lever handle right below the "wheel" that adjusts the heigh of the blade up and down. If you pull that handle to the right, you can then slide it to whichever degree you would like. I hope this makes sense what I am saying. Good luck!
Date published: 2019-07-04
Can I buy the stand separately?
Dewalt does make a rolling saw stand,Dw7440rs. This can be purchased by itself, and looks to be almost identical to the one that comes with the 7491rs table saw
Date published: 2018-07-11
I the dwalt portable jobsite table saw good for making perfect cuts to make cabinet doors with the correct blade.
What is the rip capacity?
Can I buy this saw without the stand?
Dewalt Table Saw with Rolling Stand - 10" - 15 A
is rated out of
5
by
504
.
Rated

5

out of

5
by
Alex
from
Don't waste money on anything else
I did a lot of research and looked at many models before finally buying this saw. I spent more than I had planned but am very glad I did. I looked at the ridgid, delta, kobalt, porter cable, rockwell, masterforce, Performax and craftsman portable table saws while shopping around and all of them had poor fences, and some were useless. What's the point of a table saw if the fence doesnt consistently lock down straight. Dewalts rack and pinion system far surpasses any other manufacturers fence system.Also many of the other mentioned brands use plastic gears for the blade height adjustments. To top it off dewalt has has the largest rip capacity.
Date published: 2016-06-10
Rated

5

out of

5
by
Hudsynsdaddy
from
Awesome purchase for a DIYer!!!
Used this to build my kids clubhouse in our basement. Right out of the box this is a quality piece. Simple to set up and light enough to carry around. Used a different blade than what came with it so can't vouch for its abilities, but the job site table saw itself performed flawlessly! Hooked it up to my "shop vacuum" and it did great using it indoors. Not real loud, used it in the basement with my toddler sleeping upstairs without waking him. Would highly recommend. My only complaint is the flimsy piece for pushing angles through the saw. It's the only piece that is not that accurate(too much play). Everything has exceeded my expectations!!
Date published: 2015-01-03
Rated

5

out of

5
by
BtB Bob the Builder 1
from
Simply: THE BEST
I bought this table saw last summer and it is not just the best job-site table saw I have ever used....it is the best, most well thought out tool of any kind that I have ever owned. It is astonishing to me that other brands have not copied this fence design. It is SOOOOO easy and sooooo accurate. I have had cheaper table saws, and I have seen more expensive saws (such as the Bosch model within the same price range (about $100 more, actually). But how it is that this type of fence is not an industry standard is baffling to me. I have, within the past year switched over to all DEWALT power tools. [This review was collected as part of a promotion.]
Date published: 2019-06-27
Rated

5

out of

5
by
Bruce
from
First time using a table saw
So my son asked me to help him install a luxury vinyl plank floor in two rooms. I have never done one, am not a carpenter, and have never used a table saw. I shopped table saws and watched YouTube videos, and was impressed with the Dewalt saw. The fence was easy to adjust and remove, and the rack and pinion adjustment was easy to change. The saw was light enough for me to move alone. I ran the saw for two days while the rest of the family placed the flooring, and had no problems. I also used the miter attachment for the quarter round cuts. A really first rate tool! [This review was collected as part of a promotion.]
Date published: 2019-01-15
Rated

5

out of

5
by
Lito
from
Awesome table saw!
I was looking for an upgrade to my very old Skill table saw. I was reviewing different table saws for my budget of up to $300. What sold me on this table saw was the Rack and Pinion system for the fence. Basically it moves the fence left or right always parallel to the blade. If the rail is free of debris, it allows you to setup your fence up to 1/32 of an inch (a little blow of air does the trick). So far this table saw is the best for me! I'm doing a lot of projects with this saw including the dog bed on the picture attached; this table saw is super powerful, a workhorse! [This review was collected as part of a promotion.]
Date published: 2019-04-21
Rated

4

out of

5
by
iceman
from
dewalt table saw
I haven't put this through the full test yet, only made some test cuts to check blade alignment (all was good right out of the box). it does seem to be a very good quality saw. I really like the rack & pinion fence adjustment and the dust port. the adjustments for blade height and angle work very smoothly, and the angle adjustment locks in place very firmly. a few people complained about the miter slot being loose, but mine seems to be very snug. at least it's a standard size, so I will be able to upgrade whenever I feel the need to. I plan to put it through it's paces this weekend, and maybe I can do a better review later.
Date published: 2014-05-16
Rated

5

out of

5
by
Dave52
from
Easy Setup, great saw
I bought this after reviewing several table saws. Working alone I had it assembled in under an hour, and it was almost perfectly set up right out of the box. I had to make one extremely small tweak in the fence alignment and another in the splitter. The latter was a little bit confusing as the instructions and photos were not perfectly clear, but once I started adjusting I could see what to do. First crosscuts were right on the money and the first test rip was perfect. The rip fence scale is right on the money. I am very happy that I made this choice. The miter gauge seemed to be the one weak link, but even that proved to be accurate when I used it.
Date published: 2018-11-03
Rated

4

out of

5
by
CedarSavage
from
One thing missing -
I have been using this saw fro a few months now. I love it. Fence is always dead on accurate and so fast to set up its amazing how well thought out everything is. JUST ONE THING MISSING. Electronic power switching keeps you from plugging in a saw that already has the power on. This means you can not lock it in the on position to power it from a power strip that also powers the dust collection. I use a shop vac that just sits under the saw but its a bit annoying to have to feel around for the switch on the vac. I like the electronic power switch, its a no-brainer safety thing, but why not include an aux plug that is powered by the same switch so my vac starts when I power the saw.
Date published: 2017-12-21