Description
Work with the hardest woods with this plate joiner, which features a 6.5-amp, 10,000 rpm motor. Its non-marring, heavy-duty aluminum shoe allows joiner to be clamped for stationary work, while retractable, anti-slip pins help hold work in place. This plate joiner comes with a 6-tooth carbide blade, a dust bag, a dust deflector, a vacuum adapter, a wrench and a carrying case. Three-year limited warranty.
Product specifications
Carbide blade, dust bag, vacuum adapter, Torx® key, wrench and carrying case
90-day money back guarantee, 1-year free service contract, 3-year limited warranty
Frequently bought together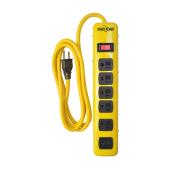 YELLOW JACKET
6-Outlet Power Bar with Surge Protection - 6' - Yellow
Format 1.8M
Details
Article #32045053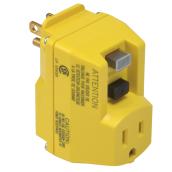 YELLOW JACKET
Single Outlet Portable GFCI Adapter - 1800 W - 15 A
Details
Article #32045050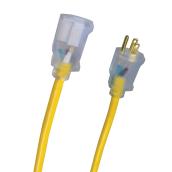 WOODS
12/3 Extension Cord - 25' - Red
Format 12/3 25'
Details
Article #74045239
Dewalt Plate Joiner - 6.5 A
is rated out of
5
by
65
.
Rated

5

out of

5
by
l&j
from
Great tool.
The first one I got. The biscut gage was missing a spring. I took it back and lowes ordered me a new one. When I got the new one, I used it all day. With no problems. Great tool.
Date published: 2011-03-23
Rated

3

out of

5
by
Ben
from
Good biscuit joiner
This is a good biscuit joiner. If you want to be clean attach a shop vacuum as the dust bag isn't all that great. This tool can also be used to cut grooves for splines, just turn the little traction screws until they pop in and you can plunge cut and slide the tool along the length of the workpiece, nice.
Date published: 2011-02-12
Rated

5

out of

5
by
vlmuke
from
Best value for the money
I got this joiner over the others based on the reviews and the quality of DeWalt, I had no issues using the tool it has plenty of power to cut the biscuit slots, the little quirks I wanted to let you know as it may help someone, older reviews mentioned that there is nothing to grip the work with and mine has two gripper screws as other makers use grip tape, if you use wood narrower than a 2x4 I would suggest using a thin piece of wood on the bottom of the fence to make it more stable, to make it easier to make the cut to avoid crooked slots, as without the work rests between the opening in the fence and doesn't provide much support, I saw a video on this not my idea, but it really helps just make sure to adjust for the wood, you can screw it on, there are holes in the plate for this or use double stick tape. it is also great to do this for putting slots in angled pieces as well as the joiner can nick the thin part of the angle. another reason I chose this joiner is the availability of replacement blades there are cheaper brands that don't make blades readily available I also liked the raised edge on the face plate as it allowed me to use the palm of mt hand to get a better grip to hold the joiner firmly to the work. I don't work for Lowes or DeWalt this is just my honest review to help others out to make it easier for them.
Date published: 2017-02-02
Rated

4

out of

5
by
Rick
from
Very good tool
This is the second Dewalt biscuit joiner I've owned. My first got lost when I moved. I liked the first so much that I went back to the same model. I've used it on some pretty tough wood and this joiner has never bogged down.
Date published: 2017-01-06
Rated

4

out of

5
by
cwt57
from
Joiner Novice
Bought the DeWalt biscuit joiner after a lot of on-line research. It appeared to be the best one in it's price range. It is my first time purchasing/using a biscuit joiner. I have made a few practice cuts and used it on connecting the slats on a bourbon barrel head in the process of making a lazy susan (photo of unfinished project included). So far so good. The only negative in the reviews I read, which I experienced myself, is that the neck of the dust collector does tend to clog quickly if you do not attach a vacuum system to it.
Date published: 2018-02-22
Rated

5

out of

5
by
StvBrk
from
Great right out of the box
Easy to use and very precise right out of the box.
Date published: 2012-11-26
Rated

5

out of

5
by
Dave
from
DeWalt Biscuit Jointer
Great product. This jointer is built for durable service. Definitely a professional grade tool. I chose this tool over other available jointers because I build furniture and need durable, well built tools. Definitely recommend to other wood working hobbyist or professionals.
Date published: 2013-10-23
Rated

5

out of

5
by
Bob
from
Perfect Tool for Wood Working Projects
Outstanding tool with a multitude of settings needed to do the job right the first time. Turn select knob for biscuit sizes 0, 10 or 20, and angle adjustment are great features and make it easy to use. Cord length is good and tool components are made from high impact materials which should make it last for years. Remember to use the provided debris collection bag as this is a powerful tool that shoots the shavings out pretty far. Will certainly save clean up time as I learned quickly. Recommend this tool over cheaper competitors. [This review was collected as part of a promotion.]
Date published: 2019-01-31
Rated

5

out of

5
by
Ken
from
Awesome,once you fix the dust chute.
When I first used the tool I realized all adjustments were solid, the motor was powerful and the assembly was rock solid. However, I started to return it because the dust chute clogged very quickly and caused dust to be thrown up into my face. But, being the problem solver that I am I looked into the chute and noticed a piece of metal protruding down in the middle of the chute. I've no idea what purpose it served but realized it was causing a blockage. I inserted a 5/16 flat head screwdriver in the chute and with a slight twist broke the offending piece of metal off and discarded it. Dust system works great now! No more clogs! I'm very happy with the tools performance now. As for biscuits being tight, it could simply be despite our best efforts they were exposed to moisture/humidity accidentally. Simple fix...throw them in the microwave for a minute or so....problem solver!
Date published: 2020-05-01
Rated

5

out of

5
by
Snoles
from
Dewalt Quality Rocks
I recently bought a generic joiner for a small but important job. Huge mistake. Long story short, you get what you pay for. Lesson learned here! Over the years we have employed up to 50 trim carpenters at one time and we have mostly used Dewalt products. Professional tools for professional results. Case closed.
Date published: 2014-04-15
Rated

5

out of

5
by
Dave Pop
from
PERFORMED AS EXPECTED
Purchased this tool to complete a home project. I'm not a professional woodworker; just a guy who likes to occasionally to make 'things' using wood. Had never used a joiner before, but it was easy enough to figure out how to set the depths, etc. And, to be on the safe side, I did a couple of practice cuts just to get a feel for the tool and see if the pockets would end up where I wanted/needed them to be. And, although it's been a while since I last used it, I do remember that the tool delivers plenty of power for the cuts. So, after practicing, the cuts on the project piece went as expected. Therefore, have nothing but good things to say about this joiner. [This review was collected as part of a promotion.]
Date published: 2020-05-30
Rated

5

out of

5
by
bdwoodworking
from
Great Value for a joiner
The biscuit joiner is easy to use and Lowe's staff is always helpful. I have used it several times in the past month and a great investment in my home wood shop.
Date published: 2013-06-27
Rated

5

out of

5
by
David Simba
from
Very good joiner
Professional grade joiner, after resetting the cut depth & Gage as it was off from the factory this tool is excellent.
Date published: 2018-01-06
Rated

5

out of

5
by
BigRed
from
Great product. Super easy to use.
This biscuit joiner makes woodworking a breeze. Super easy to use and very forgiving of user mistakes since the biscuits and the cuts leave a little room for user error. It makes furniture making a snap. Wish I had bought it years ago.
Date published: 2013-12-11
Rated

5

out of

5
by
Rooted_Timberworks1
from
Gets the job done well
I've had this plate joiner for years now and have no complaints. I've used it join a number of table tops and it's allowed me to achieve the board alignment I was after. I'd strongly recommend using it with a dust collection system. The dust-rite attachments from Rockler and a standard shop vac make this simple and convenient. When using it with the standard bag it fills up pretty quickly. The unit is built quite sturdily as it's taken some drops off the bench and not suffered any damage. [This review was collected as part of a promotion.]
Date published: 2019-11-06
Rated

2

out of

5
by
Aaron
from
Worked great for about five board.
I bought this for my husband three days ago and it worked great for about five boards, then the adjustment thing popped off and would not go back on easily at all. It has since continued to come off so we are going to take back and buy a different brand. My husband is very familiar with these tools and uses them frequently but has had them given to him from his father so being the first one he's actually purchased is kind of disappointing, usually Dewalt has pretty good tools.
Date published: 2018-04-02
Rated

5

out of

5
by
Sage
from
Great Tool
This is a great tool, if you do woodworking, so much easier to use than doweling . And is so much faster. The tool is high quality, and easy to use.
Date published: 2015-07-25
Rated

5

out of

5
by
MDWSR
from
Top of the tool line.
I usually by Bosch or Makita tools however, this Dewalt joiner wins my vote. It is solid and precise. Very easy to use.
Date published: 2014-11-24
Rated

5

out of

5
by
Victoria
from
Not much one can say
The Biscuit joiner s a simple tool, simple to use with consistent results. Out of the box it's ready to go and did. i bought this to help line up boards when gluing up side panels and tops and at the same time, making them a little stronger. Im not overly excited about the tiny plastic dust chute that snaps into the side. but it has a bag so it's probably best to use it instead of attempting to use dust collection.
Date published: 2014-10-28
Rated

5

out of

5
by
Jason
from
Great product
This unit was rated best value by Fine Woodworking magazine. The "other big box store" had a better price but Lowe's matched it. Used the joiner to build a coffee table top. [This review was collected as part of a promotion.]
Date published: 2020-01-14
Rated

5

out of

5
by
Alarge1
from
Great product !
It took me about 15 minutes of usage to get the hang of this tool but once I did it does great at what it was designed to do. The joiner is well built and is easy to use. [This review was collected as part of a promotion.]
Date published: 2020-01-30
Rated

5

out of

5
by
Ray089
from
Easy to master
I bought this when my daughter asked me to build her some tables. Now all of my relatives are after me for tables. The joiner is easy to master and using the Dewalt biscuits it secures boards together with ease. I got the Dewalt clamps in various sizes and just keep adding to my clamp collection as projects come up. Now my wife thinks I'm a furniture builder. My relatives brag that their table was hand made and this tool is my secret power! [This review was collected as part of a promotion.]
Date published: 2020-05-30
Rated

4

out of

5
by
Scofieldkid
from
Bought the dewalt since they didn't have porter cable in stock...but dewalt works great... could have got it for $20 less elsewhere I found out after purchase...
Date published: 2017-10-04
Rated

5

out of

5
by
Sam
from
Great product
This biscuit jointer is fantastic and capable of precise biscuit cuts with little effort. Comes with a great case and dust collection bag. Highly recommend!!
Date published: 2017-05-04
Rated

1

out of

5
by
WoodChuck
from
Dewalt Biscuit Joiner
Not happy with the joiner. The blade is a non-standard i.e. too thin. I have to sand down all the biscuits I have for my previous portercable that had a standard kerf thickness. Or, but the significantly more expensive "DeWalt" biscuits. When you use 500 -900 biscuits a year, that adds up. Buy a Porter Cable and pass on the DeWALT.
Date published: 2017-11-05
Rated

2

out of

5
by
Uncle
from
Good tool with a flaw
First let me say my shop is full of DeWalt tools and I find them to be very good overall. I used my new Plate Joiner today for the first time and had no issues with baking the joints. However, I found the dust collection system was absolutely worthless. After one plunge it clogged up and nothing went in the bag. That is why I did not rate it higher. You need to do some work on that!
Date published: 2018-07-27
Rated

4

out of

5
by
Chief
from
Good tool
I received this tool as a B-day gift from my daughter. I did some online reveiws and told her this would help me complete woodworking projects. I was correct. This tool is very easy to use and does an excellent job. The only complaint is the dust collector plugs up easily.
Date published: 2018-01-06
Rated

4

out of

5
by
McCut
from
I like it but.....
I cuts very well and simple to use but messy. Hardly any saw dust in the collection bag but boy lots every where else. Vacuum required to use this machine. Plus the box is annoyingly small to store in. I also have tried various discs from various company s and discs are too large. They have to be pounded in, then difficult to remove to check for fitting. I'm not sure if its the machine or discs now manufactured.
Date published: 2018-02-21
Rated

5

out of

5
by
CRich
from
Works well
Definitely hook it up to your shop vac if you're doing more than a few cuts. I was doing a table top and was able to be much more productive once I had the vac running to clear chips and dust. First time user and the adjustment was easy to figure out. DeWalt provides extensive instructions on setup and usage. Easy to follow. I'll get a lot of use out of this on future projects
Date published: 2018-12-15
Rated

4

out of

5
by
Kirk
from
Needs better Quality Control during manufac
Plate joiner worked out of the box and did a good job of making pocket for biscuit. The problem is that the joiner does not fit in the case. The handle was askew and had to be repositioned for the case lid to close. Also the plate on the joiner does not fit in the bottom of the case, plate to big or pocket to small end to end.
Date published: 2015-05-01