Description
Work with the hardest woods with this plate joiner, which features a 6.5-amp, 10,000 rpm motor. Its non-marring, heavy-duty aluminum shoe allows joiner to be clamped for stationary work, while retractable, anti-slip pins help hold work in place. This plate joiner comes with a 6-tooth carbide blade, a dust bag, a dust deflector, a vacuum adapter, a wrench and a carrying case. Three-year limited warranty.
Product specifications
Carbide blade, dust bag, vacuum adapter, Torx® key, wrench and carrying case
90-day money back guarantee, 1-year free service contract, 3-year limited warranty
Frequently bought together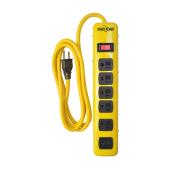 YELLOW JACKET
6-Outlet Power Bar with Surge Protection - 6' - Yellow
Format 1.8M
Details
Article #32045053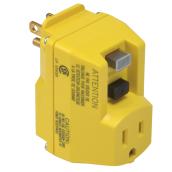 YELLOW JACKET
Single Outlet Portable GFCI Adapter - 1800 W - 15 A
Details
Article #32045050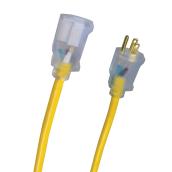 WOODS
12/3 Extension Cord - 25' - Red
Format 12/3 25'
Details
Article #74045239
Dewalt Plate Joiner - 6.5 A
is rated out of
5
by
63
.
Rated

5

out of

5
by
Lucky13
from
Second Best Plate Joiner
Having used plate joiners for years ( my first was a Lamello Top 10) I have a great opinion of this tool. I compare all biscuit cutters with Lamello tools. I have used many other brands and none compare as well as the DeWalt. It is easy to index with center marks on the face and base. The anti-slip pins on the face work well and are spring loaded. It plunges easily and the switch is well located. I lean towards DeWalt tools anyway but comparing the price of this joiner to the price of a Lamello joiner makes this a remarkable value. This is easily the second best biscuit joiner made. Sorry, the extremely expensive Lamello biscuit joiners still set the mark.
Date published: 2015-04-21
Rated

5

out of

5
by
Joe M
from
Easy to use
This purchase is to replace my old one stolen off a jobsite. The tool is exactly the same as my old one which I had owned for 15 years plus. I had read the other reviewers comments on the adjustments. However, I have not had the same issues, maybe after all this time I am just used to the tool. Use this tool for all kinds of millwork joining on the job site from mitered casing to cabinet doors, wood glueing etc.. Tool just goes and does its job. Very reliable. The old one would have probably gone forever, but its not to be. Has plenty of power and I have always liked the smoothness of the plunge trigger action. Great tool real work horse,
Date published: 2019-12-29
Rated

5

out of

5
by
yep!
from
Great Product
This Joiner is to easy to use. the bag catcher only gets cloged when you go to fast during cuts. I used it all day long, and as long as you start the joiner before you make the cut it will not clog the catcher on the #20 setting. SLOW DOWN!! If you have ever used any other joiners you will wish you had this dewalt. I am very pleased with it. No product is going to be 100%. I give it 5.
Date published: 2012-01-03
Rated

5

out of

5
by
DukeofDeNuke
from
As a biscut rookie, it worked like a charm.
First time using a biscut cutter - for a large picture framing project. Easy to understand. A pleasure to use.
Date published: 2014-01-07
Rated

4

out of

5
by
Pete
from
Great tool, overlooked design criteria
You should be proud that you have found a second application for the 4 1/2" grinder motor. I own roughly 30 DeWALT tools, corded and cordless, and very much enjoy them all for their usefulness and durability. I have been updating to Li Ion tools of late. As a plate joiner you may have overlooked the design issue of the motor cooling slots. The vent slots direct the air flow directly into the eyes of the operator when aligning the tool to cut the biscuit slot. I was wearing safety glasses but the air flow was still more than my eyes could accommodate. A full face shield helps but is annoyingly inconvenient. Looks like a simple plate on the left side and top would help greatly to redirect the air flow away from the operators face. I don't think this would cause undo restriction of the air flow as the motor is not working as hard as when used as a grinder.
Date published: 2018-01-07
Rated

2

out of

5
by
T
from
sloppy fence yields uneven cuts
I own six other Dewalt tools and have been happy with all of them. This one I was not happy with. The angle adjustment for the fence is only on the left side leaving the right side unsupported. It also appeared that the pivot point on the right side of the fence was sloppy. This caused the right side of the fence to flex upward making the right side of the cut lower by 0.015". With the opposite side of your biscuit being lower on the other end the joint took on an X configuration. I used a piece of duct tape and a piece of masking tape to shim the right side of the fence 0.015" but, that should not be necessary. The rest of the tool seems to be up to the Dewalt standards I am accustomed tool. However, the fence is a critical part to the accuracy of this tool and is not acceptable.
Date published: 2018-07-14
Rated

5

out of

5
by
Edray
from
I bought this to use building a deck with the FastenMaster VersaClip system for hidden fasteners. This thing is great!! My college daughter, who has never really used power tools, took all of 5 seconds to become proficient with it. Now she is doing most of the slot cutting! Easy set up. rack and pinion adjustments, and works great!!
Date published: 2014-06-04
Rated

5

out of

5
by
Tony
from
Well worth the money
This is a great tool, comes with great instructions. Easy to set up and use. The only fault I have is with the dust collection bag, you might want to discard the bag and use the supplied adapter to hook it up to your dust collection system as the bag tends to clog very easy. Other than the bag issue, well worth the money.
Date published: 2013-07-30