Description
The DWE575SB Dewalt circular saw is one of the lightest in its class at 8.8 pounds. With its 15-amp motor, powerful enough for even the toughest applications, and its anti-snag ball bearing lower guard providing smooth guard operation and long life in harsh environments, this lightweight saw is ideal for slicing through lumber and hardwood. This saw features an electric brake that stops the blade after trigger is released. A tough cord provides longer durability against cord pull outs while an integrated dust blower function cleans the line of sight during cutting. The DWE575SB DeWalt circular saw is also equipped with a durable high-grade aluminium smooth base for accurate cuts. It comes with a contractor bag and it is covered by a 3-year limited warranty.
Product specifications
Blade wrench, carbide tipped 7-1/4" circular saw blade, contractor Bag
Frequently bought together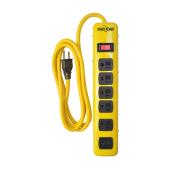 YELLOW JACKET
6-Outlet Power Bar with Surge Protection - 6' - Yellow
Format 1.8M
Details
Article #32045053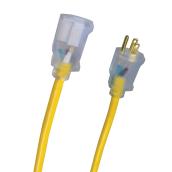 WOODS
12/3 Extension Cord - 25' - Red
Format 12/3 25'
Details
Article #74045239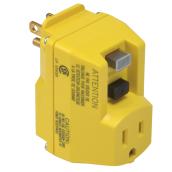 YELLOW JACKET
Single Outlet Portable GFCI Adapter - 1800 W - 15 A
Details
Article #32045050
Lightweight Circular Saw with Contractor Bag - 7 1/4" - 15 A
is rated out of
5
by
140
.
Rated

1

out of

5
by
Bird
from
Worst saw ever
Purchased 6 of these to upgrade to a newer model. Previously using the DW364. Absolutely the worst mistake I have ever made. First, the drive gear on all 6 did not last 3 months. sent them in to our DeWalt place and they were repaired, all on warranty. They lasted approximately another 3 months, sent 2 back and junked the others. Another problem is the quadrant is so poorly designed that you cannot get a true 90 degree cut, I repair tools every day, that's my job, i had to basically rebuild the quadrant so we could get 90 on them, and no, it was all 6 saws that had this problem. Just spend the extra money and get the DW364, you will be happier
Date published: 2015-06-11
Rated

5

out of

5
by
Obie
from
Outstanding Saw
I am a professional carpenter, and in my few years of doung this now, have tried many different types of circ saws to find what works best for me. This saw has landed its spot as my favorite. I highly enjoy the dust blowing feature so I never have an issue seeing my cut line while cutting open sub floor or pieces to patch sub floor. I purchased the one that had the brake as well because I had once used the worm drive saw that had the brake and found it to be a handy feature. The best part of all is the one I purchased was manufactured in the usa and as a veteran, that is very appealing to me. Great job Dewalt, keep em coming!
Date published: 2018-11-22
Rated

5

out of

5
by
Bob-the-Builder
from
Best 7.25 saw I have ever owned
Bought my first "Skill" saw in 1962, an all metal Craftsman. Have owned old Rockwells, new Rockwells, 5+ Makitas, have two new Rockwells and two Milwaukees, this will be my third Dewalt. Blew the first one up when I replaced the trigger switch with no warning that the terminals were in a different confiuration. The second one disappeared recently. My Milwaukee hypoid weighs 15 pounds, this saw with the same amps weighs 8.8 pounds. You don't have to use the saw very long to appreciate that it weighs 40% less, and 13% less than a comparable Makita. It bevels to 57 degrees, has stops at 22.5 and 45, the guard pushes back effortlessly. The blade wrench is stored in the handle.
Date published: 2016-02-15
Rated

4

out of

5
by
Brian
from
Quality Saw with solid features!
This saw was purchased as a replacement for a Bosch CS10 purchased 6 months ago. The Bosch soleplate is composite and despite trying to true the saw for about a month, no matter the adjustment, the soleplate would flex, causing the saw to cut unevenly. The DeWalt is rock solid with plenty of power, dead on accuracy, and a good weight to power ratio. If I could take one feature from the Bosch and add it to the DeWalt it would markings on height adjustment for the soleplate's depth of cut. The DeWalt does not have any, where the Bosch actually had detents for the most common wood thickness. Other than that minor issue, no comparison between the saws. [This review was collected as part of a promotion.]
Date published: 2019-05-01
Rated

5

out of

5
by
Hoppe
from
Built to last
I replaced my craftsman saw after 25 years. The first thing I noticed was how light the Dewalt is compared to my old craftsman - really reduces fatigue over a day's use. The blade is easy to change out; the blade lock works well and doesn't slip with loosening or tightening. I like that the edge of the foot to the blade is 1.5 inches instead of some 9/16ths that my craftsman used to be - makes for easier calculations with less likelihood of error. The saw is powerful enough to go through a full cut through 4" oak without overly bogging down (sharp blade really helps here). I expect this saw to last at least the same 25 years as the previous craftsman. [This review was collected as part of a promotion.]
Date published: 2019-09-10
Rated

5

out of

5
by
Sawgrass-Solutions
from
Awesome saw!
Great saw. Tried a couple different models prior to buying this one. I tried makitas and hitachi saws. This ones combination of light weight and features made it the best buy. I am a contractor and use my saws/ tools daily. I have many other saws and this one by far is my favorite
Date published: 2013-10-06
Rated

1

out of

5
by
Naticats19
from
Worthless
Bought this saw to replace a Makita. It cuts great and I like the brake on the blade, however the guide does not line up with the saw blade. It is off by 1/4". It makes it very difficult to rip plywood and OSB. You have to look directly at the blade which is not very safe. I thought maybe i just got a saw with bad alignment, so i took it back to Lowes and they replaced it no problem. But the 2nd saw had the exact same problem. I have several other dewalt products and never have and issue. But this powersaw is a dud. I went and bought another Makita so im out the $120 that i wasted on this saw
Date published: 2016-12-11
Rated

4

out of

5
by
ProjectMaster
from
Great saw
Very smooth running bearings. The brake feature works great and worth the extra money over the DWE575. Only 4 stars on features and value because the saw should have come with a case and rip fence.
Date published: 2012-11-26