Description
One handed loading hexagonal chuck. With 3 LED lights to provide more visibility. Compact and lightweight fits into tight areas. Includes: 2 Lithium batteries, fast charger, impact ready bit tip, belt hook, contractor bag.
Product specifications
(2) 12 V lithium-ion battery packs, fast charger, belt hook and impact ready bit tip, contractor bag.
90-day money back guarantee, 1-year free service contract and 3-year limited
Frequently bought together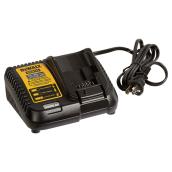 DEWALT
Lithium-ion Battery Charger - 12-20 V - Plastic - Black
Format 12-20V
Details
Article #00275956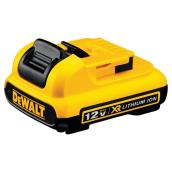 DEWALT
Lithium-Ion Battery Pack - 12V MAX
Format 12V
Details
Article #00275941
Impact Driver - 12 V
is rated out of
5
by
59
.
Rated

5

out of

5
by
cdb
from
Great tool
This has quickly become on of my favorite tools. I work primarily in theatrical scenery or event scenery and this is great. I have used it to to quickly run screws into 2x4 and to assemble truss with very large truss. The review saying that it is under-powered is very mistaken, that has handled large tap-con and drilling concrete for me. The folks who are worried about the charge span of battery shouldn't. I as able to pre-dill and drive 16 tap-cons before the battery went down. I was able to swap batteries and fully charge the dead one way before the fresh one was out. The only down side is it seems to be much louder then any other impact driver I have used.
Date published: 2011-08-31
Rated

5

out of

5
by
brn2ski00
from
Awesome
I was in the market for an impact drive and always had my eyes on the 18 volt dewalt. I am an avid Dewalt users and love the 18 volt kit I have among the many other tools by dewalt. I bought this for my finishing my basement - it was great! I used it to hang all the dry wall and build some of the framing. It is light, the battery lasts a long time and best of all its powerful - very powerful for just 12 volts. I wish this was released earlier last year because I would have used it to drive all the screws in my deck. You will never strip a screw head using this baby!
Date published: 2010-12-10
Rated

5

out of

5
by
AlanA
from
This equipment has found a home.
I recently found a review on this impact driver that stated it wouldn't drive a 3 inch screw. All I have to say is it must have been brand new oak because at 950 inch lbs it exceeds everything in it's class, as a matter of fact it surpasses the Milwaukee by 100 inch lbs! That's just one feature I like about this driver. Another is that battery replacement or adding to the 12 Volt Max battery is only $49, another best in class feature. One other best in class feature is the spotlights, yeah that is plural for 3 lights which really comes in handy under cabinets. For those of you that don't seem to think 12 volts is not enough power, they do offer an 18 volt system. I just wish Loews offered the impact/screwdriver combo set (DCK 210S2).
Date published: 2011-03-31
Rated

5

out of

5
by
Rood
from
Great tool!
Very powerful for its size. It is small, compact, and fits well into small places. Great for small projects. If you are looking to build a large project or drive a large scew, you might want to go a little bigger. I use mine all over the house. I have built a deck (I used my Dewalt 18V to drive the large screws), hanged doors, and fixed cabinets. It has never failed. In my expereince, it is capable to drive large screws, but it struggles. Remember to match the tool with the job. Your not going to haul gravel with a Corvette. You can do it, a Corvette is just not designed for this purpose.
Date published: 2011-08-01
Rated

5

out of

5
by
Josh
from
Light with plenty of power
I 've always been an avid Dewalt user. I recently burned out an 18 Volt drill/driver and was in the market to replace it since I already had the batteries and charger. Once I saw this at Lowes it was hard to pass up. I work in the commercial HVAC industry so I use my drill everyday, all day. I found a combo deal for this model with a drill/driver, two batteries, a small Dewalt contractors bag and an extra battery for $200. That's a pretty sweet deal considering the price for the impact alone. Very lightweight and plenty of torque. This will definitely lighten my load this summer when we start rockin and rollin.
Date published: 2011-02-26
Rated

2

out of

5
by
Julie
from
Not what I expected!
I purchased, but then returned this drill after I got it home and unpacked it. I was looking for a nice, lightweight cordless drill. In that respect, it was fine....nice and lightweight. However, this drill required either an adapter or all new bits because it does not have the type of chuck that most standard drills have. Rather than purchasing all new bits, or an adapter, all at additional expense, I decided to reconsider this purchase. Instead, I purchased a Bosch. While it is a bit heavier, it's also an 18V, which provides more power, and will accommodate all the bits I already had. Best of all, it was regularly $149 on special for $99.
Date published: 2015-02-13
Rated

5

out of

5
by
Fred
from
Hot Tool!!!
I bought two of these 12volt drivers last fall when I started building a house and have used one of them almost daily without fail. I gave the second one to my son who helped me with the roof but now I find myself without my driver because I melted it on a range burner that I was using as a table and accidently bumped the knob before locking up and heading home for the night. This tool is indispensable and I will be picking up another one right away!
Date published: 2015-09-10
Rated

5

out of

5
by
LanBhatt
from
Great drill, but a little pricey
The battery lasted a lot longer than I had hoped and I especially like the LED lights that illuminate the work surface. It's compact design let me get into tight corners and it is nice and light weight so I could hang it from my belt for quick access. I needed to use a longer bit than the one that came with it, but that was a small price to pay compared to the cost of the drill. I do think it is worth the extra money, though.
Date published: 2013-06-25