Description
This hammerdrill is equipped with a 10-amp motor, which generates more power and an increased overload protection. Its dual mode (hammer drill/drill) makes it ideal for wood, steel or masonry applications. This hammerdrill features a two-finger trigger for increased comfort, a soft-grip handle, and a 360° locking side handle with soft grip for greater control and versatility. A 2-speed range allows for high-speed drilling or high-torque applications, while the metal gear housing ensures jobsite durability and increased reliability. Three-year limited warranty.
Product specifications
360° locking side handle, steel depth rod, chuck key with holder
3-year limited warranty, 1-year free service contract, 90-day money-back guarantee
Frequently bought together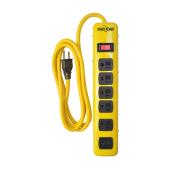 YELLOW JACKET
6-Outlet Power Bar with Surge Protection - 6' - Yellow
Format 1.8M
Details
Article #32045053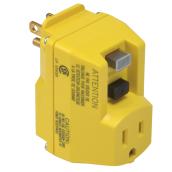 YELLOW JACKET
Single Outlet Portable GFCI Adapter - 1800 W - 15 A
Details
Article #32045050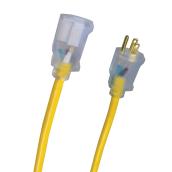 WOODS
12/3 Extension Cord - 25' - Red
Format 12/3 25'
Details
Article #74045239
How do you take advantage of a price match online.
Hammerdrill, 1/2", 10 A
is rated out of
5
by
85
.
Rated

5

out of

5
by
Restorations
from
Great product with lots of torque and versatility
I marked it down on quality because brand new out of the box the variable speed did not work properly. On low speed you should be able to vary from 0-1,200 rpms. I got no action at all until the trigger was pushed about 1/2 way in at which time it would start at around 500 rpms and rev up from there. The rpms were way to fast for mixing sheetrock mud or paint. I exchanged the drill immediately and the new one is working perfectly so overall I gave it an excellent rating. This is a great drill with lots of torque and functionality. I happened to get a bad switch, so just be sure to check the variable speed functionality right away.
Date published: 2013-11-07
Rated

5

out of

5
by
RAS
from
Great Drill !
I had a quantity of 226 holes to drill using a 3/16" bit into concrete. I have owned and/or used many other brands. This drill cuts through the concrete like it's butter! It actually performs as well as some of the much more expensive drills and way better than anything in it's class/price range. It makes the job so easy, because you don't have to lay into it with your body weight. It does the work almost by itself !! I would definitely recommend this drill to anyone.
Date published: 2011-04-18
Rated

5

out of

5
by
KGKOZ
from
Great Drill / Great Price
I had to install a commercial steel door/steel frame. I knew I had 8 - 3/8 holes to drill. one side was into block, the other a brick wall. Figured I better get a drill with strength. My 15yr old 1/2in 3amp Craftsman seen its days. All of these holes had to be 4in deep. I drilled 1/4in pilot holes first then switched to the 3/8 bit. This drill ate the job up. Had all 8 holes drilled in 20min. couldn't believe it! Fastest I ever drilled through block/brick. Will enjoy not dread future jobs of concrete drilling. Tip; Drilling over 1/4in especially brick, a pilot hole is wise.
Date published: 2011-04-18
Rated

1

out of

5
by
Harty
from
Smoking Motor
Using concrete to make our own concrete countertops. Mixing in a 5-gal bucket with a 1/2" paddle. Mixing to the concrete specifications, and even a little wetter for easier mixing. Sept 2014 used a 7-amp corded drill (Skil maybe?) and it started to smoke after mixing about the 4th bucket. The thinking that a 7-amp isn't robust enough, and maybe a better, trusted brand would work better. April 2015 purchased this DeWalt 10-amp drill. It started smoking on the FIRST bucket we mixed. The performance was even worse than the cheaper, weaker model. This drill was the "best" that Lowes in Shakopee had on the shelf.
Date published: 2015-04-06
Rated

1

out of

5
by
DoingItRight
from
Only 1yr warranty after that you pay
Dewalt makes an poor quality Hammer drill. 1) Burned out motor drilling a 2-1/4" hole with a hole saw. 2) Chuck key is horrible and never keys in tight- a knuckle buster. Opens constantly. DEWALT isn't what it use to be.. If you like disposable tools buy this one. Now I have to pay 1/2 the cost of the drill plus shipping to get it fix. Purchased a RIDGID hammer drill to replace this because as a contractor I have to have the tool. Ridgid has a Lifetime warranty on parts and labor so I won't have to buy another one or pay for a repair next time.
Date published: 2015-01-09
Rated

3

out of

5
by
David
from
Good hammer drill but not at max capacity
I purchased this hammer drill to install iron fence around my pool. The fence post were welded to base plates drilled for 1/2 inch anchor bolts. I needed to drill 80 holes through 4 inch thick concrete (I through drill so bolt can be pounded down into the dirt and a new bolt inserted in the hole if there is a problem). When it was working, it worked great. But, the gearbox heated up fast and after 50 holes drilled over a three day period, the gearbox really overheated, the gearbox grease oozed out and the gearbox shelled. I think this hammer drill would be good if drilling smaller holes, say 3/8 inch or less. But it does not have the backbone to stand up to its max capacity of 1/2". I learned my lesson and returned this hammer drill and purchased a rotary hammer instead.
Date published: 2011-12-26
Rated

5

out of

5
by
Annex Designs
from
Great Drill Recommended
Amazing drill. Drilled 8 6 1/2 in deep holes with 7/16 drill bit at an airport. Airport concrete is a bit more tough than residential and it went through it like cheese. Awesome will recommend to others.
Date published: 2011-06-01
Rated

5

out of

5
by
Paul
from
Hammer Drill Believer
Purchased this hammer drill yesterday. Had 4 small holes to drill in a regular brick wall to mount a shelf. Spent about 1-1/2 hours the day before using a regular drill and completed 2 holes. The remaining 2 holes I completed in less than 1 minute with this hammer drill. Nothing like having the right tool for the job at hand. I'm just sorry I didn't purchase a hammer drill before this. The only negative I can think of is the drill didn't come with a case. Very happy with my purchse.
Date published: 2012-01-02