Description
This double-level sliding compound mitre saw features an integrated XPS crosscut positioning system, which provides adjustment and free cut-line indication for better accuracy and visibility. It is equipped with a powerful motor to deliver extended power and durability. The super-efficient dust collection system captures over 75% of generated dust. Tall sliding fences support crown molding and base molding vertically against the fence while easily sliding out of the way for bevel cuts. An exclusive back fence allows you to cut up to 2x16 dimensional lumber at 90° and 2x12 at 45°. The adjustable stainless steel mitre detent plate with 10 positive stops improves productivity and ensures cutting accuracy. Three-year limited warranty.
Product specifications
6 3/4" (vertical, baseboard against fence); 7 1/2" (vertical, crown molding vertically nested); 16" (horizontal, baseboard lying flat); 13 3/4" (horizontal, crown molding lying flat)
Carbide blade, blade wrench, dust bag, vertical material clamp
90 day money back guarantee, 1 year free service and 3 year limited
Frequently bought together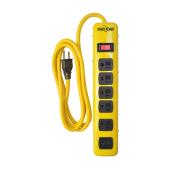 YELLOW JACKET
6-Outlet Power Bar with Surge Protection - 6' - Yellow
Format 1.8M
Details
Article #32045053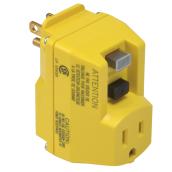 YELLOW JACKET
Single Outlet Portable GFCI Adapter - 1800 W - 15 A
Details
Article #32045050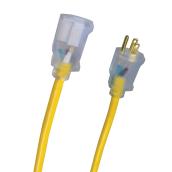 WOODS
12/3 Extension Cord - 25' - Red
Format 12/3 25'
Details
Article #74045239
what does the 3 year warranty include
Covers all parts and labour except blade or damage caused from misuse. Doesn't cover shipping, however there should be an authorized dealer near you where you can drop it off and pick it up.
Date published: 2019-03-19
What blade comes with the DWS780, is it a 12" 32T or a 12" 80T
It came with 12" 60T blade. I'll be glad to get 80T as upgrade/bonus!!!
Date published: 2018-11-24
Does it come with the stand?
Usually no.  But if you wait for the right sale it can, I got my stand for free with it but it was a special sale.  
Date published: 2018-09-12
Can this saw, in one cut, a 6"x6" or a 8"x8" post?
No unfortunately the most you'll be able to cut with a 12 in mitre saw is going to be bout 5.5 inches due to the washer getting rid of a lot of cutting space. A 6x6 is truly 5.75inx5.75in so it will not cut it in one pass but it will cut 95% of it then you can either flip it or cut the last little bit with a hand saw.
Date published: 2018-07-10
Est-ce qu'il y a un support qui vient avec la scie?
how does this compare to Dewalt model DWS709
Compound Mitre Saw - Sliding - 12" - 15 A
is rated out of
5
by
240
.
Rated

5

out of

5
by
Buildem
from
Worth the Extra $$$$
I'm a hands on contractor. I had this same saw a few years back. I loaned it to a sub contractor who ended up liking it so much he bought it from me. I tried to save a few dollars and go with without the slide capability. What a mistake. My Hitachi 12" miter saw will be for sale on Craigslist soon. I can't believe I went so long without this saw. The extra $$$ for this saw versus the DWS709 is money well spent. The differences are there. Not just the LED light. Go to the dewalt.com website and compare them. You will be glad you bought the best in the class when you purchase this saw. Make sure to get the stand DWX723 with it. The 2 are guaranteed to please you on any jobsite you use it on...
Date published: 2016-03-06
Rated

5

out of

5
by
Bob30247
from
worth it
Reading reviews will turn your head around so I went to the store and ran the saws thru the paces (without power of course) I narrowed it down to this one and the Bosch GCM12. I thought the Bosch "sliding" system is by far the best out there. (Bosch) Neither seemed to have much movement with the head fully extended. (tie) Bevel adj. (Bosch) The flip out crown extensions that add to the fence length on the Bosch beats the sliders that every other saw does. (Bosch) The shadow blade alignment is simply FANTASTIC on the Dewalt. The Bosch has no alignment help. Lets get back to the shadow feature. You turn on a light switch and lower your blade, It will cast a shadow exactly where cut is going to be. No set up. NICE! (DEWALT all in caps because this is awesome) Price (Dewalt) The deciding point for me was the free stand. Now that I'm using this saw it is an excellent tool. Right out of the box it was spot on no adjustments needed. A real time saver. Everything moves easily and if you can get the ($200) stand for free it's a no brainer. My only complaint so far is you really have to slide the fence just about off if beveling 45 degrees left. But once you see that's the way it is no biggie. No free stand offered and you have an extra $50? Flip a coin over the this one and the Bosch.
Date published: 2016-04-18
Rated

5

out of

5
by
Scooter
from
Great tool
Purchased to replace ancient miter saw. This saw exceeds my expectations.
Date published: 2018-01-01
Rated

5

out of

5
by
Anonymous
from
Awesome saw
I build tables and other furniture items so wanted a good compound miter saw with the ability to cut wide planks. This fits the bill perfectly. It is actually pretty lightweight, is fairly quiet (compared to the Ryobi 10" I was using), and does great at collecting the sawdust. I really like the light system too--so rather than a laser that you have to adjust accuracy on, there is a light directly over the blade that casts a shadow down--it is precise every single time. The only things I think could be improved are the adjustment knobs. The Ryobi I used had much easier miter and bevel adjustment knobs, as well as the clamp to hold the workpiece in place. The clamp on this saw is kind of squeaky and obnoxious because it doesn't quite adjust as easy as I was expecting.
Date published: 2013-03-26
Rated

5

out of

5
by
RemodelingNewb
from
Great saw all the way around.
I've only had this saw for several months but so far, it has been great. As far as I'm concerned, without paying $800 for a bosch, this is the best miter saw you can get. It is fully adjustable in every way to very minute details. It is very strong and looks to me like it could last forever. I like the fact that the angle gauge is stainless steel with engraved numbers so nothings wears off or moves. The angle adjustment is very easy and smooth to use, no flaws. I can't give any negative on this right now. But if I find one, I will post it.
Date published: 2013-03-01
Rated

4

out of

5
by
Radioman2
from
Good combo price, but missing expected accessories
I just purchased the combination miter saw and table this week. I thought the price was excellent which included both pieces. I took them home to assemble and had no problem. However, there was no Crown Molding Fence included in the box. The paperwork said "optional". I had to go on-line and order the fence ($43.00!). I expected a miter saw to include a crown molding fence, since this type of saw is used frequently for crown molding and base board cuts. My price savings was "cut to pieces" with the added cost. I hope after using the saw I can write a more positive review.
Date published: 2013-09-04
Rated

1

out of

5
by
Mike
from
Design or casting problem
I picked up my DWS780 a few days ago and have not turned it on yet. I am still waiting for a response back from Dewalt about the same concern that others have mentioned with the blade hitting the black plastic under the kerf plate. The blade would also cut the front of the kerf plate in two and I still need to verify that it won't cut the aluminum chassis under the kerf plate in the front. It appears to slide out way too far, as well as too deep. I have read reviews on several sites. Some people say they did not have the problem and it must be a defect. Some are told to take it to a repair center right out of the box. Others get an exchange at the store and have the same problem. It is too expensive a tool to expect this to be normal. Hopefully, DEWALT Customer Care will respond, but they have not responded to my email, phone, or picked up Live Chat.
Date published: 2019-08-12
Rated

5

out of

5
by
WildBill777
from
Solid, Easy to use, Dependable.
As a Contractor I rely on my tools to make a living. This DeWalt sliding compound miter saw delivers every day of the week. If you expect your tools to consistently work to their original manufacturing design then this saw will work hard for you every day of the week. I have employees who are not the most gentle when it comes to power tools and when you carry power tools around from jobsite to jobsite in an equipment trailer then tend to get rougher then normal handling. This saw keeps making me money by it consistent accuracy and durability. I must have very accurate cuts and a saw that will not let you down. When equipment like this saw quits in the field you are losing money and possibly a customer. Spend a little extra and get yourself a saw you can depend on.
Date published: 2013-05-04
Rated

5

out of

5
by
Jax
from
Amazing Saw!
I asked a good friend of mine, an extremely talented finish carpenter which saw I should purchase for some upcoming projects. He didn't hesitate. The DWS780. He said he owns 2 of them and he loves them both. Uses them everyday for professional work. It is very convenient to be able to cut crown mold FLAT instead of with a jig or holding on a 45. The double bevel allows that to happen with ease. I can cut planks up to 16" wide and with the XPS system casting the blade shadow I know EXACTLY where my cut will be. Fantastic saw. [This review was collected as part of a promotion.]
Date published: 2019-08-05
Rated

5

out of

5
by
Anonymous
from
Wonderful Product
I purchased this saw from Lowes, which occasionally runs a $599 sale that includes the miter saw stand (DWX723). I've been a subcontractor for about six years now, in-between going back to school as well. After approximately two years of periodic use, I'm very pleased that I made this purchase. Positives: • Well calibrated • Cross-cut positioning system • Weight Calibration - Right out of the box the saw came entirely assembled and ready to use. What I was most impressed with was how well calibrated the miter and bevel gauges were. They were extremely accurate and easy to read which made cutting trim and other precise jobs that much easier. Cross-cut positioning system - To add to the accuracy, the saw comes equipped with XPS (cross-cut positioning system). Instead of using a laser to show where the blade will be cutting, the XPS uses an LED light which shines on both sides of the saw blade. This effect creates a shadow line where the blade will cut, resulting in better accuracy as well as providing a very well-lit cutting surface. I have found that unlike a laser, the XPS works great inside as well as outside in the sunlight. Weight – Previously, I had owned a Bosch very similar to that of the Dewalt, and what a difference over ten pounds makes. Lugging that old Bosch around was never a fun task. The fairly compact design and lighter weight makes moving the saw around from job to job a lot more achievable. Negatives: • Saw stand supports Supports – Given that I purchased the saw with the stand (DWX723), the only thing I recommend would be to upgrade to wider supports. When cutting a lot of base trim, sometimes the boards have a slight bow to them and keeping the trim on the supports can be a bit challenging at times when trying to make a cut. Overall, this saw has been very reliable and a great asset for me. I'd purchase another one if it came down to it, and would definitely recommend this saw to anyone interested in woodworking or someone who has been in the trade all their life. What an amazing Dewalt product.
Date published: 2016-09-23
Rated

1

out of

5
by
jeff
from
Big disappointment
OK. A little background on what I do. I am not just your average DIY'er. I am a finish carpenter by trade and I do this for a living. It supports my family and I and is not just a hobby. Initial review, August 2014: This saw was delivered in July 2014. From day one the positive stops for the most commonly used angles were vague and not definite. Because of this problem, I am not really sure how accurate the stops are and I have to check each one before cutting with a protractor or head square. If taking this saw to a worksite you must understand that the lock for the bevel detent stops will not hold while traveling to the job. This lock is not very strong. The stop for the tilting head that holds it at 90 degrees no longer stops the head at all. I assume this is related to the weak lock of the head. Also the locking mechanism on the right fence worked until the saw traveled to my first job. Then it did not work again. I now use a rubber tarp strap to hold the right fence in place while traveling. The blade arbor also has some play in it that causes the cut to be inaccurate. At one job on a windy day, when I was carrying the saw into a house, the plastic backbone spine that supports the dust tube snapped and broke off, now the dust collector shroud hangs in the way of the bevel scale. This is a minor annoyance. More problems still. The slide on this thing is garbage. You can oil the heck of it and it would be much better, but the problem is, on a saw this expensive, you shouldn't have to. The blade arbor also has some play (1/4 inch per side) in it that causes cuts to be inaccurate. I took this saw's slide apart to see what happened. This saw apparently only has true ball bearings on the left side. The right side has the slide lock knobs and they have bronze bushings instead of bearings. When you lower the head it torgues the heck out of the slides making it impossible to slide. This is just plain old stupid IMO. How much would it cost Dewalt to improve the bearings on the right side?? I have had this saw for less than a month and it's already experiencing severe breakages let alone the inaccuracies, cheapness, and flimsiness of a saw that needs to be dead on. I don't hold much hope for this saw having a long term life. Dewalt do not have a working "contact us" page or a published e-mail address, so one will have to call them, for all the good that it will do. Oh, and if you want to call them, make sure to do so when you have plenty of time to wait as the next available representative is 18 trillion years away from responding to your endless list of complaints. I was told that the warranty had expired and there was nothing they could do. How well thought out. "If you want a saw that looks good, has great specs, and you plan to wax it, put baby powder on it, and brag about it to your friends then this is the saw for you. If you want a saw that will work accurately for you for years to come, buy something else." UPDATE November 2014: Screw threads on the rear control knob for bevel stripped out and are now lost. Now the saw is impossible to lock down on any bevel angle except the ones that have working detent stops. I have glued the knob in for now. Somehow the fences have become even further out of alignment. I clearly don't remember bumping anything on them; my guess is that the cheap materials that are used to make it have resulted in them being jarred out of whack even more. Anyway, Dewalt haven't made a good slide saw since the DW708 (the ones with the rails vertically stacked on top of each other). The DW708 was awesome. No gimmicks. No slip-ups. Just a good strong saw that would cut perfectly accurate. Should have never sold mine. I then bought their DW718 which was an absolute joke as far as a finish saw. That saw would cut perfectly accurate until you beveled it beyond 22.5 degrees, then it would get thrown about 1/4 inch off. Dewalt have the worst customer service of any company (of any kind) I've ever dealt with. They are just not very helpful at all. They couldn't care any less. If they offered to replace this saw with a new one, I would instead refuse, ask for my money back, and buy something else, which I plan to do anyways. I can't wait to get rid of this piece of junk. Guaranteed Tough to work with. UPDATE April 2015: After having this saw "repaired" and then almost immediately break down with all of the same exact issues, it is being taken to the dumpster and I'm not gonna try another one. This is a saw used for a variety of final finish and rough cutting tasks, and I thought that this would be a top-of-the-line product. I'm extremely disappointed in Dewalt, and as a result, I've stopped buying all of their products and will focus on buying tools from truly professional brands like Milwaukee, Makita, Festool, and Bosch (as they actually seem to hire real engineers that know a thing or two about tools to design them). Ironically, about a week before we got this saw I also got one of their wheeled pressure washers and a DCN660 20V Max finish nailer. The pressure washer is great with the exception of the tires constantly going flat, but the nailer is an abomination. That went to the service center too, who "fixed it" only to have the same issues pop up again within a few weeks (it won't drive any nail flush, whether it is its minimum length or the maximum length. And yes, we did fiddle around with its adjustments, and we let the motor gain full speed before firing each nail, but still no joy.) Look at Makita. Yes, their 12 inch sliding miter saws don't have the easy miter adjustments that this has but there is still a reason they used two sets of rails on their newest model, the LS1216L. There is also a reason that they did away with belt drives and spur gears, and made their saw entirely gear-driven with spiral bevel and helical gears. There is also a reason they added an electronic speed controller to minimize the drop in speed that occurs when cutting, and a soft starter to minimize the startup kick and in-rush current. Makita don't skimp. Ever. I learned my lesson. I gave this saw 1 star because it was literally useless to me. If there were an option for -5 stars, that would be my rating. The rough slide was a total deal breaker. This is another example of how American businesses are losing to foreign competition. I'm sure someone is going to ask what saws I own right now. I currently own (4) Makita LS1216L 12-inch slide saws and (1) DW715 (type 3) 12-inch chop saw. I am currently using the Makita while the Dewalt rests on the shelf. Hope this review helps and I welcome your comments or questions.
Date published: 2015-10-18
Rated

5

out of

5
by
Tony80
from
Always accurate
I've been using this saw on job sites for almost 3 years now and it's been accurate, powerful and never lets me down. The XPS light is my favorite feature, saves time on all cuts. [This review was collected as part of a promotion.]
Date published: 2019-06-28
Rated

5

out of

5
by
Al
from
First Miter Saw
I'm new to woodworking. This may have been a bit overkill for a first saw but the features available seemed to be too good to pass up. The setup was fairly easy (it was purchased with a Dewalt saw horse) and I was cutting multiple samples in about an hour. The angles were accurate out of the box. The LED light shows the cut line which was a nice touch. The saw dust collector could be a better. My only other complaint would be the quality of the blade that comes with the saw otherwise this a solid, quality machine that I hope gets many uses for years to come. [This review was collected as part of a promotion.]
Date published: 2019-07-07
Rated

5

out of

5
by
kjackson82
from
Excellent saw!
This is one great product. Everything about it is solid and simple. The LED light giving you the shadow of the blade allows you to easily and accurately cut every time!
Date published: 2013-07-20
Rated

5

out of

5
by
MobileJoel
from
Zero it in first!
The saw was cutting slightly crooked when taking it out of the box and not reading any instructions. However, once I used the supplied torx wrench, and adjusted the red Guides, to match a couple of my squares, the saw cut consistently and accurately with ease.
Date published: 2013-04-01
Rated

1

out of

5
by
Aure
from
Disappointed
Really bad product a second miter saw I got thinking this one was going to be better than the one I had to return due to failure in the second month......motor stops by itself after starting the cut of a 2x12. Not even 1/4 of the way with anee blade and it stops. Sad.
Date published: 2018-08-03
Rated

2

out of

5
by
Grego
from
Disappointed
I'm a huge Dewalt fan and most all my power tools are Dewalt. Purchased the 12" to replace other older miter saw, was really looking forward to this saw for some time. The saw had a few adjustment needed, it did cut square after that but reason I returned the saw was the slider has too much resistance , have to really push to finish the cuts. I thought I might have a defected saw, but tried another new one out and its the same. Now I'm in the market for another high end saw
Date published: 2019-02-13
Rated

5

out of

5
by
Lt Dan
from
Flawless
I have been in construction my whole life and finally decided to upgrade my miter saw. This saw did not disappoint. It is extremely accurate with the led lighting system, smooth and powerful. I would say this has to be the best miter saw on the market
Date published: 2011-11-28
Rated

5

out of

5
by
Charlie
from
Tough well built saw
Bought this saw after doing a lot of research. Building a post and beam cabin, deck and Tiny House with it now. Great quality, cuts Pressure Treated 4x6's with ease. Good clean accurate cuts. The light cutting guide is much better than your standards laser guide. The only negative I have is the weight but I bought a Ridgid folding saw stand with wheels to get it around. It's a little pricey so I waited until it was on sale. This saw will last several generations I think, it's built that well.
Date published: 2016-02-08
Rated

5

out of

5
by
BenM
from
Dewalt quality
This is exactly what you'd expect from dewalts Mose expensive miter saw. It get the job done and it does it well. I've been using dewalt tools for about 15 years and even my first one is still drilling without any maintenance. My only regret with this purchase is that it's much bigger in my garage than it is in the store. I'd say this sized tool should only be purchased if you either have tons of space, or you're using it to make a living. I personally just didn't want to buy the smaller one and then need the bigger one later down the road.
Date published: 2014-04-16
Rated

3

out of

5
by
oldtimehousebuilder
from
Not for the accurate pro .
Compared to the original model , of which I have had since 1994 , this one I am taking back . Trying to get exact calibration is impossible as the spring loaded st piece that sets into the adjustable bracket has to much play in it . The use of the tilt release is a bit cumbersum , having to release two points to tilt . Site of material is bad but prolly could wor with it if it had the laser attachment . For the money , not for me . I'm sure the motor is great as I still have my original saw like this but they changed a good thing .
Date published: 2012-01-29
Rated

5

out of

5
by
SONNYCAL
from
Very accurate if you set every single stop 1 by 1
The first thing u have to do before using this saw is take a speed square and set your 90 degrees and your 45 degree miter angles and bevel angles with the adjuster screws. After doing this your miter cuts will be perfect. Now here is where it gets tricky to set all those odd bevel angles I used a 5" digital angle finder I found on-line made by general tools which worked great for me but u have to know when to set the angle finder to 0 degrees when it's in the 90 degree position to use it for cutting corner angles where to pieces of trim will meet it has to be set in the 180 degrees in the closed position to give u the right cut. Ok that being said when you use a digital angle finder to set the saw you need to put the angle finder in the 90 degree position and zero it out because this is the way it will transfer to the saw after u set the digital angle finder to 0 degrees in the 90 degree position now just simply put it against the fence of the saw in the position that would give you a reading for your bevel stops and if there not to spec you simply use the set screw to perfect the saw and with my experience most are not in spec. So after all this is done you will be more than happy with accuracy and all the other things this saw has to offer how it has the most cut capacity of any saw in its class read the specs with that special set you can cross cut up to 16" that's a crazy amount compared to the others plus it's light weight but I would recommend the dewalt stand with it. The one little thing people may not like is if your saw is in direct sunlight the shadow line from the LED is hard to see but not a good enough reason at all not to by this saw my crown mounding came out flawless after setting the saw up right. So good luck out there hope I didn't get too carried away with info but you will see if you take my advise you won't regret it. Thanks for reading. Sincerely SONNY
Date published: 2012-11-23
Rated

5

out of

5
by
SuzynJay
from
Just a Couple of Picky Details
This saw performs at the level I have come to expect from DeWalt tools. I am especially impressed with the LED "aiming lights" that create a shadow line exactly where the blade will cut. So far I have only used my saw to build a 10-foot banquet table and benches, and I have only encountered three small issues with the tool. First, my saw did not come from the store set on true ZERO on the rear bevel. I had to use a carpenter's square to set the blade angle to zero. Second #and related to the first#, the bevel indicators on both the front and rear were not accurate. Fortunately, they ARE adjustable. Just don't trust them until you true the blade with a square and THEN adjust the indicators to zero. And lastly, the two-piece plastic dust pick-up tube is flimsy and easily damaged with moderate friction pressure from connecting a vacuum hose. Once I overcame these little details I was able to complete all the required timber cuts for the table, to include pressure-treated 4x4s and 200-year-old Hemlock 2x10s, in a matter of a couple of hours.
Date published: 2013-11-13
Rated

5

out of

5
by
fenceguy
from
Good machine
I've used a variety of miter saws over the years, and I keep coming back to DeWalt. This is a well built and thoughtfully designed tool, giving good performance from Day 1. I appreciate the LED work light on this saw (great idea, and I think easier and more accurate than any laser indicator I've used). I haven't had to do any serious adjustments on the saw, but it looks as though they can be done fairly easily. (BTW, the Hitachi saw in the store was badly out of adjustment -- and it was not at all clear how it could be fixed.) Dust collection is pretty good using the bag; I haven't tried attaching a vacuum or (ducted) dust collector yet. Power is certainly fine for my use (mostly 1x and 2x stock, moldings, etc.); haven't had occasion to cut 4x stock.
Date published: 2014-05-23
Rated

5

out of

5
by
SAYoung69
from
Fantastic buy
Bought this about a month ago to replace a smaller, older saw of a different brand. I have not been able to put this to the test too much yet, but no disappointment so far. I'll revisit my review after much more use. But the quality is excellent and all around a fantastic buy. I was a little concerned at first after reading a few reviews and speaking with a friend about damage and missing seals upon unpacking. But I think that's all because of the stores in which they were bought, as if the saws had been removed by them and perhaps put on display and repackaged. I just made sure to buy one with the outer plastic wrap still intact and no issues. [This review was collected as part of a promotion.]
Date published: 2018-11-13
Rated

5

out of

5
by
Theresa680
from
Excellent saw!!
I have had this now for over a year, and have used it for many projects, both for myself and clients. It performs excellent. I check it occasionally, but I haven't had the out-of-square issue that some people mentioned. It is a heavy-duty reliable saw and I would highly recommend it. VERY smooth to rotate and cuts through even rough boards like butter...
Date published: 2013-01-13
Rated

5

out of

5
by
Tony77
from
Hands down the very best miter saw on the market
I know that dewalt makes the best miter saw. But i was trying to be chep.so i got the Hitachi 10 inch sliding compound miter saw It was garbage. Didn't cut Square just all around junk. So I took it back got the rigid 12-in dual bevel sliding compound miter saw it was even worse took it back in purchased the 12-inch double bevel sliding DeWalt miter saw just a great job awesome product it's phenomenal guys at DeWalt Pat self on the back
Date published: 2018-06-20
Rated

5

out of

5
by
Acarpentry
from
Second One
I bought my first one 8 years ago and it still works like a charm so when I needed another one I bought the same one!
Date published: 2014-03-16
Rated

5

out of

5
by
MattK
from
Great Saw Overall
Good compromise of cost and utility, especially if you can get this on sale. Cross cuts in stock wider than 6" or so are difficult to get accurate and clean on a jobsite table saw and if you're like me and can't afford / don't have the space for a cabinet table saw, a good mitre saw is essential. I started off 4 years ago with a lower powered smaller mitre saw of a different brand and this was a welcome upgrade, cutting over 12" wide stick confidently. If you know for sure you will never ever need to cut wide boards then I would recommend saving a few bucks and getting a non-sliding saw for half the cost. But even if you only need to do this occasionally it just makes it so much easier, I'd recommend this saw. [This review was collected as part of a promotion.]
Date published: 2019-08-29
Rated

5

out of

5
by
Yodeldog
from
Excellent Precision saw.
This saw is ultra precise and makes cuts that create joints that you can hardly see the cut line. The pre-set stops are all so exact that you can go to them and expect that they will be exactly as they should be. The twelve inch blade and the sliding feature make cutting large pieces a breeze. The cutting line which illuminates the piece being cut shows a shadow where the cut will be and it is much more precise than the lasers offered on some saws. I cannot recommend this tool to highly! I wish I had purchased it years ago. The stand which came with it is the cat's meow as well. It is sturdy and has extensions which allow ten foot pieces of moulding and trim to be used with ease. VERY HIGHLY RECOMMENDED! [This review was collected as part of a promotion.]
Date published: 2019-07-23