Description
This double-level sliding compound mitre saw features an integrated XPS crosscut positioning system, which provides adjustment and free cut-line indication for better accuracy and visibility. It is equipped with a powerful motor to deliver extended power and durability. The super-efficient dust collection system captures over 75% of generated dust. Tall sliding fences support crown molding and base molding vertically against the fence while easily sliding out of the way for bevel cuts. An exclusive back fence allows you to cut up to 2x16 dimensional lumber at 90° and 2x12 at 45°. The adjustable stainless steel mitre detent plate with 10 positive stops improves productivity and ensures cutting accuracy. Three-year limited warranty.
Product specifications
6 3/4" (vertical, baseboard against fence); 7 1/2" (vertical, crown molding vertically nested); 16" (horizontal, baseboard lying flat); 13 3/4" (horizontal, crown molding lying flat)
Carbide blade, blade wrench, dust bag, vertical material clamp
90 day money back guarantee, 1 year free service and 3 year limited
Frequently bought together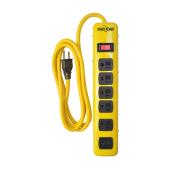 YELLOW JACKET
6-Outlet Power Bar with Surge Protection - 6' - Yellow
Format 1.8M
Details
Article #32045053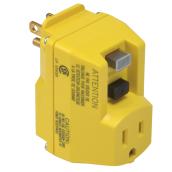 YELLOW JACKET
Single Outlet Portable GFCI Adapter - 1800 W - 15 A
Details
Article #32045050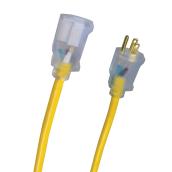 WOODS
12/3 Extension Cord - 25' - Red
Format 12/3 25'
Details
Article #74045239
what does the 3 year warranty include
Covers all parts and labour except blade or damage caused from misuse. Doesn't cover shipping, however there should be an authorized dealer near you where you can drop it off and pick it up.
Date published: 2019-03-19
What blade comes with the DWS780, is it a 12" 32T or a 12" 80T
It came with 12" 60T blade. I'll be glad to get 80T as upgrade/bonus!!!
Date published: 2018-11-24
Does it come with the stand?
Usually no.  But if you wait for the right sale it can, I got my stand for free with it but it was a special sale.  
Date published: 2018-09-12
Can this saw, in one cut, a 6"x6" or a 8"x8" post?
No unfortunately the most you'll be able to cut with a 12 in mitre saw is going to be bout 5.5 inches due to the washer getting rid of a lot of cutting space. A 6x6 is truly 5.75inx5.75in so it will not cut it in one pass but it will cut 95% of it then you can either flip it or cut the last little bit with a hand saw.
Date published: 2018-07-10
Est-ce qu'il y a un support qui vient avec la scie?
how does this compare to Dewalt model DWS709
Compound Mitre Saw - Sliding - 12" - 15 A
is rated out of
5
by
238
.
Rated

4

out of

5
by
James42
from
Good saw for do it yourself and pros
I use this saw everyday and love the auto tilt bevel locks and cuts perfect. I do wish the saw dust system wasn't a mile long tube to the bag. Clogs up right away. The fence slides are hard to slide out and have to get hit with my hammer to extend them. I would like to see dewalt set up a different slide system, with the bag on the back I hack to have over 3to4 feet from a wall so my saw has clearance makes cutting in hallways on big jobs impossible. I would also like the saw to have a little more rpm saw bogs down on cuts and causes the blade to warp in my cuts also. I also would like a laser and tape measure marks on the saw fence or even on the platform for fast cuts. Great saw but could be better.
Date published: 2018-05-12
Rated

5

out of

5
by
RusticJoe
from
100% the best buy for the money
Purchased saw when Lowes ran a special that included the base stand, a $200 dollar option, for FREE. I am so happy I did so. Such an awesome addition to my shop. At first I was torn between the Bosch and this, the free stand sold me and I don't regret it for one second. Angle cuts are spot on, the light is spot on, almost everything about this is perfect. The only thing I'd improve on for this saw are the clamps and the blade depth stop. Those two aspects are the only thing I see that my buddies K-Pex does better, but at $1200s for a K-Pex no thanks. When cutting tenons use a spacer against the back stop and it'll work just fine.
Date published: 2013-10-23
Rated

5

out of

5
by
steelersfan
from
Best tool I own
This saw has all the professional contractor level features, yet is very immediate level DIY'er friendly. I'm not a professional contractor, but with this saw, my mid level DIY skills and attention to detail, the work I've done to date, looks very professionally done. My only con is that at my age, carrying a 50 to 60 lb miter saw in and out of storage every time I want to use it, is going to be a pain in alot of places. i made the mistake of choosing the "heavy duty" miter saw stand instead of the "rolling" stand. That mistake will be rectified (smile).
Date published: 2013-04-30
Rated

5

out of

5
by
Phillip
from
Best saw I have owned
I previously had the ridgid 12" saw which I was able to pick up for 100 dollars cheaper than the dewalt. The two saws don't even compare in my opinion. After having issues squaring up the ridgid saw and the blade guard completely failing on me I returned it to Home Depot and purchased this saw. The dewalt was completely squared out of the box. Also angle adjustment on the dewalt is far superior. The slides are smoother and the overall footprint is smaller and lighter. I do recommend changing the blade that comes with the dewalt to something nicer like a diablo. Overall I highly recommend [This review was collected as part of a promotion.]
Date published: 2019-02-03
Rated

5

out of

5
by
Droz37
from
Awesome saw, awesome price
Ordered mine online, had $200 off of price plus an online order discount, paid a little over $500, quite happy with that price. VERY IMPORTANT SOLVED ISSUE, RAIL RESISTANCE the biggest thing I had an issue with was when I first took it out of the package to test it, the saw had a lot of resistance moving on the rails, I read through the manual and looked all over to find what was causing it to bind with no luck, I was contemplating having to send it back thinking "this is why it was so cheap", luckily I kept reading for a solution and I did find out that there is a tiny little Allen key set-screw behind (almost under) the tension knob, once I adjusted that it glided without resistance, I was glad that I didn't have to return it, such a sturdy versatile saw. Note: use a 5/32 allen key to adjust it cheers!
Date published: 2018-04-26
Rated

1

out of

5
by
talegunner
from
Very Dissapointed with DeWalt
I bought this saw this past weekend. July 27 2019. The stand came with the saw. Great price so I got it. I had been saving up for this saw quite a long time. Wish I had bought something else. First like others that have written reviews I had on of the same issues. One of the most common was the blade dragging. The blade scored the black plastic under the kerf line. And this was prior to turning on the saw. I wanted to be proactive if this had the same issue. So then the stand had a broken quick release. (DWX723) Now I'm getting a little upset. Then finally I cut a piece of wood. What a joke.
Date published: 2019-07-31
Rated

4

out of

5
by
Alex W
from
Great Saw!
The Dewalt DWS780 Miter Saw is a great buy for anyone wanting a powerful and reliable saw for the job site. I am a contractor and have used many miter saws, this is my favorite. The dual bevel functionality with the large fence makes for quickly handeling complicated cuts on crown and othe moldings. The fence does need to been extended out to the maximum outer setting for 45 bevel cuts. The saw weighs about 50lbs making for use with a rolling stand preferable if you plan to take it to and from jobsites. Would have rated 4.5, but couldnt. Weight and the fence adjust are only downside. [This review was collected as part of a promotion.]
Date published: 2018-11-12
Rated

5

out of

5
by
Cavan
from
This makes my third one
I've been using this same saw for over 18 years. I've bought a bunch of other brands and a few have been ok but this saw has always been trustworthy and reliable. Several other brands have broken on the job or wear out to the point they won't cut true any more no matter what you do. This model saw and the previous that are all very close to this same saw can be counted on to get the job done and that's why I am writing this review. Maybe it will help someone that is trying to decide or isn't sure about the quality of the DeWalt 12" sliding miter saw. Rest assured it is a safe bet. [This review was collected as part of a promotion.]
Date published: 2019-11-06