Description
The Black & Decker "Mouse" Detail Sander makes sanding and finishing easy. This handheld electric sander features a compact size that allows you to work in tight spaces. The added dust collection system makes sure your workspace stays clean of dust and debris, and a 3-position grip allows you to have a good handle at any angle. Two-year limited warranty.
Product specifications
14,000 OPM (Orbits per Minute)
Frequently bought together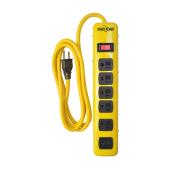 YELLOW JACKET
6-Outlet Power Bar with Surge Protection - 6' - Yellow
Format 1.8M
Details
Article #32045053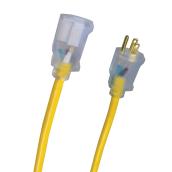 WOODS
12/3 Extension Cord - 25' - Red
Format 12/3 25'
Details
Article #74045239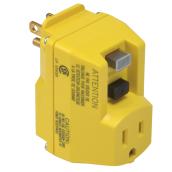 YELLOW JACKET
Single Outlet Portable GFCI Adapter - 1800 W - 15 A
Details
Article #32045050
Does it come with the sand paper? What type should we buy to use with this?
Depends what you want to sand . Lower numbers are coarser as you move to 220, to finish. Hopefully by now, you've figured it out. Comes with 1 -#120 and 1 - #220.
Date published: 2020-10-10
Is any sandpaper, adapters included in the box?
Yes 
Date published: 2019-02-07
Detail Sander - "Mouse"
is rated out of
5
by
158
.
Rated

4

out of

5
by
Dedge
from
Good Detail Sander
I make custom cedar furniture and own many sanders of all types. I usually only purchase high-end sanders. However, I was immediately attracted to this B&D sander when seen at Lowes because of its handle and the cost of the unit. My hands are arthritic and the handle on this sander allows me to direct it with less sting in my knuckles. Overall, It does a good job for a light duty sander and the attachments are clever. Based on the cost and what it does, I consider it a project sander. The 2 yr warranty is a big plus, especially considering the little attachments may wear out or break with constant use. Thus, I recommend this as a light duty detail sander.
Date published: 2016-03-15
Rated

4

out of

5
by
kat
from
Used for the first time a couple of days ago and was very pleased. It felt good in my hand, the paper was easy to install, the vibration was minimal, and the dust collector actually worked. Wow, the dust collector working is a first for me. Usually they are worthless. So I will see over time just how long that lasts, but for know, impressed. My only point of contention is that the on / off switch is located behind my hand when sanding. I am used to it being in front and find it annoying that I need another hand to turn this off - or swing it around one handed. There are times I need to hold on to things while sanding and just want to put the darn thing down for a moment. However, I am still pleased with my purchase and hope to use this for a long time to come.
Date published: 2016-07-04
Rated

4

out of

5
by
lori
from
Does the job
This works great! I love the easy replacement hook and loop sanding sheets. The compartment for catching the sand/paint is a good idea, but it still blows all over and makes a mess. Definitely wear breathing protection
Date published: 2015-09-06
Rated

5

out of

5
by
Lisa
from
Great little sander
I purchased this sander to shabby chick my kitchen cabinets. It is perfect for the job. The extra little tip on the end really helps get into those hard to reach spots. My only issue is, I can't figure out how to get the dust container off. Nor can I find anything about its removal in the instruction guide that came with it.
Date published: 2015-02-02
Rated

5

out of

5
by
Nancy
from
Good sander for detail work and small jobs
I needed a sander that would get in a corner. I had some drywall work to do and didn't want to try doing it with a block sander. This one worked great. I have always had good luck with Black and Decker products.
Date published: 2015-10-15
Rated

4

out of

5
by
DeerMe
from
Good with reservations
Lowes have several sanders in this price range, but choose the Black and Decker as a brand I have used many times. I like the grip options on the machine, and it works well on a flat surface, BUT if one strays over the edge the suction that is meant to keep the dust at bay no longer works. I don't suppose it is any different with other brands however. The Velcro fitting of the sandpaper is good, but can suddenly fail for no apparent reason. The little tip area, which is changeable for an extension, does have a small issue. The Velcro can melt if one spends too much time putting pressure in that region. Changing the extension can be a little tricky as the small screw doesn't always want to come out. Finally, the filter/dust holder I found rather difficult to open, but this may be just newness.
Date published: 2016-02-25
Rated

4

out of

5
by
AvgDIYer
from
worked well
easy to use used to sand down kitchen cabinets and still going strong
Date published: 2015-10-22
Rated

5

out of

5
by
Calcole
from
Economical
I bought this Sandra week ago to finish sanding my fan trim panels and I am not disappointed with the performance so far. Operation is smooth with low vibration yet perfect finished product. I suffer from carpal tunnel syndrome and a sander has worked perfectly without any suffering from me. Black & Decker did well with this product! I would recommend to anyone to buy this sander. You won't be disappointed! I just don't understand the negative reviews that I have read. they must be from people who know nothing about finishing Sanders.
Date published: 2018-06-03