"Delphine" 4-Light Track Light
Article #00875549
Item #000375304
Model #58890
Format 36x7x6"
Selection, quantities and rebates may vary from one store to another. The clearance items cannot be transferred between stores. This offer is valid at participating locations only and cannot be combined with any other offer.
This item is not currently available for immediate purchase, but can be ordered by visiting the selected store. Orders typically take 3-7 days from date of order to be received at your selected store.
Home & Garden RONA Scarborough Golden Mile
(416) 751-7556
Description
With its adjustable heads, this 4-light track light from Globe lets you direct light where you need it. Its brushed steel finish with frosted glass brings a modern style to any décor.
Frequently bought together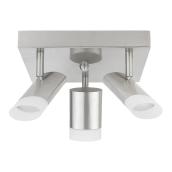 GLOBE
"Delphine" 3-Light Flushmount
Format 9x9x4.5" 3x11W
Article #00875547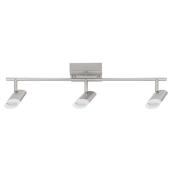 GLOBE
"Delphine" 3-Light Track Light
Format 26x5x6"
Article #00875548