A&E BATH & SHOWER - Mirrors (1)
Consider Rona's large selection of rectangular, round, frameless, hexagonal, or 
framed mirrors
to make getting ready in the morning simple and fun.
Decorative mirrors
blend well with your home decor to create a sense of ingenuity. They're available in multiple finishes, including chrome, silver, white, gold, and coffee bronze, to name a few. Choose from brass, copper, plastic, and wood 
frames
 to store your
mirrors
and memories in style. Supplement the beauty of your house with artistic or decorative wood, stained glass, or canvas
wall art
 to make your house a unique home.
---
Insert visual intrigue to any space with Rona's selection of
mirrors
. Experiment with different shapes, sizes, and frames to reflect your personality. A wood-
framed mirror
is just right for making a room feel warm and close to nature. For an airy, relaxed feel, look for
decorative mirrors
with metal and glass frames that are frameless for a streamlined touch. Antique, geometric, and teardrop are just a few of the available mirror styles.
A hexagon-shaped mirror or three diamond-shaped hanging pendants work for playful spaces. Bring several
mirrors
together to create a unique visual experience. Opt for products with designer aspects for decorative purposes in upmarket spaces. When you require a combination of aesthetics and purpose, find frames that complement the existing decor. Another option is to pick an item with an incorporated mirror, such as a jewellery or medicine cabinet or wall shelves. 
Find the appropriate mirror for each room of the house. For the bathroom, consider frames that are moisture-resistant, such as metal and plastic. Since their placement is above the sink, rectangular and round or oval-shaped products are ideal. For the bedroom, opt for full-length pieces, as these bring the most functionality. Free-standing models are useful as they're easy to move from place to place. 
Living rooms are usually for relaxation, so find
mirrors
that match the decor. Make a fashion statement or create a focal point with interesting mirror materials such as wire, copper, and pewter. To visually enlarge a living space that's small, consider a broad, wide mirror that reflects most of the room. Something with simple, straight lines and no frame works best for this purpose. For rooms that suffer from too little sunlight, place a mirror opposite a window to reflect the light, making the space appear brighter. Another good option is a sunburst model, as this style is just right for making a wall the centre of attention.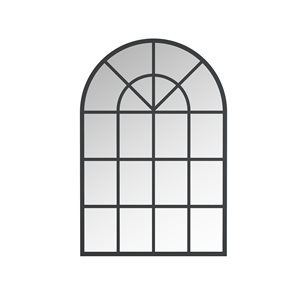 A&E BATH & SHOWER
A&E Bath & Shower Mesilla 28-in L x 26-in W Arch Black Framed Wall Mirror
Details
Article #330879811