Description
Get the performance you expect in a corded saw with the portability of a cordless saw with this Dewalt circular saw. It features a brushless motor that provides exceptional run time and power. It offers a depth of cut of 2 inches at 45 degrees and 2 9/16 inches at 90 degrees for versatility. The electric brake offers added safety, and the 57-degree bevel capacity ensures you can make a wide range of cuts. Battery and charger sold separately.
Product specifications
2" (5.08 cm ) at 45°, 2 9/16" (6.5 cm) at 90°
Keyless Blade Clamp (Y/N)
Battery and charger sold separately
Related Projects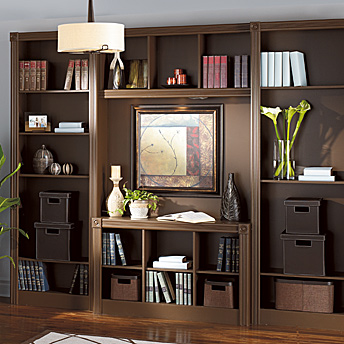 Build a bookcase
Decor accessories, audio-visual equipment, books, boxes, baskets or storage boxes: this multifunctional piece of furniture is an essential in the living room, t...Learn more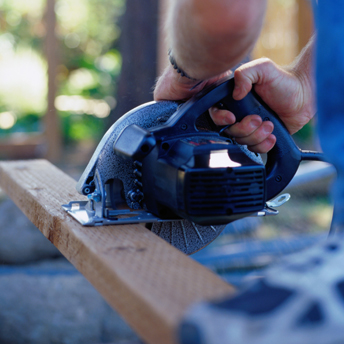 Circular saws
The circular saw is the one power tool every handyman should have. Powerful, versatile, portable and convenient, it can be used for all kinds of cuts in a varie...Learn more
Frequently bought together
Dewalt Cordless Circular Saw - 7 1/4" - 20V
is rated out of
5
by
112
.
Rated

5

out of

5
by
GBC
from
Near Perfect
This saw does essentially everything a corded circular saw does. I've used it professionally for around four months, since they came out, and I've only grabbed my old Makita once, for cutting 2" iso rigid insulation with a Centerfire blade. This saw is good for cutting dimensional lumber (to include 2x10 rafters), OSB (including 11/16" subflooring), 1x oak, FRP, anything I've thrown at it - except that iso board. Batteries don't last forever but it seems it; certainly better than the 6 1/2" 20v saw this one replaced. Speaking of which, this saw leaves a consistently better cutline than the 6 1/2" ever did, every bit as good as my old Makita.
Date published: 2017-10-26
Rated

5

out of

5
by
Cusz
from
20V MAX* 7-1/4" CORDLESS CIRCULAR SAW
Replacing the Hitachi corded saw with the new brush-less, cordless, 7-1/4" circular saw DCS570B, with a DCB206 6-amp hour battery should run all day. Also replacing the DCS391B 6-1/2" circular saw, always called the left-handed saw. The new DCS570B using the more standard 7-1/4" saw blades. The saw is what I call a right-handed saw, also has a LED light may or may not be useful to me. The arbor is 5/8" or .625", rip fence maybe DW3278, rip fence not needed a lot but once used is a work saver. The saw can use the new DCB606/DCB609 Flexvolt battery "heavier and larger". Worked great cutting some of the 2x4 on project planter hanger.
Date published: 2017-07-25
Rated

5

out of

5
by
PETER
from
Dewalt XR20 - An Excellent Saw
This saw has plenty of power to rip through 2x6s or 3/4 inch plywood sheets. It is not a light weight saw, but it is well balanced and easy to handle. I purchased two 4 amp hour batteries to go along with it, because it is a bare saw (no batteries or charger). I also have a Dewalt 20 volt drill and driver set that came with batteries (1.3 amp hour) and a charger. This saw eats up a lot more power than a cordless drill, so that is why I purchased the 4 amp hour batteries. The batteries are interchangeable between the drill and saw, so that makes everything a lot more versatile. [This review was collected as part of a promotion.]
Date published: 2018-11-07
Rated

5

out of

5
by
tommy
from
dont know why I waited so long
you reach a point in your life when you have tired of dragging out the 50 extension cord to make a 1/2 dozen cuts on decking, studs,fencing or you name it.This came with a free 6.0ahr battery which is a huge upgrade to the basic 2.0ahr that most tools come with. I have 6 -20 volt dewalt tools and work them all very hard. This has cut my clean up and cord rewinding to Zero. The 7 inch blade is the same as my corded saws (if I ever use again) so having Another size blade is not required. Throw in your truck and go!
Date published: 2017-08-23
Rated

5

out of

5
by
TacoSleaze
from
This has everything that a corded saw has.
I have used the 60v and was throughly impressed....not with the price though. I got this one and it was exactly like using the 60. It also has the same RPMs as my corded saw and weighs about the same. I was even able to use my rip guide and dust port from my corded saw with no modifications. I would buy this over the 60 even if I was wealthy.
Date published: 2017-09-05
Rated

5

out of

5
by
Snowman
from
Does what I need it to do
Remodeling my in-laws house. Installing things they have wanted but have been too afraid to do themselves like fencing, a water treatment system, and general household maintenance. Very handy to use and powerful enough for what I need. Wonderful that it uses the 20v batteries that I already have with the rest of my dewalt tools without the need of the 60v switching battery, even though I have one specific for this so I have the grunt power to run it all day on projects. [This review was collected as part of a promotion.]
Date published: 2019-03-15
Rated

5

out of

5
by
Juggernaut
from
Made to fit, it feels like putting on a glove.
Built in tool hook, the brake and tool contoured fit make it a production tool.
Date published: 2017-12-07
Rated

5

out of

5
by
Ben
from
Nice Saw
I have used this saw a very limited amount since I bought it. That being said it feels good in the hand. Has a good balance and nice grip. LED light on the front is a nice added touch for darker work areas. The aluminum base plate with sharp edges is nice so it does ride up over a straightedge or square. Rafter hook is nice. The only thing I don't like about it is the safety to start the saw. Some of the other Dewalt saws have a nicer style toggle you push down. I personally like to have no safety on the trigger, I just keep my finger of the trigger till I am ready to cut. [This review was collected as part of a promotion.]
Date published: 2019-08-16