Description
Fully-assembled folding door. 80 in. (H) x 32 in. to 36 in. (W) opening. Made of vinyl. Pre-finished double-walled PVC panels. Fastest and most economical way to organize your space and insulate against distracting noises. Wrinkle-free, impact resistant covers provide a smooth symmetrical appearance. Unique cover construction resists punctures, tears, rips or cuts. All installation hardware included. Frosted white.
Product specifications
32-36" (81.28 cm - 91.44 cm)
Fits openings 24 to 36 inches wide by 80 inches high (60.96 cm - 91.44 cm x 203.2 cm)
You may also like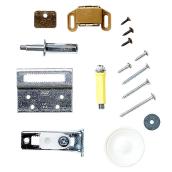 METRIE
Metrie - Hardware for Pivot Door - 16 pcs
Details
Article #61405759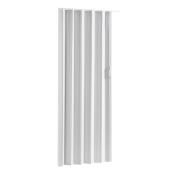 COLONIAL ELEGANCE
Colonial Elegance - Via Folding Door - 36" x 80" - PVC - White
Format 36x80"
Details
Article #08855243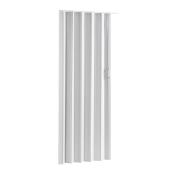 COLONIAL ELEGANCE
Colonial Elegance - Via Accordion Folding Door - 48" x 80" - Vinyl - White
Format 48x80"
Details
Article #08855247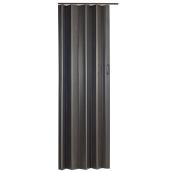 COLONIAL ELEGANCE
Colonial Elegance - Oakmont Folding Door - 36" x 80" - Espresso
Format 36x80"
Details
Article #08856068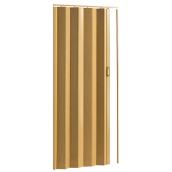 COLONIAL ELEGANCE
Colonial Elegance - Oakmont Folding Door - 36" x 80" - Butterscotch
Format 36x80"
Details
Article #08855435
Would this be sturdy enough for an (only) and tiny bathroom?  Or too flimsy?
Too flimsy 
Date published: 2019-07-28
want to use door for bathroom can it be open from both sides
Yes, the handle is n both sodes.
Date published: 2018-12-15
Can these be shortened? If so, how... or with what?
can the bottom be trimmed to fit a smaller opening?
I have a 5' closet opening. Can I put two of these together to open at the middle?
Can an additional panel be purchased, so it can fit a 38" opening? I bought doors like this 20+ years ago and I could, but I don't see the selling of 1 panel on the website.
Colonial Elegance - Oakmont Folding Door - 32-36" x 80" - Frost White
is rated out of
5
by
22
.
Rated

5

out of

5
by
Just me
from
Good replacement for bifold doors
First, you should know I am a female. I installed this by myself, and only needed help with tightening the handles & screws. This is typical for me, and probably would be for other females doing this themselves. The instructions were very detailed and easy to follow. I did have to cut the track about 1/4 inch using a jigsaw. It's not the prettiest looking edge, but it won't be seen anyways. On the plus side - you got extra slides and screws. On the minus side - the screw holes were already there, but I think there should be one at each end. I will add the screw holes and screws on my own. This was definitely worth the money.
Date published: 2012-01-29
Rated

4

out of

5
by
Big Red Viking
from
Not a bad door.
Recently purchased a home and needed something to close the doorway between a closet and the unfinished portion of the basement...I picked this door up at our nearby Lowes and it fit the bill perfectly. I needed to trim about four inches off the bottom and, by following the instructions, I was able accomplish this quite easily. I can see how the guy with the reciprocating saw might have experienced problems, but that's his fault, not the doors'. By simply following the directions and taking it slow and easy the door trims easily enough. The directions were pretty clear and installation went smoothly. If there's a down side, it would be the smell...my closet smells like vinyl, but I'm sure that will go away with time. All in all, not a bad door and at a reasonable price
Date published: 2011-11-26
Rated

4

out of

5
by
oldman
from
Does the job
The door itself is well made and does the job. The instructions included on the packaging however are terrible. The first one on the English side was in Spanish. Nowhere does it say how much to cutoff for a shorter opening (Subtract the difference of the door opening height from 80" and cut off the bottom) or explain how to remove a panel. When I went to the company web site to register (after installation) I found much better instructions, I would suggest going there first. But the door is a good one and would buy another one if needed.
Date published: 2017-01-31
Rated

4

out of

5
by
Wizzer
from
Great product for limited space
This is a replacement door for one I installed five years ago. Replacement installation was quick as the track was already there. The door is efficient for a location where a door does not have the room to open inward or outward. It cuts the sound of the appliance and contains the temperature.
Date published: 2014-08-11
Rated

5

out of

5
by
Toby
from
Acordian Door
This was the easiest door I've ever installed. Each part fit exactly right, it looks great, and operates smoothly. A very good buy.
Date published: 2015-02-16
Rated

3

out of

5
by
Bill
from
not size as advertised
OK32-36-3680F Accordion door I stopped at Lowes at Columbia to decide on the door needed for 36X80 hall door. They showed us the inventory so we decided on this model. It was shown to fit finished entrance of 80 high X 36 wide which could take a regular 36X80 hinged door. I went back and built the frame stained and completed inside finish of 36X80. We made another trip to Lowes and picked up the door on 6-4-2013. I followed the directions ?? which were not very clear on the fixed side, but having done many door and cabinet installations, it was easy to figure out. I did cut off the bottom because of the carpet and that was no problem either. The problem IS it that maybe it is a panel short as when pulled pretty tight to close there was still an inch gap. Options were limited. So I had to buy a trim filler strip ¾ thick and install. It still was not able to grasp the plates/magnets. I finally backed off the screws on the plates about ¼" so the plates could move out and that barely did it, but they did attach and hold. The door is a nice door, but saying that it will work on a 36" wide finished opening is in error. Having pulled the accordion this tight to close tells me it maybe a panel short??? Not a happy man
Date published: 2013-06-05
Rated

3

out of

5
by
MarsbarsCT
from
Could be better
Directions lacking, but you can figure it out regardless. Cutting the panel bottom to fit is NOT a good idea. I had a reciprocating saw, a hack saw, etc. and the bottoms simply crack and split. And, if you cut the panels shorter, you have to reinstall tiny screws on the frayed ends. The tracks are plastic and will invariably break. This product could be a lot better.
Date published: 2011-11-22
Rated

2

out of

5
by
JoJo
from
Door will not close.
While I was expecting product at dimensions specified what I received was for 24 - 36 inch opening. My door is 36 inches and door will fit, will not close. I will have to make some type of adjustment to make it work.
Date published: 2013-12-08