Description
The 13 A motor of this circular saw has the power and performance that you need, and the improved dust blower keeps line of cut free from sawdust for accurate cuts. An adjustable bevel up to 51°, with positive stop at 45°, let's you make a wider variety of cuts. Blade changes are easy with the spindle lock and blade wrench stored on tool. 2-Point line of sights for cutting straight lines with ease. Safety lock and guarded trigger minimizes accidental starts. Anti-snag lower guard reduces snags when making narrow cut-offs. Rear lever depth adjustment quick assure desired depth cut.
Frequently bought together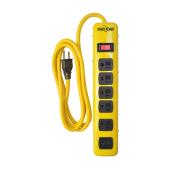 YELLOW JACKET
6-Outlet Power Bar with Surge Protection - 6' - Yellow
Format 1.8M
Details
Article #32045053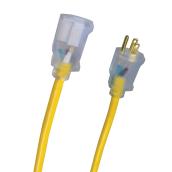 WOODS
12/3 Extension Cord - 25' - Red
Format 12/3 25'
Details
Article #74045239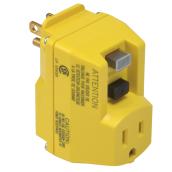 YELLOW JACKET
Single Outlet Portable GFCI Adapter - 1800 W - 15 A
Details
Article #32045050
Does it come with the blade?
Quand la scie sera disponible à la ville de Québec ?
Circular Saw - 7 1/4" - 13 A - Red
is rated out of
5
by
142
.
Rated

5

out of

5
by
DIY309
from
DIY Woman on the loose!!
Listen!!! I was so scared to buy and operate a saw, but I knew I had a project I wanted to get done which required cutting 2x4 and by hand wasnt happening. After watching 2 Youtube videos about this saw I decided, for the price, beginner user, why not? If it fails, nothing lost but a little time and Lowes is right down the street to take it back. When I tell ya'll this saw has now made my diy life SOOOOO MUUUUUUCH EASIER (Ive now used it on several projects over the past few months). It came with everything required, including the blade, its simple and easy to use. Watch a video or two, READ the manual, and follow the safety rules and you wont regret it.
Date published: 2018-06-28
Rated

5

out of

5
by
REB1947
from
Skil 13-Amps 7-1/4-in Corded Circular Saw
This Skil saw "MIGHT" look small, but BELIEVE me it is a TOUGH little guy and will CUT through wood like it's HOT BUTTER! I LOVE the fact that it IS very LIGHTWEIGHT and easy to handle as having arthritis is difficult HOLDING heavy tools. Don't let the size FOOL you though this Skil is really STRONG and EASY to use too. I also LOVE the fact it has a SAFETY Switch, for People like me, that like to pick a saw up with my FINGER on the TRIGGER....NOT A GOOD THING TO DO AT ALL!! For jobs around your home you should have this one on hand.....works well...lightweight....and is really EASY to use too!! [This review was collected as part of a promotion.]
Date published: 2016-02-23
Rated

1

out of

5
by
Matt
from
Just my luck
This saw replaced an older, all metal construction, Skil branded saw- that was recently stolen. The blade depth adjuster lever is difficult to work without looking at it, the entire saw its made out of plastic, and the steel guide is much thinner and actually flexes during use. The blade lock feature for tightening is the ONLY positive thing I can find myself mentioning. The blade retainer bolt came loose on the second time using this saw, tightening mechanism should be reviewed by the designer. All in all, it works like it should, within reason, next time I'm spending the money on a more expensive offering... [This review was collected as part of a promotion.]
Date published: 2019-10-04
Rated

1

out of

5
by
Smitty
from
You Get What You Pay For
The price was right but performance was disappointing. I needed a saw to cut 3/4 & 1/2 inch plywood. I set up my straight edge guide, checked blade squareness to the base and went to work. I could not get straight cuts for the life of me and the cuts were not square. I tried blades with different teeth counts but they made little difference. On closer inspection of the saw I found the problem. Cheap construction. The flimsy base is secured to a plastic housing that flexes from downward and sideways forces while cutting. Nothing on this saw is rigid. I am sorry I bought this saw and it is destined for the trash.
Date published: 2018-06-20
Rated

5

out of

5
by
dhpw
from
Great DIY circular saw.
This is a nicely balanced circular saw. It is not too heavy as other saws I have tried. I think it has sufficient power for the "round the house" jobs that I do and seems to fit my hands well. It has a wide variety of angles at which it can cut and seems powerful enough for my needs. Blade changing is easy because there is a spindle lock and the tool you use is stored on the saw itself so no looking round for it when you need to put a different blade in. The built in dust blower keeps the cut line free of sawdust. Nice touch. There is safety lock/guarded trigger to minimize accidental starts. All in all I would recommend this saw to other do it yourself people. [This review was collected as part of a promotion.]
Date published: 2016-02-27
Rated

5

out of

5
by
Christopher
from
Well overdue upgrade
My old Skil saw was 20 years old, heavily used, and sill running great, but I loaned it to my daughter and never got it back. So I bought this new SKIL 7-1/4-in 13-Amp saw and my first delight that it was the same price of my ancient saw. My next surprise was the improvements in lock screws, grip, sight line view, and ease of use. It is lighter and more powerful than my old Skil. Don't wait for your old saw to die a slow, creaky death. Go treat yourself by loaning it to somebody and go buy this newer, better saw. [This review was collected as part of a promotion.]
Date published: 2019-08-11
Rated

5

out of

5
by
JoeHandyMan310
from
Skil Circular Saw 13-Amps 7-1/4-in
This saw arrived at just the right time. I had some woodworking to do and I used the Skil. One cut was a 45° angle. I set the saw for the cut and set it back to zero right afterwards. I made some more cuts and they were right on 90°! I am very pleased with this saw and can now sell my second-hand circular saw that never seemed to get those angles precisely enough to make some projects perfectly square, The only feature I was hoping to see was that it could make compound miter cuts. Otherwise, this is a great bargain for the price. [This review was collected as part of a promotion.]
Date published: 2016-02-17
Rated

5

out of

5
by
Aaron
from
Skil 13 amp circular saw
I needed a saw to cut some 45 angles in baseboard trim and also to rip some 2x4 for shelving and this saw was just what I needed. Yeah it doesn't have a laser but to get that you need to pay a little more so this one was perfectly fine for me. The angle cut seems to be accurate and works fine but time will tell. Also review for Skil saws were good and I decided to take this one and glad I did, worked fine!! This is ideal for the home using it occasionally on weekends for small to medium jobs
Date published: 2016-04-10