Description
This tree stand is ideal for very tall trees. It features heavy duty t-bolts and large support arms with non-slip rubber to protect your floors and prevent tipping.
You may also like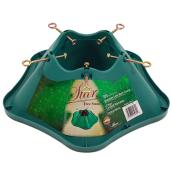 Christmas Tree Stand - 6' - Plastic - Green
Details
Article #41536981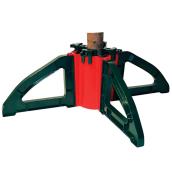 OMEGA PLASTICS
Christmas Tree Stand, 30"
Details
Article #13275000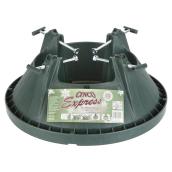 CINCO
Christmas Tree Stand - 10'
Format 2GA
Details
Article #22875010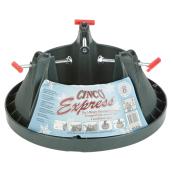 CINCO
Christmas Tree Stand - 8'
Format 1.3GA
Details
Article #22875008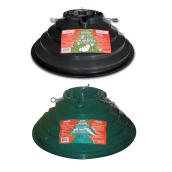 PAULMART
Deluxe Tree Stand - 22" - 2.5 L
Format 22"-2.5LT
Details
Article #07585169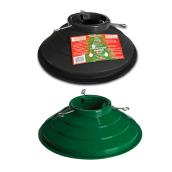 PAULMART
Round Tree Stand - 18" - 1.5 L
Format 18"-1.5LT
Details
Article #0758293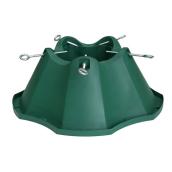 Stand for 10' Trees - Plastic - 21" - Green
Format 21"
Details
Article #30735944
What is the span of the legs? How large of a truck diameter can it accommodate? I have a 10' very full and heavy balsam;will this be suitable?
I have a 10' tree and this stand is perfect. I wasn't sure when I saw it in the box but it's great.
Date published: 2018-12-10
Christmas Tree Stand - Up to 12'
is rated out of
5
by
157
.
Rated

5

out of

5
by
Nojolt4u
from
Don't wait just buy it!!
We have struggled the last 2 years with our 7 to 8 foot trees toppling over due to one of those round plastic bases. What were we thinking?? I found this little gem on line, read the reviews and figured it cant be any worse that what I already have. So I picked it up, got home, took the old one off, and had this new stand on, bolts screwed tight and tree perfectly straight on the first attempt in under 5 minutes. Perfect weight distribution and balance, extra wide legs, 4 metal spikes to secure the tree inside and tough bolts to hold it in place. Everything is welded in place so there are not pieces to put together. In short I love it and you will too.
Date published: 2016-12-06
Rated

5

out of

5
by
Xmas in Tn
from
Robust stand made to last..
Just picked up our tree for the year today, a 8' Douglas Fir. Got home, trimmed it and put it into our old poorly designed plastic stand with 5 bolts that secure it. Upon tightening the last bit I heard a pop and wasn't sure what it was. After filling with some water to test I soon found water on the hardwood floor, the sidewall of the stand had cracked. We just got back from Lowes with this stand and it is built like a tank. Putting the tree in was easy and is extremely sturdy. Holds the 8' tree with ease I'm sure it would do fine with larger trees. I'd much rather throw down $50 on a stand like this than replace plastic stands every few years and potentially damage your floors with waster spills.
Date published: 2011-11-27
Rated

5

out of

5
by
treefarmer
from
I'm a treefarmer. Get this one
As a Christmas tree farmer growing firs ranging from 6-20 feet, I often get asked which stand I prefer. The answer has always been this one. Depending on my wifes mood at the time, our personal tree ranges from 7.5 to 15 feet. I can say that I've experimented with many different styles and materials for our tree stand. Many of the plastic ones are well designed, but can leak and/or strip where the bolts screw through the plastic. This stand will not have this problem and its heft and diameter make for a very stable base. A huge plus is that it holds 1.5 gallons of water. A well watered tree is a happy tree. I expect this stand to last for many,many years and is thus a true value.
Date published: 2013-12-08
Rated

5

out of

5
by
Eric
from
EXCELLENT STAND - Don't look at others (TIPS...)
I bought this stand at 6am, after our old stand bit the dust in the middle of the night, and we were awakened by the sound of a tree crashing to the floor (luckily, not yet decorated). This stand is not inexpensive, but it is built like a tank, and the last stand you'll ever need. In addition, it holds a lot of water, and has a lifetime warranty. Definitely one that will be passed on over the years. TIP: Before you use the stand, put a screwdriver through the "eye" of each eyebolt to hold it in place, then use a wrench to tighten each nut onto the end of each set screw. They nuts are "swedged", so that they'll eventually tighten up, and doing this will prevent them from coming loose after you've clamped the tree in place with the eyebolts.
Date published: 2016-12-08
Rated

5

out of

5
by
Oregonstan
from
After plastic one fell over this one works great
After purchasing the plastic one with 8 screws for the about $24 and setting it up which took about an hour putting up the slightly taller than 9 foot tree, then decorating the it and the next day it fell over it was returned. This metal one was one that I though of but being about double the price I decided on the plastic one at first but after it fell over spending an extra bit was well worth it. Purchased this one at the store set it up and it is much more stable and easier to set up and hope it lasts for years to come. It has now past more than 24 hours and the tree is still standing straight and didn't fall over. Almost done putting up the oniments again and only lost a few due to the fall of the plastic one.
Date published: 2012-11-28
Rated

5

out of

5
by
Cyndy
from
Best tree stand we've found
We donate the Christmas tree for our church - a 10 to 12 foot live tree. For years we have struggled to keep it from tipping over, and usually have to tie it the wall. No problem now with this stand! It's heavy enough to keep the tree reliably upright and it has a nice big water resevoir to keep it fresh. Also, no assembly is nice. More pricey than the normal plastic or thin metal ones, but well worth the extra expense. It will probably last us forever!
Date published: 2011-12-26
Rated

5

out of

5
by
A customer
from
Should've bought this ages ago
We've been fighting with 11-12' trees and plastic stands for years - no more. This stand is built like a tank, very stable and sturdy. Easiest tree-raising/adjusting ever AND the plastic feet even glide easily on a wood floor (without scratching it!) so you can position the tree just so. The reservoir is generous, visible and accessible for easy watering. Great product.
Date published: 2011-12-04
Rated

5

out of

5
by
YZ465rider1983
from
Money well spent!
Excellent tree stand, ALL metal construction. It only took about five minutes to get the stand out of the box and the tree standing straight and stable versus the usual twenty minutes of screwing around with those cheap plastic stands. Even with only person you can have your tree standing straight quickly and easily.
Date published: 2010-12-13