Description
The Char-Broil Advantage Series(TM) propane gas barbecue is a perfect choice to prepare delicious backyard meals. It delivers 30,000 BTUs of output and features three top-ported stainless steel burners that ensure even heat distribution for excellent results. With a total cooking surface of 540 sq. in., divided between its porcelain-coated cast iron cooking grates (420 sq. in.) and its warming rack (120 sq. in.), this BBQ provides you with plenty of cooking space to feed the family. It is also equipped with an electronic ignition system, acenter-mounted thermometer and two fixed side-shelves. This barbecue is backed by a 1-year limited warranty.
Product specifications
Porcelain-coated cast iron
Frequently bought together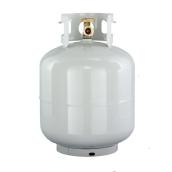 WORTHINGTON
Worthington Propane Gas Cylinder - Steel - 20 lbs
Format 20LB
Details
Article #1718026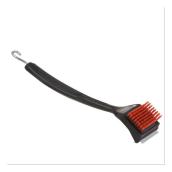 CHAR-BROIL
Char-Broil Barbecue Grill Brush - Nylon - Cool-Clean
Format 18"
Details
Article #07325068
Do the bbq come assemble 
No, but it's easy to do. You can request Lowe's to assemble it for you.
Date published: 2019-08-07
Are the grills installed flat side up or down .
Flat side down
Date published: 2019-07-18
Is it possible to only install the side shelf on the leftside (which has the igniter)? We have a narrow space to fit a bbq into, and wouldn't need the right hand side, wondering if we can just skip that part of the assembly
Yes, you could skip this part of the assembly. The attachment holes would likely be hidden in your narrow space. 
Date published: 2019-05-07
Can you buy this bbq preassemble.
Yes, I did!
Date published: 2018-09-25
what do I do to change to natural gas
This BBQ does not work with natural gas, only regular propane.
Date published: 2018-08-13
i can't start it for the first time, the electric starter is working and i think i'm pretty sure i've got it all hooked up right but when i turn the gas on along with the ignition knob, it doesn't sound like the gas is coming through the burner
Had same problem. I turned on (same time) all burners at low and pressed the starter. That solved the problem. You can turn off the burners not in use after that.
Date published: 2019-03-28
Where do I attach the ignighter wire that has the metal circle at opposite end? Does the circle need to be attached to something?
It's not the one on the chain. It's the black wire attached to the starter button but has a flat washer type circle at the other end.
Date published: 2019-07-27
Is this BBQ natural gas compatible?
I would like to know the same thing. We also have an old bbq connected to our home's natural gas line and need a new one. Just realized this was originally posted a year ago and you did not receive an answer on here. Did you you ever find out if it was able to connect to gas? What did you end up purchasing? It would be nice if someone from Lowes would answer customer questions in a timely manner.
Date published: 2019-04-25
Char-Broil Propane BBQ - Advantage Series - 540 sq. in. - Black
is rated out of
5
by
16
.
Rated

4

out of

5
by
Cassiethatsme
from
Works great! A bit flimsy feeling
This is a great BBQ, we've used it a handful of times now and it gets nice and hot, leaves the nice grill marks on food which is great, seems to cook pretty evenly throughout. The reason i gave it 4 stars instead of 5 is the metal is pretty thin and the overall bbq feels a bit light and flimsy compared to other larger more solid ones we've had, but even the bigger sturdier bbqs didnt cook as well as this one. The grill top is also smaller than i'm used to but its more than enough space to cook for a couple of people. So far its a great bbq, i'd buy it again. Also free assembly from Lowes was a good bonus and the free cover that came with it.
Date published: 2018-05-08
Rated

5

out of

5
by
doug0
from
Excellent thus far!
I bought this on sale, with a free cover thrown in. I really don't know why people have so many complaints over assembling it. Its really not rocket science if you just take your time and pay attention. It took 2 of us about 20 minutes to fully assemble this with absolutely no hassle (Except when we thought we had lost one of the eclectic starters cords, only to realise it was already attached). Once assembled, this thing works flawlessly and heats up fast! I really have no complaints regarding initial quality or performance. Also the overall appearance of this BBQ is excellent, looks super cool on the back deck in all black. Given the price, I would definitely recommend this to anyone!
Date published: 2017-08-21
Rated

4

out of

5
by
Rrichterr
from
Good value
Wife did not want a "Chrome" bbq due to glare, so bought this one. Good bbq for money..three burners heat it up quickly..so watch it or you will burn your feast. Downside is that parts are just black painted metal and had rust on some seams within two days. Applied disc brake paint to solve that so far. Also there are no hooks for hanging implements..just holes for their system add ins. I put wood stringer behind and screwed in hooks from front to hang all my gear. Just see Lowes is offering 5 days of save the tax...:-(
Date published: 2016-09-01
Rated

1

out of

5
by
Carmello
from
Have had it for 2 years, worst bbq I have ever had
The burners sit to low to the bottom and even if I clean it out several times a year I have at least 10 fires where I have to disconnect the tank and put out the fire. I have never had such a terrible bbq in my life. Last night there were over 3 foot flames and the 2nd bottom portion where some of the grease and burnt pieces fall is riveted on and haven't figured out how to get the tray off. My old bbq never has issues like this and honestly soon I'm probably going to have to end up buying a new bbq because it's a fire hazard. Not sure if it is just this model but this thing is a fire hazard.
Date published: 2019-04-20
Rated

4

out of

5
by
poolguybob
from
Great basic BBQ
Was tired of paying for features I never used like side and rotisserie burners and found this basic 3 burner unit on sale at Lowe's last spring with free assembly included. After a year it still performs like new. No regrets on this purchase.
Date published: 2018-06-12
Rated

5

out of

5
by
Mike111222
from
Good price and decent quality
Good barbeque for the price cooks nice it's not a $500.00 barbeque but does the job just a basic barbeque good enough for me
Date published: 2018-05-25
Rated

3

out of

5
by
Courage1982
from
Average BBQ
Electric starter never works so I have to use a lighter. BBQs ok aside that inconvinience.
Date published: 2018-06-01
Rated

3

out of

5
by
dabm5678
from
Not impressed with burner
The bbq was assembled and delivered by Lowe's for a decent price--much appreciated. However, after a month, there are uneven flames coming out of the burner, so that some sections of BBQ are hotter than others, resulting in uneven cooking
Date published: 2018-09-24