Description
Be ready to receive family members and friends during the grilling season with this Commercial(TM) grill by Char-Broil(R). Featuring the even heat Tru-Infrared(TM) cooking system, this propane gas barbecue offers a total cooking area of 725 sq. in., divided between its porcelain-coated cast iron cooking grids (525 sq. in.) and its warming rack (200 sq. in.). It has four burners that produce a combined power of 32,000 BTUs, as well as a 13,000-BTU side burner, therefore totalizing 45,000 BTUs. This BBQ is also equipped with the Surefire(R) electronic ignition system, hood-mounted temperature gauge, fixed side shelves and four wheels, including two locking casters. In addition, this Dual Fuel(R) enabled barbecue can be converted to natural gas (conversion kit not included). Backed by a 10-year limited warranty on the burner system, and by a 1-year limited warranty on the grill.
Product specifications
Surefire(R) electronic ignition system
Porcelain-coated cast iron
10 years on burners, 1 year on grill
4 wheels, including 2 locking casters
Commercial(TM) Tru-Infrared(TM)
Propane (convertible to natural gas)
Frequently bought together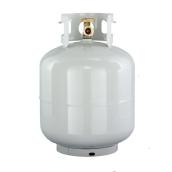 WORTHINGTON
Worthington Propane Gas Cylinder - Steel - 20 lbs
Format 20LB
Details
Article #1718026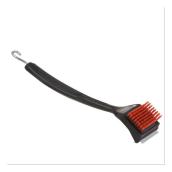 CHAR-BROIL
Char-Broil Barbecue Grill Brush - Nylon - Cool-Clean
Format 18"
Details
Article #07325068
Is the whole body made of stainless steel? It has been my experience that these don't retain heat very well, especially when using in the winter.  Is there a model that has heavy gage steel construction?  Or double walled porcelain coated lid?
This grill is very powerfull...it work's very well in winter too
Date published: 2019-07-29
is this grill convertible to natural gas?
I am told there is no Charbroil conversion kit but a generic conversion kit can be used, however, this model is also available in NG. I have LP at the cottage and NG at my home.
Date published: 2019-05-31
Where do you go for parts ?  Can it be ordered already set up for NG ?
Does the barbecue convert to natural gas line?
Can this grill be put together leaving out the shelf on left side?  I have limited room on the side
Might be a stupid question but any propane tank would fit?
Char-Broil Propane Barbecue - Commercial(TM) - 725 sq. in. - Stainless Steel
is rated out of
5
by
22
.
Rated

1

out of

5
by
GrillMan2020
from
DO NOT BUY THIS GRILL
This grill gives off uncontrollable smoke and not the good kind. Cooking a single hamburger paddy, let alone enough to feed your family, makes so much smoke that you can't stand in front of the grill. When I asked Lowes why this is happening they said that it shouldn't so I contacted the manufacturer and they said that this is an unfortunate by-product of the infrared system. It is known to the company but they have no plans to fix it and will not remedy or refund. I am now getting complaints from neighbors and risk getting fined in my strata complex. If you research online, you will find many people complaining of the same thing. Do not buy this grill, thank me later. Note: I clean the grill after every use which is tedious and annoying to say the least.
Date published: 2020-05-28
Rated

3

out of

5
by
12 month bbqer
from
Great- but won't last
This is my second char broil Grill. When they are new they are the best cooking grills available in my opinion. The side burner with the cover and griddle is unique and very useful. The downside is that the metal parts do not last. You can get replacements for the burners, grills, and the vaporizers but they are expensive. The real problem is that the Pressed steel frame and Firebox rust out. Too much stainless Not Enough cast. My first char broil with the cast metal Firebox and cast grills is still functioning with replacement burners. I never should have given it away.
Date published: 2020-05-20
Rated

5

out of

5
by
Gofster
from
Best grill I've ever owned!
This is hands-down the best grill I've ever owned! Any other grill I've owned before this one, doesn't even come close in terms of how it cooks food. Because of the Infrared design, you get ZERO flare ups, even when you're cooking greasy burgers. And even better, when grease does drip down into the trays below the grilling surface, it's instantly evaporated right back up into your food, making your food so much more juicy. I've never had a dry piece of meat on this grill. I really couldn't recommend it any higher. I LOVE this grill!!
Date published: 2017-10-29
Rated

1

out of

5
by
rcaves
from
Replacement Grilles are not available for my unit
Parts problems Replacement Grilles are not available for my unit
Date published: 2019-08-25
Rated

4

out of

5
by
Gixxer1340
from
Absolute best heat distribution
This is my second try infra red BBQ by this company. It is by far the best BBQ for evenness in heat distribution without flare ups yet perfect sear markings. The first generation was not the most durable BBQ and their customer support was acceptable at best. I still purchased a second one in hopes their redesign will improve longevity. This new model so far keeps true to its best quality of heat distribution...hopefully the guys of it doesn't rot out in only 4 years like the first one
Date published: 2017-06-27
Rated

5

out of

5
by
TimmyL
from
You can't make a bad steak with infrared!
I have used many BBQs over the years. From a 55 Gal Drum to the old lava rock gas fired ones, porcelain briquets, and porcelain rods. Nothing out performs CharBroils infrared burners. You can sear without flames and the meat stays moist and tender with just the right amount of char on the surface. LOVE IT! I don't have this exact model, I have the TEC 6 Burner with 2 infrared burners. After about 10 years I just replaced the burners and it works like new again.
Date published: 2018-08-21
Rated

4

out of

5
by
ChipperM
from
Love This Grill
These guys really know how to build gas grills. I am very impressed with mine! Lights and warms up easily. No flare-ups. Even cooking in reasonable time. The ONLY complaint I have is the infrared grates are a little expensive to replace (on my second set.) Cooking grates will need to be replaced soon. The cost of the "parts" could make it more affordable to get an entirely new grill (I hate to part with it.)
Date published: 2017-10-29
Rated

4

out of

5
by
deanf
from
Awesome side burner setup!
I had an older version of this model about five years ago. The best innovation was the raised lid side burner! It also came with a griddle plate. I used it many times for frying stuff in a small frying pan. Then you could bring the lid down on where the handle meets the pan. I often used the griddle for sliced potatoes and for frying bacon! Worked great!
Date published: 2020-05-07