Description
This Char-Broil(R) dual-stage propane tank regulator works to regulate the pressure from the propane cylinder to your grill or other propane-fueled appliance. Combining a high-pressure first-stage regulator with a low-pressure second-stage regulator, this tool is a versatile and convenient single-unit option that is compatible with propane cylinders ranging from 4.25 to 100 lbs. With its quick-connection construction, this durable universal propane pressure regulator is easy to attach and suitable for use with appliances that generate up to 200,000 BTUs.
Product specifications
Dual-stage liquid propane tank regulator
Compatible with 4.25 lb - 100 lb (1.93 kg - 45.36 kg) propane cylinders
Related Projects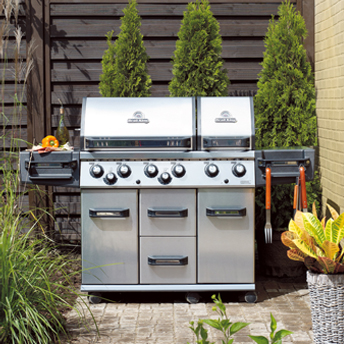 Barbecues
Barbecue-cooked meals are one of the celebrations of summer. Built-in, mobile or portable, there are barbecues to suit everyone's taste, from traditional ...Learn more
Char Broil Dual-Stage Propane Tank Regulator - 200,000 BTU
is rated out of
5
by
15
.
Rated

1

out of

5
by
David
from
Dont buy this
The review above about the regulator freezing up in cold weather is completely correct. I purchased this regulator as a replacement the begining of 2017. It is hooked to the correct size tank - im a licensed home builder with gas install certification.... This wintet, as soon as it got below freezing, the regulator failed, froze up... I can go outside, turn off the gas at the tank, warm the regulator up, turn the gas back on and it works fine.,,. until it get cold again. Its 23 degrees outsude right now... DO NOT WASTE YOUR MONEY on this regulator unless you live somewhere where it never gets below freezing.
Date published: 2018-01-03
Rated

2

out of

5
by
John
from
Constant Freezing up issue with this regulator.
I purchased this regulator for a 30,000 BTU Dyna Glow wall heater (that I also purchased from Lowes). My issue is, in New England this regulator freezes when temperatures reach 30 degree's F or lower. It thaws and begins to work normally during the day when temperatures reach above freezing.
Date published: 2017-11-28
Rated

5

out of

5
by
Clint
from
For 100lb cylinders
This regulator fits the 100lb cylinders sold by Lowes and others that use the left hand thread POL fittings. Mounts easily and works just fine, but after using a wrench to tighten these type fittings over the years, the plastic 'helper' knob used to tighten them now, does not seem quite as secure. Have see no leakage at this fitting with it just being hand tight, would expect condition of the 'O' ring to be crucial for this seal.
Date published: 2016-12-01
Rated

1

out of

5
by
Melvin
from
Use on stove.
I had bought 3 of these for my houses. Every year it would freeze when it got below 12 degree Fahrenheit. When I called the manufacturer they told me that is not rated for indoor appliances it was only rated for outdoor appliances and at this is not recommended if you're planning on using it with a house
Date published: 2017-11-23
Rated

4

out of

5
by
Scribe
from
Seems well made
Using on a 8750 watt generator so needed an adapter and regulator that would give us enough flow for that purpose. Will be using a 100 pound cylinder but having the ability to use more portable 20 pound cylinders is a plus. [This review was collected as part of a promotion.]
Date published: 2018-08-04
Rated

4

out of

5
by
Danny
from
Two stage regulator
Works as advertised. I actually put a different tip on it so I can use it on a 15 pound propane bottle. [This review was collected as part of a promotion.]
Date published: 2018-12-04
Rated

1

out of

5
by
Frozenguy
from
Freezes up bad do not buy!
Last year this worked great except for a few really cold 0 degree days. This year it freezes up constantly even when it's up above freezing. I that it out with olhot water it's fine for an hour then froze again. I even insulated the thing and it still freezes up. Nothing worse than waking up cold cause the heater shut off. Do not buy it for a wall heater. [This review was collected as part of a promotion.]
Date published: 2018-12-05
Rated

5

out of

5
by
Earny
from
propane tank regulator
This was the missing link to connect a new 100 lb. propane tank to gas log copper tubing. Works great. [This review was collected as part of a promotion.]
Date published: 2018-11-22