Description
This enclosed Carry-On® cargo trailer is ideal for DIY projects and professionals alike. The trailer is equipped with a rear ramp door, a lateral door, lauan interior walls, plywood flooring and heavy-duty aluminum siding for heavy-duty work. It features 15'' (38.1cm) tires rated at 1820 kb (826 kg) each and comports an impressive payload of 4510 lb (2009 kg) with a 2'' (5.1cm) coupler with safety chains. It also features a cambered axle of 1558kg (3500lbs) and a top wind jack of 907kg (2000lbs). The white steel trailer measures 7' (2.13 m) x 8.83' (2.69 m) x 16' (4.88 m). This product is backed by a 3-year limited warranty. (Please note that the availability of this product may vary from store to store)
* Trailer license and registration are required when picking up this item.
Product specifications
Availability of this product may vary from store to store
2 5/16'' (7.09 cm) safety chains
Top wind jack 2000 lb (907 kg)
Cambered Axle: 3500 lb (1558 kg)
Frequently bought together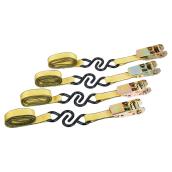 ERICKSON
Ratchet Tie-Down - 1'' x 10' - 900 lb - 4/PK
Format 1"x10' 900LB 4PK
Details
Article #16425000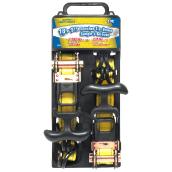 STINSON
Tie Down Ratchet
Format 1 1/4"x16'xPK2
Details
Article #0033335
What is the height of the coveted contractors trailer that is 7x16
7X16LCGR model: Overall Height: 106" inches Interior Height: 78" inches
Date published: 2019-05-05
dose the Carry-On Trailer 2.13m x 4.88m Enclosed Contractor Trailer come with brakes
It come with brakes because it the law with all trailers that have more than 1 axle.
Date published: 2019-05-15
Just wondering if I could order that cargo trailer and pick it up in Edmonton or At the Red Deer location I live with in 2 hours of both thanks 
Carry-On Trailer - Enclosed with Ramp - 7' x 16' - White
is rated out of
5
by
8
.
Rated

1

out of

5
by
Inspector gadget
from
Worst trailer I HAVE ever owned!
Poor counstruction, along with the cheapest materials they could use! Walls are cheap and very thin, back pull-down door broke the very first day!. I would spend more and buy a better trailer, you get what you pay for!
Date published: 2011-05-30
Rated

1

out of

5
by
trailer1
from
Bad Wiring - Trailer Brakes
I recently purchased this trailer for personal use and also to help transport material and tools to jobsites. After getting an error on brake controller, and inspecting the trailer it was noticed that the trailer brakes weren't wired correctly. If it wasn't for my employee checking if brakes were operating correctly, someone could have been injured very badly. I don't understand how such a serious mistake could have left the factory or even missed during their quality control procedure. This was a brand new trailer. I wonder how many other trailers are being used right now with faulty brakes. I've been trying to contact Carry On trailers customer service for over a week with no success. I'm very disappointed with this trailer and the customer service. Don't buy, even if on sale. Save your money and buy a different brand.
Date published: 2017-11-20
Rated

5

out of

5
by
Nanaimo Neighbour
from
Great for storage
Bought this trailer specifically for storage and it's been great value. If you buy one when there's a 15% off sale I don't think you'll find a cheaper trailer at any other dealer. For a long time I was looking for a used one but sellers wanted the same if not more than this trailer on sale. If you want higher quality or more options then go pay for it at a dealer.
Date published: 2018-06-23
Rated

4

out of

5
by
Kerrylandscaper
from
great deal
I bought a 6x12 and a 7x14 for work and have had no problems with either one.I use them every day.You do get what you pay for but sometimes you do well.I have had them for 4 yrs now.
Date published: 2018-12-16
Rated

4

out of

5
by
Mikmount
from
Great Value on Sale only
Well it is not the top of the line Trailer but these types trailers are all pretty much made the same way. Its not Rocket Science. Can't beat it for the price.
Date published: 2016-12-03
Rated

5

out of

5
by
Nanaimo Neighbour
from
Great Value
I now have 2 of these trailers and use them for storage. These trailers are great value. They are built good but not bullet proof. My last one I got on sale and paid half of what a local dealer wanted for theirs. Their trailer may have been better built but I was just looking at the price tag.
Date published: 2019-10-23
Rated

5

out of

5
by
Papa
from
Trailer Use
I purchase this trailer in 2005 from Lowe's and have had zero problems. I use this trailer daily hauling two 800 lbs mowers from job to job. The loading ramp has no problem in the weight that is put on it from these mowers. For the cost I highly recommend this trailer.
Date published: 2011-11-24
Rated

1

out of

5
by
JordanF
from
Why did i buy this
C-channel not tube, tin not aluminum two piece roof not one piece. Cheap plywood and all the wiring was exposed. I went cheap just for casual use and for storage, ill never make that same mistake again!
Date published: 2018-11-29