Description
Combining the refined style of a professional appliance with versatile elements and convenient features, this 30" GE Café(TM) built-in electric cooktop features smooth glide-touch controls that make selections easier and cleaning the surface a child's play. The cooktop is equipped with 5 ribbon elements, including a 9"/7"/5" (3000 W) Power Boil(TM) element as well as two 7" (1500 W) bridge elements with SyncBurners technology. The 2 elements can be synchronized, giving you the ability to cook with large cookware or a large griddle. Controls include a keep warm setting and a melt setting so food items such as butter can melt without scorching. These controls are also lockable to prevent inadvertent changes to settings. The unit includes a griddle and is backed by a 1-year limited warranty on the entire appliance, in-home parts and labour.
Product specifications
Cooktop: 21,5" (54.61 cm), cut-out: 19 5/8" (49.85 cm)
Cooktop: 29 7/8" (75.88 cm), cut-out: 28,5" (72.39 cm)
Number of Burners/Elements
Hot Surface Indicator Light (Y/N)
Black ceramic glass with beveled edge
208 V connected load: 7100 W, 240 V connected load: 9400 W
Left: (2) 7" - 1500 W elements with bridge, center: 9"/7"/5" - 3000 W Power Boil(TM) tri-ring element, right front: 8"/5" - 2200 W dual-ring element, right rear: 6" - 1200 W
Control lock, keep-warm setting, sync-burners capability, melt setting
Frequently bought together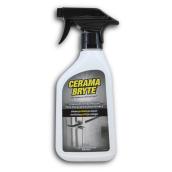 CERAMA BRYTE
Stainless Steel Cleaner
Format 474ML
Details
Article #8307003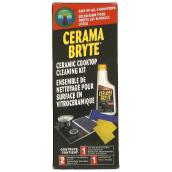 CERAMA BRYTE
Ceramic Cooktop Cleaning Kit
Details
Article #83075006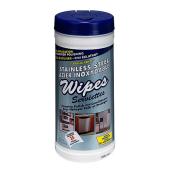 CERAMA BRYTE
Stainless Steel Cleaning Wipes
Format 35/PK
Details
Article #8307005
GE Café(TM) Ceramic Glass Cooktop - 30" - Stainless Steel
is rated out of
5
by
28
.
Rated

5

out of

5
by
Debbie R
from
Very nice and functional cook top.o
Bought this a month ago and glad I did. Good use of space on the cook top.
Date published: 2020-09-26
Rated

5

out of

5
by
Bluebonnet2
from
So many features & easy to use!
Love this smooth cooktop! It has 19 temperatures levels and is so easy to understand how to use immediately. Heats up very quickly and is so simple to clean, too. Having five burners with two of them having multiple sizes as well as a bridge with two, gives so much flexibility to cooking. So happy I chose the GE Cafe` cooktop!!
Date published: 2020-02-01
Rated

5

out of

5
by
Peter S
from
Great features
I love my new cooktop. It cooks evenly with fine grained controls. The large burner in the center gets super hot and boils my pasta water in just minutes. In fact I have to turn it down a bit when the pasta goes in to prevent it from boiling over. There is a separate timer for each burner ... or optionally just one timer for the whole cooktop. It is convenient to use multiple timers because the control light blinks for the burner you set the timer to remind you which pot needs attention. You can also link two burners heat setting together to use a griddle across two burners. As a bonus, the cooktop came with a new griddle included. Also, the cooktop shows finger prints and other smudges, but with the touch controls, it it's very easy to wipe clean when done cooking. My only complaint is that the volume of the timer it's not very loud and can easily be drowned out by kitchen noise unless you are near the cooktop.
Date published: 2019-12-31
Rated

4

out of

5
by
nlew
from
Works perfectly, heats fast, noises annoying
We've had this a month, and overall it's technically fine, but annoying. It works very well - heats up quickly and evenly, looks very nice, cleans up well. The problems are with the sounds and controls. It beeps annoyingly if you place anything on the control area, which is across the front center of the stove, so that means it beeps a LOT. It's driving everyone in the family nuts. And the controls require a surprising amount of pressure to engage. I know these are contradictory complaints: controls are too sensitive to pressure, and yet somehow not sensitive enough when you want them to be. Sometimes I have to pound the control multiple times to get it to move to the right heat level. Very frustrating. That said, it does always work, and the fact that the controls aren't knobs makes the whole stove easier to clean. However, it I had it to do over, I might opt for controls along one side rather than in front, and more manual rather than fancy electronic. However, it sure is an attractive stove, if there can be such a thing, and I'm not unhappy we got it.
Date published: 2020-05-26
Rated

5

out of

5
by
Joyya
from
Thought the title "Cafe" draws you in to check it
Just had it a few days but love it. Had induction before and decided to go with the Cafe product. Didn't know if I would like it after induction cooktop but love it and the configurations of the burner.
Date published: 2020-01-10
Rated

5

out of

5
by
Sunrise
from
Terrific features
I have had my new cooktop for a month and I love it so far! The touch controls are so easy and convenient to use. It heats quickly and efficiently! It looks beautiful and sleek in my new kitchen!
Date published: 2019-12-17
Rated

4

out of

5
by
Jaggirl
from
Beautiful design
I am happy with the quality of this cook top. Much better than my previous Kitchen Aid, which was recalled. The sleek design and touch controls are the best.
Date published: 2019-12-17
Rated

5

out of

5
by
MSanza
from
Lots of versatility!
We've been enjoying our new stove top which is light years improvement over our old one. Love that it is very versatile with its many cooking options.
Date published: 2020-01-09
Rated

5

out of

5
by
Kendra
from
Sleek cooktop
So far so good! Love the button less design. Makes it really easy to set things on the stove top, like cookie sheets. Nice even heat distribution.
Date published: 2020-02-19
Rated

4

out of

5
by
Clh2nd
from
So far so good
Really looks great and so far works wonderful. Hope it lasts as long as my old coil stove did. It does seem a little delicate though.
Date published: 2020-06-02
Rated

5

out of

5
by
Jonny
from
Clean lines
Flat, no knobs. Makes for a versatile surface in a small kitchen. The rapid boil eye is faster than gas. Love it.
Date published: 2020-04-22
Rated

5

out of

5
by
Omaha6789
from
Love the look
We love the flat display and the burners work great, very easy to use. We lock the top so the kids won't activate.
Date published: 2019-12-01
Rated

5

out of

5
by
Bear
from
looks great
just finished the install, works and looks great, it really heats up fast. can't wait to try.
Date published: 2020-01-08
Rated

5

out of

5
by
Miss Wilma
from
Great looks and features
My wife likes the features and it is a match for the other appliances. Very nice cooktop.
Date published: 2020-05-30
Rated

5

out of

5
by
SandyFl
from
Great layout and features
I bought this for the powerboil feature and its layout. Delighted it has a lock feature.
Date published: 2020-01-04
Rated

5

out of

5
by
Mjbc
from
Great features
Had to replace a Jenn Air cook top, and I love my New Cafe cook top's element sizes
Date published: 2020-04-23
Rated

5

out of

5
by
EtyLu
from
Great cooktop!
I am very satisfied with my new cooktop! I would recommend it!
Date published: 2020-06-13
Rated

4

out of

5
by
REEDCJ
from
So sleek
Love how it looks and how fast it heats up. Nicely designed.
Date published: 2020-10-21
Rated

5

out of

5
by
Steven17469
from
Sleek and Beautiful
I bought this 1 month ago and I am very happy with it.
Date published: 2020-03-29
Rated

5

out of

5
by
Maryp
from
I'm impressed with the looks and features
I used to purchase Kenmore and whirlpool products.
Date published: 2019-12-11