Description
Enjoy all the benefits of this GE Café refrigerator! It is equipped with an internal water dispenser, an ice maker pre-installed in the freezer and a filtration system that removes more than 99.9% of pharmaceutical residues commonly found in running water. In addition, this appliance features the ClimateKeeper system, which includes intuitive electronic touch controls, sensors ensuring temperature consistency, and an air tower that disperses cold air efficiently inside the refrigerator. A full-width drawer with electronic temperature control lets you keep food with specific storage needs such as deli meats. Built-in Wi-Fi connectivity with voice commands means that you can effortlessly adjust your appliance settings. Handles included with this counter-depth refrigerator feature a bronze-coloured finish. However, you can choose a combination of handles from 4 high-quality finishes (additional charges, installation required) depending on your preferences and your kitchen design. Backed by a 1-year limited warranty on parts and labour.

Ecological Attributes
This refrigerator is ENERGY STAR® certified to save up to 10% in energy.
Product specifications
1-year limited warranty on parts and labor
Pharmaceutical-grade advanced water filtration system
5 glass shelves (QuickSpace shelf, 3 spill-proof shelves)
Number of Refrigerator Shelves
Reversible Door Swing (Y/N)
2 fixed door bins, 4 adjustable gallon door bins, full-width fixed shelf, 4 half-width adjustable shelves, full-width temperature-controlled drawer, 2 humidity-controlled crispers, dairy compartment
Frequently bought together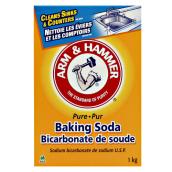 ARM & HAMMER
Baking Soda
Format 1KG
Details
Article #53975001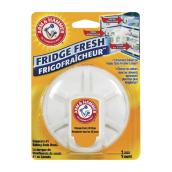 ARM & HAMMER
"Fridge Fresh" Refrigerator Air Filter
Details
Article #53975000
French-Door Refrigerator - 36" - 23.1 cu. ft. - Matte White
is rated out of
5
by
537
.
Rated

5

out of

5
by
VinDog
from
Love this fridge!
Remodelled kitchen with new cabinets and wanted a counter depth model fridge. Originally looked for models with ice and water on the door but after hearing about maintenance issues with those types I opted for ice below and water inside the fridge. I LOVE the LED lighting, gives it a bright fresh look inside! Like the ample door storage as well. The only way I would suggest this model be improved upon is fingerprint free stainless steel on the outside and two separate meat/dairy doors on the bottom row instead of one large one so both main doors do not have to be opened to access items inside this drawer. Also, fridge is slightly noisier than my old one but nothing to complain about.
Date published: 2015-02-26
Rated

3

out of

5
by
NICCI
from
GORGEOUS!
PROS: THE FINISH IS BEAUTIFUL. I LOVE THAT THE SIDES OF THE REFRIGERATOR ARE ALSO MATTE AND NOT GLOSSY BLACK. THE INSIDE LIGHTS ARE GLORIOUS, THERE IS A TON OF ROOM FOR THINGS IN THE DOORS, AND I LOVE THAT THE WATER DISPENSER IS INSIDE. CONS: I READ REVIEWS THAT SAID THE REFRIGERATOR IS LOUD. LET ME CLARIFY FOR THOSE REVIEWS. IT IS NOT GENERALLY LOUD WHEN JUST REGULARLY RUNNING. BUT IT IS VERY LOUD WHEN THE WATER LINE IS ADJUSTING. OUR UNIT WAS ALSO DELIVERED WITHOUT A BOLT FOR ONE OF THE HANDLES, SO WE'VE HAD NO HANDLE FOR MORE THAN A WEEK ON OUR FREEZER. THE WATER DISPENSER, WHILE I LOVE THAT IS INSIDE, IS A LITTLE HARD TO PUSH.
Date published: 2019-05-11
Rated

2

out of

5
by
LW in YL
from
Pretty, but unusable.
After absolutelty terrible luck with another GE fridge, I for some reason thought I'd give it another try with the Cafe model. It's just beautiful, but the freezer is SO hard to open that everyone who has tried has said "that's ridiculous"! Also, not only do the french doors not pull tightly closed when nearly shut, they actually bounce back away from the fridge. Even with a much harder than normal push , they bounce back open. They will close with a hard slam, but that rattle all the condiments in the door. I've had such unbelievable poor luck with the warranty on my previous GE that I'm unwilling to go through it again. This one is going back.
Date published: 2020-04-27
Rated

1

out of

5
by
Longtime GE Customer
from
Longtime GE Customer
This is the second GE Cafe refrigerator I have purchased. Was pleased with the first model and decided to replace it rather than pay for costly repairs after 6 years since our service tech told us we shouldn't expect more than 10 years from a refrigerator, Our first Cafe was well built and sturdy. The new model has been a problem since we've had it. The freezer door fell apart after one week and we have had 2 repair calls already within the first month. There is a noticeable difference in the quality of of the new model as compared to our first Cafe refrigerator. I very much regret purchasing this, should have repaired the old one.
Date published: 2017-03-24
Rated

2

out of

5
by
Unhappy_GE_owner
from
Poor build quality - NOISY!
If you're planning to keep this refrigerator in an open kitchen, be prepared to hear it 90% of the time while e.g. watching TV. I was told by the service that it's working as intended. The retailer I bought it from won't take it back so I'm stuck with it. Of course there was no way for me to tell that it will be noisy before they delivered and installed it. Also the frost-free statement is inaccurate. I previously had GE Profile and it was not noisy at all. The conclusion: GE products get worse over time rather than improving.
Date published: 2017-08-30
Rated

2

out of

5
by
G MA
from
disappointed
its absolutely beautiful I love the look of my café appliances. BUT this new refrigerator replaced one that I bought a year ago (SAME MAKE & MODEL) It made so much noise & couldn't be repaired. GE did replace it. The new one does make some noise, the fan buzzes & there are new noises from time to time. The food stays cold & it looks great so we will keep it for now. Has the most space for counter depth frig. GE has a great name and I cant believe they cant figure out how to fix the noise problem. Also have the range & wish there were pads under the grates. scratches the stainless steel top very easily I have the dishwasher & it is wonderful best dishwasher I have ever owned.
Date published: 2016-06-22
Rated

4

out of

5
by
fowlcAn47
from
love it & also have suggestions
We like the internal water filter element, but it is a bit awkward to use. Would be nice to have a spicket that could be pulled further out and an on/off button instead of just the "press to use" function. The doors open rather shallowly - as in, it is feels a bit cramped and our feeling is that they should open wider. We even had to push the "counter depth" fridge out from its intended counter depth so we could get the full range of the door open (which still doesn't feel quite enough). The freezer door also has an oddity in that unless you pull from the very center of the bar, the door will not open straight out - rather it bows to the left or right if you don't engage the handle right at the midpoint.
Date published: 2020-04-17
Rated

4

out of

5
by
Sandra sells Indy
from
Love the counter depth feature
Bought entire Cafe line as replacement appliances due to house fire. Had GE Profile before and wanted to move up but did not like the looks of Monogram series. Like counter depth of this. The water dispenser is inside the left door and is is not only hard to use but too high for a child to use. I would ask the designers to work on that feature. It is hard to press in and get water out and no convenient for filling pitchers or pots. Also have problem w/ bottom freezer drawer unit not closing tightly enough to prevent frost from forming inside unit. Ice maker does not seem to produce enough ice and there are only two in our family.
Date published: 2018-03-25