Description
This 800 series stainless steel dishwasher by Bosch is a high quality and indispensable appliance for your kitchen. It operates quietly offering high performance cleaning power with its Power Scrub Plus cycle. The MyWay Rack is a third large rack perfect for bowls or large utensils and the RackMatic® system allows you to adjust the superior rack at 3 height levels for 9 possible rack positions. In case of a leak, the AquaStop® system gathers up water in a bin under the tub and pumps it out, even when the dishwasher is not functioning. It features 6 wash cycles, including the Speed60® cycle for an express wash, and 6 options, including an ExtraDry option and a Sanitize option. This dishwasher is backed by a 1-year limited warranty on the appliance, parts and labour.

Ecological Attributes
This dishwasher is ENERGY STAR® certified to save up to 12% in energy and 30% in water.
Product specifications
Junction Box Cord S300 (SMZPCJB1UC), Install Kit (3270-600)
(4) Heavy, Auto, Eco, Normal, Speed60, Rinse
(6) Delay, Half Load, Delicate, Sanitize, Eco, Extra Dry
Frequently bought together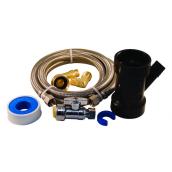 AQUA-DYNAMIC
Dishwasher Installation Kit - 60" Line
Format 60"-1/PK
Details
Article #01735488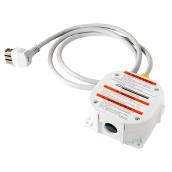 BOSCH
Bosch Dishwasher Junction Box with Power Cord
Details
Article #30855176
Bonjour, est-ce que le panneau de ce lave-vaisselle peut changer au panneau personnalisé?
Bonjour Lirong, Le model ci-haut est munis d'une devanture en acier inoxydable. Merci.
Date published: 2020-08-13
Built-In Bosch Dishwasher - 24" - Stainless Steel
is rated out of
5
by
18
.
Rated

4

out of

5
by
hoppy
from
Difficult to load
This is my 3rd Bosch dishwasher. Super quiet. I can hear it running only by putting my ear to the door. The top rack is a nice feature. My only problem is in loading it. Bosch has loading tips that are obvious - plates lined up on the lower rack and glasses angled on the middle rack. But once you add pots or skillets things get complicated. I used to be able to put two skillets and cutting boards in my previous one but now they block the plates. I'll figure it out eventually. [This review was collected as part of a promotion.]
Date published: 2019-12-10
Rated

1

out of

5
by
Ladyowl
from
Absolutely the worst!
IT IS QUIET! And that's what we wanted but that's where my recommendation ends. We can't stack it properly because the racks are pitched wonky. We get about half a load in and then it has to be run. There is no drying element, so all plastics come out wet and have to be dried by hand and most pots are wet inside even the next day after an overnight cycle. You can't finish a cycle, unload and start another one because it takes hours to dry. We open the door and a swampy smell envelops us. Disgusting! The interior is never dry. The stainless steel exterior fingerprints like crazy and I am constantly cleaning it. The controls are hard to use. This is the WORST DISHWASHER we've ever bought and we bought top of the line so it was a LOT of money. It is going back even if we have to eat the cost!
Date published: 2019-10-30
Rated

1

out of

5
by
underberg
from
It stinks
I mean it really stinks. Each time I open the door, I am hit by this intense smell. Search the web for "Bosch dishwasher smell" and you will see it is a problem with all latest upper level models. [This review was collected as part of a promotion.]
Date published: 2019-09-17
Rated

5

out of

5
by
benamin
from
Wow does Clean dishes, and dry too!
Always hand washed our dishes and then put them in the old dishwasher for "entertainment value" certainly never any baking dishes or pots etc. with this Bosch we just scrape and in they go! we put a cassorole dish in with baked on cheese etc. Came out Spotless! it's literally silent and the Crystal dry feature is no gimmic. Even plastics come out bone dry as long as you had everything on an angle so there is no water pooling on top. Very Happy with this machine and wish I did this long ago, but I guess I wouldn't have got Crystaldry feature as it is new.
Date published: 2019-10-04
Rated

5

out of

5
by
Steve
from
A great upgrade from the typical brands
This is our fist Bosch dishwasher and the first dishwasher I've ever owned that came with a three-prong plug instead of having to be hardwired… That was different. But different isn't necessarily bad, especially if it has improved purpose, which I believe this dishwasher has. By far, it is the quietest dishwasher that we've ever used. It also cleans any and all of our dishes better than any of our previous models/brands. Is the layout and geometry different given that it has a third drawer and it's different from all of the previous models we've ever owned; sure! But that doesn't mean that it's inferior to previous models just because we are unfamiliar with the new geometry; it just means that we have a new equation to work on, which I'm sure will work to our benefit, given our first few experiences with loading and running the machine. Change can be a tough pill to swallow, I understand that, however, I believe that the inherent quality and improved experience with this Bosch dishwasher far outweighs the usual human discomfort with change in our every day routines. [This review was collected as part of a promotion.]
Date published: 2020-02-06
Rated

5

out of

5
by
parkaboy
from
Love our quiet and super clean dishwasher!
We got this dishwasher in October 2019 after a lot of research. We have been impressed at how quiet it is and well it cleans the dishes. The CrystalDry really does amazingly well on plastics, but we have also found that we don't need to use that feature if we're running it as we go to bed. It took a bit of time to decide how best to load dishes, but we LOVE having the third rack as well as how flexible so many of the spaces are within the appliance. We'd recommend this highly!
Date published: 2020-03-03
Rated

5

out of

5
by
Angie
from
Best dishwasher I have ever owned
I had a hard time with the price while trying to maintain a frugal lifestyle, but we watched the sales and waited patiently, then lucked into an end of season floor model. Having a month of experience with almost daily use, I am so pleased with the purchase and if I had to go back, would definitely get even if we didn't get the great deal we did. The machine was easy to install, plugs directly into outlet, no wiring needed. The dishwasher is so quiet, the red light that shines on the floor is a great addition to let you know if the cycle is still going. We have very hard water with a (Pelican water softener alternative) and our dishes come out crystal clean, unlike our old LG which left a white film on all of our dishes. Unless a dish has a lip or gets flipped over during the cycle, they come out very dry and ready to put right in the cabinet without having to dry manually.
Date published: 2020-11-10
Rated

5

out of

5
by
terry
from
perfect dry , i love it! works great!
i noticed a smell. , the rep was there when i went back, he said they test thier diwashers 480 something times! Im impressed with my first bosch!
Date published: 2019-09-26