SGA - Fence and Gate Hardware (1)
Complete a fence installation, and make it more secure with
gate hardware
. Gate latches keep gates closed, while springs offer convenient automatic closing. Choose from Rona's selection of hardware for wooden, chain link, and even
PVC fences
constructed from panels, posts, and caps.
Other
fence hardware
components include brackets and supports to provide stability. There are hinges in various shapes and sizes. Consider rolls of chicken wire and wire cloth for use in
garden and utility fencing
. These are also useful for protecting trees and other plants from wind.
---
Find robust 
gate hardware
such as hinges, joist guards, latches, and brackets for new installations and repairs. Their sturdy construction from galvanized steel, stainless steel, toughened polymers, and vinyl enhances their durability. Some sets include installation screws and guides. Metal options are resistant to rust, corrosion, binding, sagging, and staining to withstand a variety of weather conditions. They can also withstand UV rays to resist fading.
Reversible self-levelling latches are suitable for residential gates. Some come with reinforcement triangles and installation screws suitable for use with wood, plastic, or metal gates and posts. Gate thumb latches are decorative, and there are heavy-duty options for large gates. Adjustable gate latches with floating latch bars are ideal for swinging doors, and users can lock them with padlocks for extra security. Other
fence hardware 
includes a variety of hinges. T hinges can support large loads, so they are ideal for heavy shed doors and gates. Polymer gate hinges operate smoothly and quietly. There are light-duty steel strap hinges with zinc finishes ideal for garden gates, chests, and boxes. 
Drop rods hold doors in place, allowing the opening of one door at a time in a double drive gate.
Gate hardware
kits for building wooden and sliding gates also come with brackets, latches, and screws. To keep gates straight for easy operation and longevity, use anti-sag gate kits. They balance the load so that gates and hinges last longer. Lumber fences and gates are stylish, and joist guards provide waterproof coverings over joints to prevent water seeping in and causing rot. Joist guards come in rolls of various sizes, and they have self-adhesive membranes for easy application. Vinyl bolt-down brackets and post caps protect
ornamental fences
, and are also decorative. Supplies for pergolas include trellises and woven canvas shades. They are long lasting, and easy to install. Trellises also provide a medium for flowery vines to grasp to create scenic outdoors.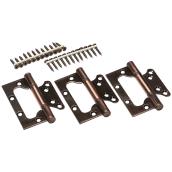 SGA
SGA Door Hinge without Mortise - Stainless Steel - Bronze - 4-in - 3-Pack
Format 3/PK
Details
Article #47536033