CANEXEL - Mouldings, Trims and Accessories (3)
Search Rona's inventory of
 mouldings
to add the finishing touches to construction projects. When combined with
moulding accessories,
they give any project a clean facade. When using
vinyl siding
, adding
trims
can provide a seamless look or an accent to catch the eye. If using
aluminum siding
on a project, look for corner posts to protect from sharp edges and complete the design. Choosing the proper
mouldings
is essential for creating an overall aesthetic impression that is also functional, durable, and water-resistant.
---
Enhance your home's curb appeal with Rona's variety of
mouldings
 and accessories. Dress up your doors and windows with sills,
trims,
and pediments. Protect your home's exterior from moisture while adding colourful, long-lasting accents.
Find the ideal moulding colour for your property, with options varying from white to grey to Richmond red. These items won't flake, peel, or blister. Made from vinyl, they're suitable for the conditions they face outdoors, such as harsh winters or hot summers. Unlike their wood counterparts used for indoor projects, these are resistant to rotting or insect damage. Opt for a hooded dryer vent made from weather-resistant materials to provide cover from rain and snow. Pick from the many options of accessories, such as corner blocks for changing the direction of the
mouldings
when decorating a window. There are also plenty of corner posts for use where two adjoining walls meet, with the purpose of protecting the walls against water infiltration. Choose a vinyl J-trim to protect curved surfaces, like the round portion of a window. Look for an F-trim to hold the soffit onto the home. Add drip caps to direct water away from the glass of windows. 
Go for the simplicity of cutting straight into the
mouldings
, rather than at a 45-degree angle. Divider blocks meet requirements for this process. Intermediate blocks are useful for the installation process, as they allow you to cut straight, rather than make a scarf joint. When figuring out how much product you need, measure the length of the wall and add 10% to account for mitering. For large surfaces such as exterior walls, consider using longer lengths as they require less cutting. Complete your home enhancing efforts by using
corrugated panels
to instantly add a roof to structures such as a patio, and make your house even more beautiful.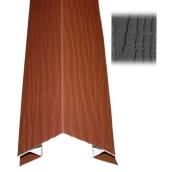 CANEXEL
Outside Corner Moulding for Siding - 1/2" x 10' - Granite
Format 1/2"x10'
Details
Article #54835282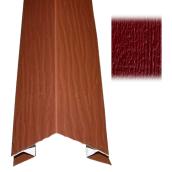 CANEXEL
Outside Corner Moulding - 1/2" x 10' - Country Red
Format 1/2"x10'
Details
Article #54835285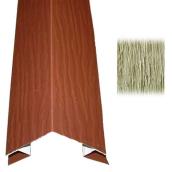 CANEXEL
Outside Corner Moulding for Siding - 1/2" x 10' - Acadia
Format 1/2"x10'
Details
Article #54835275