Description
This Regal 500 pellet barbecue by Broil King has a 2 mm / 14-gauge steel body with a 625 sq. in. primary cooking surface, a 200 sq. in. secondary cooking surface, and heavy-duty cast-iron cooking grids. The Wi-Fi and Bluetooth enabled digital interface provides enhanced temperature control to smoke, roast, or sear. This innovative product comes fully equipped with a powerful auger, 22 lbs capacity pellet hopper, removable drip tray, 2 electronic meat probes, stainless steel rotisserie kit and the patented Roto-Draft damper system. It comes with a 5-year warranty on the steel cook box and a 2-year warranty on the remaining parts and paint.
Product specifications
Steel cook box: 5 years - Other parts and paint: 2 years
Total: 865 sq in, Primary: 625 sq. in. - Secondary: 200 sq. in.
Frequently bought together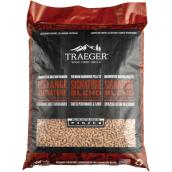 TRAEGER PELLET GRILL
Traeger Pellet Grill Pellets - Signature - 20 lb
Format 20LB
Details
Article #44995024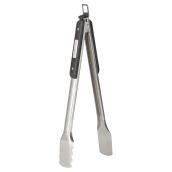 BROIL KING
Broil King Grill Tong - 18 in - Stainless Steel
Format 18"
Details
Article #16665819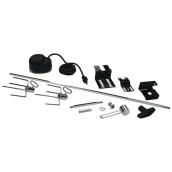 BROIL KING
Broil King Deluxe Rotisserie Kit - 39.5 in
Format 39 1/2"
Details
Article #16665820
Wood Pellet Barbecue - 865 sq. in. - Steel - Black
is rated out of
5
by
67
.
Rated

3

out of

5
by
Ol Omie
from
Good for the most part...
Really solid pellet grill, very user friendly and has produced some good meals so far! Only two flaws keep it from full marks: - the Broil King app is garbage, it asks me to turn the grill on when it is already on, can't adjust heat on it, doesn't detect probes, etc. - as one other review said, the heat doesn't seem very accurate, I set for ribs at 225, the temp got there and I put them on, few hours later they weren't even remotely cooked at all, which makes me wonder how accurate it is and if I don't have a defective grill. The pieces are all there for this grill to be a success, it just feels like it has some growing pains to work out first.
Date published: 2019-07-06
Rated

5

out of

5
by
SimplyGooderBBQ
from
It's a Tank!
I acquired my Regal400 just over a week now and already have gone through 100lbs of pellets. As someone who's been cooking with a pellet grill for the past 4+ years, size for size, pound for pound I can honestly tell you this grill does not even compare to the other common popular brands. I have been looking at getting one as far back as 2018 when I first saw a pre production model then used one at a BBQ competition in 2019. Ive done low and slow and hot and fast cooks and oh my, does it get hot! Definitely put this model or the 500 on your very short list!
Date published: 2020-04-12
Rated

5

out of

5
by
Clint from Kitchener
from
BUILT LIKE A TANK & CONSISTENT FULL RANGE TEMP
I needed a 2nd smoker and decided to try the Broil King Pellet XL. I recently purchased another brand and wasn't satisfied with the overall performance so I decided to try the BK pellet and it's been fantastic! I love how quick it heats up, the consistency of temp, the cast iron cooking grates. I also want to give a huge shout out to the firepot ash release which allows me to start each session with a clean firepot without having to take the whole thing appart. I am really really impressed with the easy to use/read display AND YOU CAN PROPERLY SEAR & COOK STEAK!!!! This is something I have not been able to do with any Pellet unit in the past. Hats off to you Broil King for this quality product. So glad I was able to find a unit that does everything I want and I am able to support a local business at the same time!!
Date published: 2019-04-30
Rated

5

out of

5
by
The Old Grillman!
from
Wouldn't Believe it unless I tried it!!
I got this Pellet grill over 3 months ago and I have become addicted to this thing. I have 4 forms of grill/bbq's and i use this everyday for everything and nothing else. It does it all...smoke , braise, bake and IT GRILLS! i got the temp to over 600 degrees and it stayed there. I grill burgers on this, effortlessly, no having to move them around due to grease fires. I baked a foccacia on this and WOW, what a flvour! Easy to use, easy to clean, easy to follow and all on my phone. Thanks kids for showing me how. Ya so i'm an old guy! I got the pellet grill and you don't....yet! Long live the grill ...oops the pellet grill! Great job Broil King!
Date published: 2019-07-13
Rated

5

out of

5
by
NOBS
from
Complete Satisfaction
As a long time BBQ fanatic,and co- host of a BBQ cable TV show, I'm completely impressed with the Smoke Pellet XL, having owned another brand, Broil King has blown away the competition. Bravo Broil King, it was worth the wait!
Date published: 2019-05-30
Rated

5

out of

5
by
KrisTheRock
from
Simply Amazing!
On the expensive side but completely worth every penny. Easy to assemble and even simpler to use. Built like a tank, it feels like it'll last 10 years or more. You set the temparature like an oven so you get perfect results every time. My favorite feature so far is the fact that you can monitor the internal temp from a distance. If you work from home, you can start a slow smoked cook at your lunch break and set alarms based on internal temp. You can go work and it'll let you know when you need to do something. I've had amazing results for both slow smoking and hoter quick cooks like burgers and steaks. I have yet to try the rotissery though.
Date published: 2020-09-03
Rated

5

out of

5
by
Groz
from
Amazing Grill!
I was debating a pellet grill for a while! I have a Keg and loved cooking on charcoal. I thought this is the best was to cook food, until I picked this unit up! Wow the best chicken and food I have ever tasted. The features are amazing. Wifi and Bluetooth work perfectly. No need to constantly keep going out into the cold to check temperatures. Definitely happy with my investment! Now I have the best of both worlds. Charcoal and Pellet! Thanks Broil King!
Date published: 2019-12-30
Rated

4

out of

5
by
JonZ
from
Loving it so far
We've had the regal for three weeks and used it a five times so far. Solid construction, easy operation. Mixed results with off brand pellets, but flawless with Broil King brand. I loved the high heat searing option for Picanha steaks. My only complaint is the included meat probes have horrible accuracy. Compared to my calibrated thermapen was at least 9F off. This is a big disappointment as the WiFi's/Bluetooth feature integrated with the temp probes is a huge plus. I will try the offset calibration with my sous vide circulator as a bath, but it should work out of the box! App is a bit buggy when controlling from the front panel and then changing via the app.
Date published: 2020-08-23