Description
This Broil King exact fit cover made of polyester is equipped with hook and loop closures as well as a water-resistant PVC lining. This cover fits various Broil King BBQ models, including some Crown, Signet and Sovereign barbecues. Moulded rubber handles make the cover easy to remove.
Product specifications
Molded rubber handles and hook and loop closures
Frequently bought together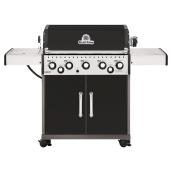 BROIL KING
Natural Gas BBQ - Baron 590 - 805 sq. in
Format 75000BU 805"S
Details
Article #16665844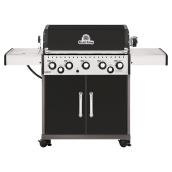 BROIL KING
Propane BBQ - Baron 590 - 5 Burner - 805 sq. in. - 75,000 BTU - Black
Format 75000BU 805"S
Details
Article #16665843
Broil King Deluxe Barbecue Cover - 64 in x 45.5 in x 23 in - Polyester - Black
is rated out of
5
by
30
.
Rated

2

out of

5
by
Dawg
from
Doesn't keep rain out
Cover allows rain in then traps the moisture leading to rust damage on the non stainless edges of the hood
Date published: 2017-08-18
Rated

1

out of

5
by
RJRJ
from
Handles: Great Idea, Poor matterial
What makes this cover so great is the feature and location of the handles. It is very simple to put on and take off that there's no longer an excuse for not covering your grill. Unfortunately, the webbing the use for the handles is not durable. It is likely that it's not UV resistant or of very poor quality that it will tear off in about 3 months of use. On mine the side facing the sun was first to go. The other side gets alot of shade, so I'm hoping that will last. Then again this cover does have a year's warranty, so maybe I won't have to wait.
Date published: 2016-08-11
Rated

1

out of

5
by
Gizmo
from
Disappointed
We intially LOVED this cover, but within 3 months the stiching that attaches the handles to the cover tore. Given the price, we would have expected something more durable. Very disappointed given our initial impression of the cover.
Date published: 2014-11-02
Rated

5

out of

5
by
Greg
from
Did my Research
After having my Char-Broil grill needing all new parts after 3.5 years of use, I decided that I was really going to do my research this time. I wanted quality, but I also did not want to spend a ton of money. The choice came down to a Weber Spirit E-210 or the Broil King Signet 20. I opted to go with the Broil King because it has 3 burners (not 2), the cast iron cooking grates had smaller gaps between the slats, the Flav-R-Wave cooking system looked more substantial than the Weber heat shields and the fact that Broil King products are manufactured in North America. The Weber Spirit E-210 is made in China. Recently Lowes offered 10% off on the Signet 20, so I nabbed mine for $359 plus tax.
Date published: 2015-09-13
Rated

5

out of

5
by
Jaaaaay
from
Its all in the handles ...
Ridiculously easy to put on/take off. The handles are key.
Date published: 2014-06-08
Rated

5

out of

5
by
Eccl 9 7
from
PREMIUM Cover
"Premium" is right. I 've owned this cover to protect my Sovereign 90 for 2+ years and the cover (and grill) is still in like new condition. Where lesser covers would have faded and become prone to tear with sun-bleaching, this cover is ready and willing to go the distance. A worthy investment.
Date published: 2015-05-05
Rated

1

out of

5
by
Baddad
from
Does not work
Imagine my surprise when I took the cover off and the grill was soaking wet. Not only did the rain go right through the cover, the cover kept the water on the grill. Obviously this will increase the likely hood of the grill rusting out. For the price, this cover does NOT work.
Date published: 2014-09-15
Rated

2

out of

5
by
JG12
from
Handle ripped off
Was initially very pleased with this grill cover. The material is thick, durable, and has kept my grill dry through the minimal amount of rain we receive in So California. The color has not faded much and still looks good a year later. However, like a previous reviewer mentioned, the handles do not seem to be as robust as the rest of the cover. Less than a year after buying this, the stitching on one side of one of the handles ripped while removing the cover from the grill. Just last month, the other side of the same handle ripped, leaving me without a handle on one side. Given that this cover is twice the price of some other similar covers, I expected better quality. Contacted Broil King customer service, about the problem, but they were only willing to offer a small discount on a new cover even though handle first ripped less than a year after purchase. Disappointing.
Date published: 2015-07-14