Description
This Broil-King portable barbecue is a must for any grill lover who is always on the go. With 14,000 BTUs of power and a Flav-R-Wave cooking system, you'll get delicious meals cooked to perfection in no time, no matter where you are. It features a 348 sq. in. of total cooking area, a sturdy enamelled cast iron cooking grill and detachable legs, which greatly facilitate transportation. The Sure-lite(TM) electronic ignition system ensures easy start-up with a simple push button, while the built-in Accu-Temp(TM) thermometer gives you a clear sense of the current temperature without having to open the lid halfway through cooking. Backed by a 10-year limited warranty for cast aluminum items, a 3-year limited warranty on stainless steel burners and a 2-year limited warranty on all other parts and paint.
Product specifications
128 sq. in. (825.8 cm²) warming rack
Accu-Temp(TM) Thermometer
Porcelain-coated cast iron
Sure-Lite(TM) electronic ignition system
Total: 348 sq. in. (2245.16 cm²), main area: 220 sq. in. (1419.35 cm²)
Frequently bought together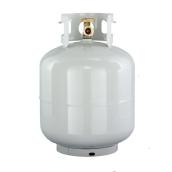 WORTHINGTON
Worthington Propane Gas Cylinder - Steel - 20 lbs
Format 20LB
Details
Article #1718026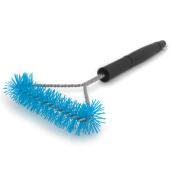 GRILLPRO
BBQ Brush - Nylon Bristles - 6.5 in x 17 in - Blue/Black
Details
Article #16665849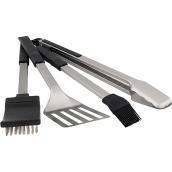 BROIL KING
Baron Series Grill Tool Set - 4 Pieces
Format 4PC
Details
Article #16666399
Does this BBQ have a protective cover?
Cover 67420 is available for the Porta-Chef.
Date published: 2020-07-22
Does this hook up to a standard propane tank?
Yes, it connects directly to a standard 5, 10, or 20lb tank with the included QCC1 hose and regulator.
Date published: 2020-07-22
The grease from the cooking drips onto the deck beneath the Bar-b-que. In the owner's guide it mentions putting a can/jar underneath but there is nothing to hold the can/jar to capture the grease. Please advise. Thank you.
Broil-King Porta-Chef(R) Propane Gas BBQ - 14,000 BTU
is rated out of
5
by
41
.
Rated

3

out of

5
by
roadcam
from
well-built, but poorly-designed
OK, I'm 63 yrs old, and a barbecue 'expert' ... have owned a dozen grills over the years, even welded up a few from scratch ... this grill is WELL-BUILT, and portable, that's the GOOD news ... the BAD news : 1. burner much too close to grill, gets way too HOT at its lowest setting - 350-375 degrees, (needs to be 220-225 for slow roasting meat) ... I am going to block some of the burner holes with stainless steel hose clamps, to reduce the flame on mine ... 2. no drip cup, etc., for the grease to drain, instead, collects in bottom of grill, a real MESS ! 3. 'stainless' steel burner tube has rust film after first use (decent stainless will NOT do that)
Date published: 2015-01-21
Rated

4

out of

5
by
G Beck Sr
from
Easy assembly & Use
I bought this unit on the recommendation from a friend with a Model 100 - Didn't kmnow I had ordered the 120, but very pleased with it - only drawback is you need to put a catch pan below grill as grease will build up in the body below. We use this grill in our Motorhome and it is easy to set-up, cooks well and take down. Just a little effort on clean-up will make the next use more pleasant.
Date published: 2015-05-17
Rated

4

out of

5
by
Reallost
from
Great value!!! But...
I have had my porta chef for 2 yrs. it is prob one of the best values in portable bbqs. I am very happy with performance. I run it off a 20lb tank so no fear of running out of fuel on a camping trip. How ever i am not happy with the strorage system used to store shelves and legs the shelves pop off way too easy and often when it is flat the legs fall out from storage if i try to move unit. Very very frustrating when packing. I would and have recomended this bbq to friends. Stu. Ps, the lid locking tabs work fine but seem like a weak link in the system. I do worry about them letting go
Date published: 2017-07-23
Rated

2

out of

5
by
Yosimo
from
Not enough heat...
Good looking and good finishing. Good grill. Not powerfull enough. It takes time to preheat even in good weather condition, it hardly elevate more than 400F. So forget BBQ in colder weather. Major problem. Lighter give up after the first season. Use a teflon sheet for cooking if you want to keep it clean. I seldomly dismantle the legs cause I keep it on a balcony. Until now, no problem but I can easily imagine fixation problems underneath the cabinet if you dont do it really carefully. I would have liked to easily get a spare lighter directly on the broil king site... but this feature seems unavailable... so instead, I have written a review.
Date published: 2019-07-25
Rated

4

out of

5
by
Al-Grillmaster
from
Good Travel Grill
I purchased this grill because of it's size and reviews I saw on you tube. I used it for the first time this past Easter weekend at the park. The grill was easy to set up and use. All my family and friends where pleasantly surprised of how well it cooked. My only issue with it was that it didn't have a good enough drip hole for the grease. Other than that i plan on using this grill for many tailgates to come!
Date published: 2013-04-08
Rated

3

out of

5
by
Acemeijndert
from
Nice camping BBQ
I have had my porta chef for around 2 years. I like the size and it cooks nice. The leg holder has never worked from the start and the igniter quit after a month. This did not bother me much I just use a lighter to get it going. The paint is starting to come of the lid now. I would recomend this bbq for camping it works well. It does get a little messy under the grill and the little shelf in the front is kind of usless and is always full of leaves snd anything else that falls off the trees while your camping. Overall I give the bbq a 3 out of 5.
Date published: 2016-07-03
Rated

5

out of

5
by
Bmusd
from
Here's your answer!
The Grill King Porta-Chef Pro is the one to buy if you want a tailgater, camp-ready, or even an apartment size BBQ that does the job beautifully! Unlike its competitors of more dubious origins, this Canadian made barbecue has cast iron grills that elevate it to a professional level, just like its name suggests. Run, don't walk, to your nearest supplier and see for yourself! The folding down side tables and stowable legs (picture a suitcase) is perfect for carrying to remote locations easily, or for squeezing into a tight storage space! We use ours in our RV and had it changed to a low flow (convenience outlet) configuration by our local dealer, Gasland. Really, really happy with this BBQ!!
Date published: 2014-08-23
Rated

4

out of

5
by
pmwilson1
from
Good BBQ
Two problems firstly connected to caravan external gas point and would not operate properly gas pressure 30mB instead of 37mB. Secondly the leg storage under the BBQ not good legs will not stay in place as other reviews have said they fall out.
Date published: 2017-08-03