Description
The new Bosch portable jobsite table saw is the ultimate in portability. With a powerful 4 HP long lasting motor with 5,000 RPM that provides smooth effortless cuts. Durable and unique all-steel base design that is lightweight base incorporates carry handle and stacks on side for transport and storage; all-steel design to handle jobsite abuse. The on-tool storage allows you to store your rip fence, smart guard, miter gauge and wrenches safely under the table top. Folding stand not included.
Product specifications
7 3/4" (left) and 18" (right)
10" carbide blade (24 teeth), rip fence, miter gauge, smart guard system, push stick and 2 blade change wrenches
Frequently bought together
You may also like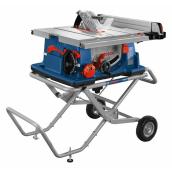 BOSCH
Bosch Worksite Corded Table Saw - 10-In - Gravity-Rise Wheeled Stand
Format 10"x15AM
Details
Article #19836366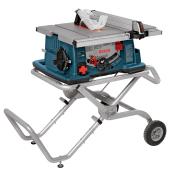 BOSCH
Worksite Table Saw with Wheeled Stand - 10"
Format 10"x15AM
Details
Article #19836270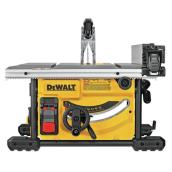 DEWALT
Dewalt 8 1/4-in Compact Jobsite Table Saw
Format 8 1/4"
Details
Article #00277225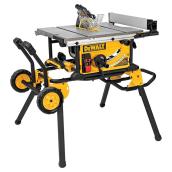 DEWALT
Dewalt Table Saw with Rolling Stand - 10" - 15 A
Format 10"x15A
Details
Article #00275708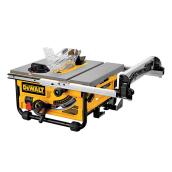 DEWALT
Compact Table Saw - 10" - 15 A
Format 10"x15A
Details
Article #0027593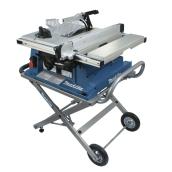 MAKITA
10-in Table Saw with Support
Format 10"x15AM
Details
Article #11975246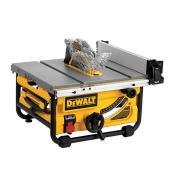 DEWALT
Dewalt Compact Table Saw - 10" - 15 A
Format 10"x15A
Details
Article #00275707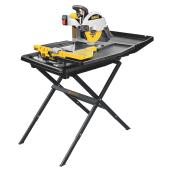 DEWALT
Tile Saw - 10" - 15 A
Format 10" 15AM
Details
Article #00275767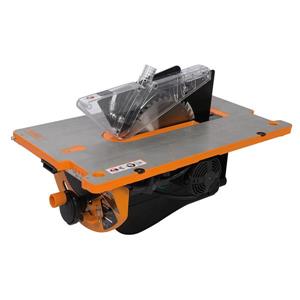 TRITON TOOLS
Triton Tools Table Saw Module - 26-in x 16.5-in - Orange/Black
Details
Article #330668640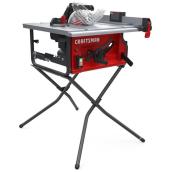 CRAFTSMAN
Craftsman 10" carbide-tipped blade table saw
Format 10"x15AM
Details
Article #97925013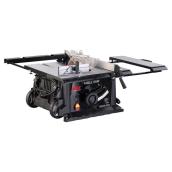 SKT
Table Saw - 10" - 150 A
Format 10"x1600Wx150AM
Details
Article #18665001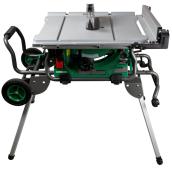 METABO HPT
Table Saw with Rolling Stand - 10'' - 15 AM
Format 10"x15A
Details
Article #37815184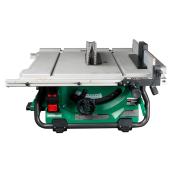 METABO HPT
Metabo HPT 36 V/DC Cordless Table Saw - 10''
Format 10"x36V
Details
Article #37815211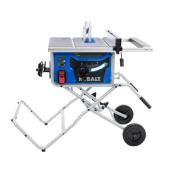 KOBALT
Kobalt Carbide -Tipped Table Saw - 15A - 10''
Format 10"x15AM
Details
Article #41095003
What is the total weight? 
52lbs
Date published: 2018-12-10
Is the assembled riving knife supposed to fully retract into the body of the saw ? I just bought one, the riving knife sticks out by 3 to 4 cm when the blade is fully retracted.
Yes. It's adjustable.
Date published: 2018-12-04
How do I buy this item using my air miles/
Go to airmiles site. It was about 7K points  when I checked a while ago. 
Date published: 2018-06-25
How wide of a cut can I make to the fence 
18 inch by placing the fence on the right side. I have managed to get a bit more by pushing the fence a bit out but not recommended. 
Date published: 2019-02-17
Quel la prime à l'achat ?
Does this accept dado blades
Portable Table Saw - 10" -15 A
is rated out of
5
by
14
.
Rated

5

out of

5
by
David W.
from
Fonctionne à merveille !
Acheté il y a un an, utilisé la lame incluse pour du bois de grange et du plastique. Le guide est solide, un embout pour le shop-vac, se manipule bien (lourd mais se déplace aisément seul), le bruit est bien sur infernal mais c'est un banc de scie, et prévoir une table ou un mini établit si on se veut pas couper à genoux. Très satisfait de mon achat (en rabais à 350$), j'ai le feeling qu'elle va trainer dans le garage très longtemps.
Date published: 2019-06-27
Rated

1

out of

5
by
toolman
from
poor quality components
have had my saw a year or so and twice have had the gear that raises and lowers the cutting height strip out. Perhaps a common problem as replacement part readily available for a few bucks but none the less a hassle to replace and so easily prevented by building a better quality part. Is this really German engineering or Chinese with a blue jacket on?
Date published: 2020-03-20
Rated

4

out of

5
by
Zork
from
Amazing saw
Only complaint is it has 0 load time, is loud as heck. Def need ear protection, you would go def if using in an enclosed area unprotected. OK I lied ....2 complaints...... Shipping took 3 weeks and I live an hour from the store. Canada Post's issue though not bosch or Lowe's. Saw works amazing and tons of power. I recommend buying this saw to anyone needing a table saw. Square and ready to use out of the box. High quality and durable.
Date published: 2016-11-08
Rated

2

out of

5
by
MakMoose
from
One major flaw and many excellent features
I have purchased and returned 3 separate units of this saw from two separate big hardware stores (Lowes and the other cheapo one). It may be my luck or it may be something in the design but the blade does wobble side by side in all 3 units I tried out of the box just like much cheaper saws. In comparison I tired moving a Dewalt or Ridgids blad and they are much better. It is quite a shame since otherwise the design and the features are nothing short of genius. Another thing to note is this unit doesn't seem to have softstart so it starts with a huge kick.
Date published: 2018-06-29
Rated

2

out of

5
by
Pierdo
from
Guide a refente
j'ai acheté cette article il y a un mois et je suis tres decu
Date published: 2018-11-08
Rated

1

out of

5
by
Upgrading Soon (Not Bosch
from
Good potential, failed on details and safety
I bought it but didin't use it for a few months or I would return it, used it off and on for about a month. I would say it is unsafe on two accounts it starts like a bomb (jumps and even pops breakers on occasion) and the guide has a cheap plastic bolt which when it came on with the usual jump and jerk it popped open dropping the guide and the guard onto the spinning blade and sending metal (guide and saw teeth) flying all over, thank goodness for safety gear. I have tried it a couple times now without the guard and the river guide just drops at the start. First table saw I used was almost 40 years ago and even the old rust buckets I have been more comfortable around. The light weight requires a soft start and the guide a proper way to secure it. It has potential and a descent design but without those two features I would say buy another one! I would return it if it was in the time allowed but I am stuck with it so it seems!
Date published: 2019-03-05
Rated

5

out of

5
by
RyanLM
from
Fantastic
I bought this for a small woodworking project. It's a fantastic machine. Extremely powerful, and with a ton of handy features. For example, many safety components have nifty spots they can be tucked away into when you transport the tool. It's metal construction and sturdy handles allow you to transport it with ease. It's heavy, but not that heavy to lift.
Date published: 2016-10-18
Rated

1

out of

5
by
Richard 3000
from
Qualité Médiocre !
Compacte ce range bien, mais tu ne peux pas déligné de grosse pièce de bois. Le moteur est peut être la même force que le 4100, mais pas Silencieux. Bruyant comme une Scie à Onglet. Le guide latérale ne coulisse pas bien. Les coulisses arrière et avant se Puck facilement. Très Fragile pour un outil de chantier !
Date published: 2018-12-09