Bosch Dishwasher with RackMatic - 100 Series - 24-in - Stainless Steel - Energy Star
Article #30855183
Model #SHSM4AZ55N
Format 24"
This item is not currently available for immediate purchase, but can be ordered by visiting the selected store.
Description
This Bosch 100 Series 24-inch slide-in dishwasher combines intuitive operation with outstanding cleaning efficiency. The large stainless steel tub is equipped with a polypropylene base that won't warp or degrade after many years of use. The 48 dB operation sound level is one of the quietest in the industry, which means you can use the dishwasher at any time of the day without any inconvenience. This appliance features cycles like heavy and Speed60 (1 hour) wash cycles, and 4 options including sanitize and ExtraDry. The upper rack features the Rackmatic system with 3 height settings, while the 3rd basket increases storage versatility and provides a 30% larger load capacity. Also, the InfoLight system emits a red light beam on the floor when the dishwasher is in operation. Backed by a 1-year limited warranty on parts and labour.


Ecological Attributes
This dishwasher is ENERGY STAR® certified to save up to 12% in energy and 30% in water.
Product specifications
Junction Box Cord S300 (SMZPCJB1UC), Install Kit (3270-600)
(5) Heavy, auto, normal, Speed60, rinse
(4) Delay, delicate, sanitize, ExtraDry
Upper rack with Rackmatic(R) system, third rack
Useful information
DELIVERY AND INSTALLATION
Our experts are dedicated to ensuring your new appliance is delivered with the utmost care.
Learn More
PROTECTION PLAN
Enjoy exclusive privileges.
Learn More
RETURNS AND REFUNDS
We stand behind every product we sell.
Learn More
Credit available
Frequently bought together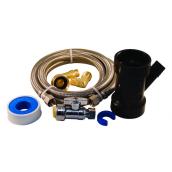 AQUA-DYNAMIC
Dishwasher Installation Kit - 60" Line
Format 60"-1/PK
Details
Article #01735488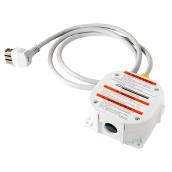 BOSCH
Bosch Dishwasher Junction Box with Power Cord
Details
Article #30855176
Bosch Dishwasher with RackMatic - 100 Series - 24-in - Stainless Steel - Energy Star
is rated out of
5
by
10
.
Rated

1

out of

5
by
Anonymous
from
Truly disappointed
We've had this dishwasher installed for about 2 weeks. Previously we had a Maytag dishwasher which lasted for 7 years before the motherboard went. The fit and finish on this thing is great - the 3rd rack is great! It runs quieter than the Maytag. What we are disappointed about is the fact that the dishes really don't come clean with the normal cycle or auto settings. We've tried smaller loads and even still some dishes left with some food stuck on. We are using the recommended dishwasher tabs and the rinse agent and still not getting clean dishes. Definitely expected more from Bosch considering how good the reviews are on all the Bosch dishwashers. We said we'd give it a month and if we aren't happy we will be returning this for a different model.
Date published: 2020-09-24
Rated

1

out of

5
by
Anonymous
from
STAY AWAY!! Just awful...
Truly one of the worst dishwashers I have ever used... and now I am stuck with it. Does not even remove the coffee stains from my cup! Cutlery is blotchy and edged with food particles, which is bizarre as it is spaced out in the 3rd rack. The interior seems to stay humid or moist, as I have had MOULD growing on the cutlery in the 3rd rack after only 2-3 days. I have never seen that before! Much noisier than the 20yr old model it replaced. I have tried the "heavy duty" and "sanitize" cycles... but results were the same as "normal" cycle. So disappointed in this appliance!! I had such high hopes after researching and reading hundreds of reviews. I read the instructions... I put in the recommended rinse agent. I tried two different brands of soap tabs. I ran the sanitize cycle first. What else can I try? Is this unit just a lemon, or have other buyers had the same experience I described??
Date published: 2020-09-05
Rated

4

out of

5
by
Anonymous
from
Overall Good Value - Family Review
Cleans well. Super quiet. Taking a while to figure out the best configuration. Sometimes it feels smaller than my old one, other times it feels like it holds more. The upper glass rack tines are too narrow for wide glasses and mugs which is annoying, but not a deal breaker. The third rack is great for things like large spoons and knives and chop sticks but still can't take a ladle. The cutlery tray on the lower rack is only a half rack which is super weird. I don't know if that's normal or if I got an anomaly. I've tried the full 2 hour run as well as the "auto" and the 60 min quick wash. All good. I've read some people complain about wet dishes. I don't find them to be all that wet when the cycle ends. In fact they're more dry than my prior dishwasher. Some people complain about a smell. I'm not getting a smell. We run it at least once per day. We use the recommended soap and the jet dry. We've had it for 3 weeks now. I feel it is good value.
Date published: 2020-09-14
Rated

5

out of

5
by
Cindia777
from
Extremely Quiet
I bought this for my Vacation Rental, which needs a versatile dishwasher because I have no control over how my guests are using it. It's very quiet and I love the red light that shines on the floor to let you know it's still on. I wish there were a green light to say it was finished, but it does have a beep indicating the cycle is finished.
Date published: 2020-11-16
Rated

5

out of

5
by
CorinneV
from
Pleased
My dishes come out clean and the unit is super quiet
Date published: 2020-11-18